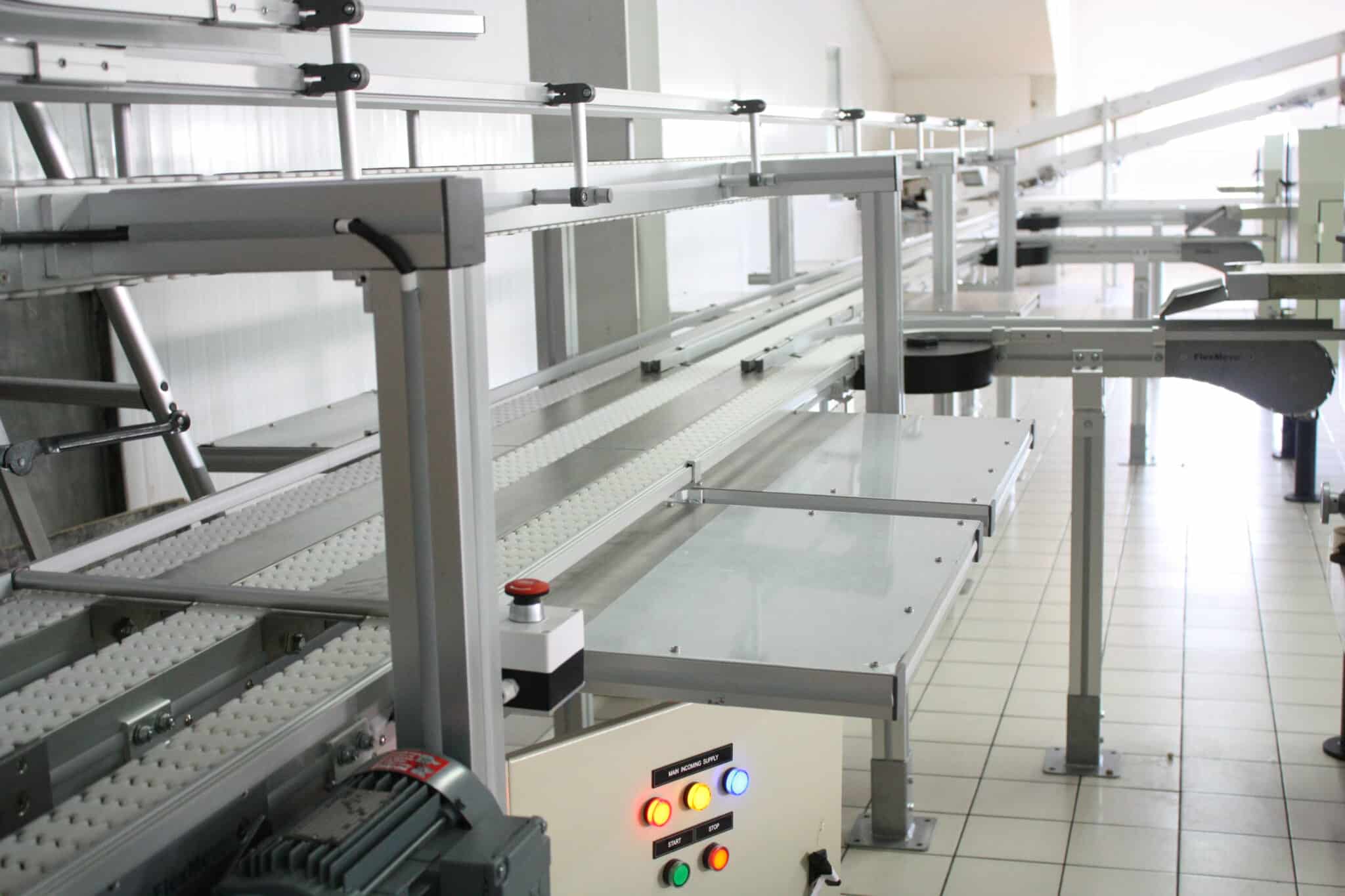 Conveyors are a common sight on the manufacturing floor to move product from one operation step to the next. It's easy to see the large mainline conveyance systems that move product throughout a sprawling warehouse, but one unseen area where conveyors have proven to be a vital asset is integration within or through other mechanisms.
When conveyors integrate into larger machines, that system must work cohesively to maintain efficient and accurate product throughput. From parts machining and assembly to packaging and labeling, conveyors are integrated with various equipment, making it difficult to know which conveyor is ideal for your unique application.
Knowing the integrated system's unique requirements and the desired result is critical to selecting the best conveyor for your integrated machine.
What step in the manufacturing process does the machine perform?
Consider the machine's process within the production line and how the conveyor will play a part.
For example, a packaging application may require product to be precisely positioned inside the packaging or palletized and wrapped for shipment. In this case, a conveyor with high precision and variable speed controls is necessary. Conversely, in an inspection application, product may need to be moved through the inspection area steadily to be scanned by photo sensors or a metal detector. This application may not require the conveyor to start and stop for product positioning, but it will need specialty belts or metal-free sections to facilitate accurate inspection.
Every machine performs a unique function in manufacturing, which can affect any aspect of the conveyor selection, from the type of belting used to the frame material and customized modules. Starting your search here can help narrow down which conveyor system options you must choose from and simplify the customization process.
What product will be transported?
Your product is the next element to look at when selecting the right conveyor for machine integration. Considering weight, size, and material, the product can help determine the ideal conveyor system.
Additionally, if there are a range of products that will move through the same machine, it's essential to keep the smallest and largest size in mind to ensure the conveyor can effectively transfer the smaller products without loss or damage, as well as move the largest product without creating too much wear on the conveyor's components.
What is the size of the space the conveyor must fit into?
Machine integration is all about ensuring a conveyor can effectively interface with equipment to perform the necessary task within the manufacturing line. Conveyors must be low-profile and flexible to fit within and around machinery while still effectively transporting material. Conveyor engineers and integration specialists will use the size of a product and the machine's working space to select the right conveyor system or design a custom solution for your application.
What maintenance needs to be performed?
Depending on the areas accessible by operators, the conveyor may require specific mounting brackets, stands, or belting. For example, if somebody can only access the ends of the conveyor for routine belt changes, the belt will need a plastic or metal clipper-type splice rather than the typical continuous splice.
Ideal Conveyors for Machine Integration
At Dorner, we offer a variety of conveyor lines designed for easy integration within larger manufacturing machines. Each system provides a high degree of accuracy and repeatability over time, ensuring that product quality maintains throughout the life of the conveyor.
1100 Series Miniature Conveyors
The 1100 Series conveyors are our smallest conveyor system, with a low-profile frame as small as 0.75 inches and widths from 1.75 to 3.75 inches. This conveyor is ideal for mounting inside larger machines for a completely integrated production application. This system also has backlit capabilities for visual systems and other inspection processes.
Specifications
Drive pulley diameter as small as 25 mm (1″)
Idler pulley diameter as small as 16 mm (0.625″)
8 mm (0.31″) optional nose bar for tight transfers
Widths: 44 mm (1.75″), 95 mm (3.75″), 152 mm (6″), 203 mm (8″), & 254mm (10″)
Lengths: 270-1829 mm (10.63″ – 72″)
Loads up to 6.8 kg (15 lbs)
Speeds up to 21 mpm (80 fpm)
2200 Series Low Profile Conveyors
The next size up in Dorner's low-profile conveyors is the 2200 Series. This system offers a durable, anodized aluminum frame with a wide selection of belts to meet the needs of your application. 2200 series conveyors can be integrated within larger machinery or utilized to transfer product between steps in the manufacturing process.
Specifications
Flat Belt End Drive, Cleated Belt End Drive, Center Drive, Drive, and Gravity Roller models
44 mm – 610 mm (1.75 – 24″) widths
457 mm – 7,315 mm (1.5-24′) lengths
Loads up to 54 kg (120 lbs)
Speeds up to 122 mpm (400 fpm)
Optional common drive
CE Models Available
FlexMove Flexible Chain Conveyors
Our FlexMove family of conveyors are some of the most customizable conveyors on the market and offer various accessories, modules, and belting types to meet your exact specifications. These conveyors can be configured with multiple curves and inclines on the same line, helping to reduce the system's footprint while maintaining precise product movement throughout the manufacturing line and through larger machinery as needed.
Specifications
Chain types: low friction, friction insert, conductive, cleated, roller top, magnetic top, and more!
Standard widths: 45mm, 65mm, 85mm, 105mm, 150mm, 180mm, & 260 mm
Lengths: 0.6 – 30 m
Loads up to 272 kg (600 lbs)
Speeds up to 76 mpm (250 fpm)
AquaGard LP Sanitary Stainless-Steel Conveyors
The AquaGard LP is our low-profile sanitary stainless-steel conveyor designed for food processing and other sanitary applications. The low frame height and small diameter rollers allow this conveyor to easily integrate within larger systems for numerous applications including food production, inspection, and pharmaceutical manufacturing.
Specifications
Tip-up tails for access inside the conveyor for cleaning and maintenance
32 mm (1.25") diameter roller and drive pulleys
38 mm (1.5") bottom of the frame to top of the belt
Widths from 70 mm to 457 mm (2.7-18")
Lengths from 500 mm to 5485 mm (19.7"-18')
Loads up to 22.7 kg (50 lbs)
Belt speeds up to 75 mpm (246 fpm)
Custom Engineered Conveyors for Your Application
Choosing the right conveyor is vital when integrating with other machinery, and there can be many factors to consider. Dorner's conveyors can be customized with additional accessories and modules to ensure it integrates seamlessly with the rest of your production line. Our team of conveyor experts will help you through the selection and design process to ensure your conveyor system meets the needs of your application and product.