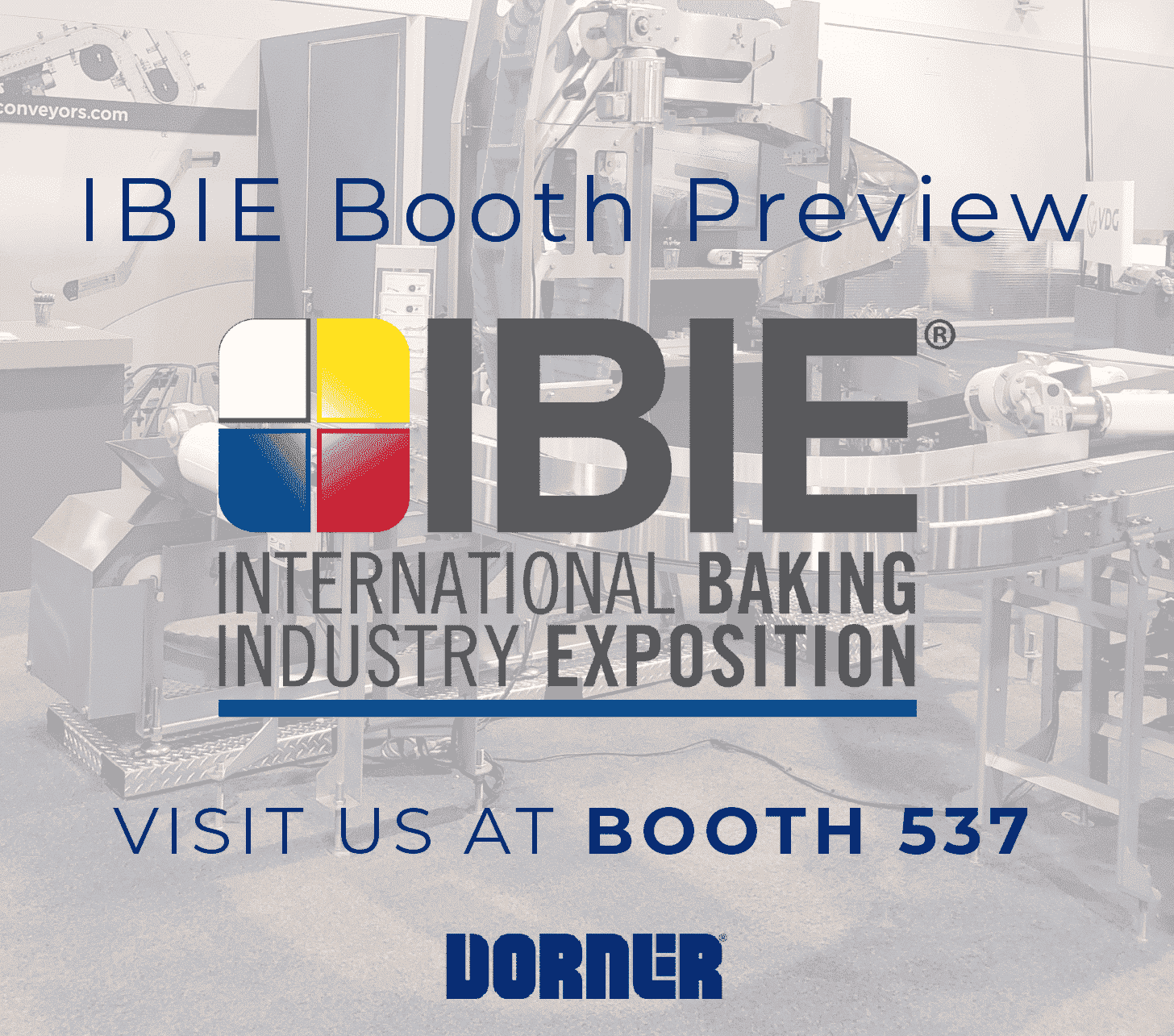 The Dorner team is excited to join industry-leading manufacturers at the International Baking Industry Expo in Las Vegas, September 18-21! This year, we will be displaying a variety of BISCC-approved conveyor solutions that are designed to meet the unique needs of the baking industry.
AquaGard LP
Dorner's AquaGard LP is a low-profile sanitary conveyor designed for both hygiene and efficiency. With a load capacity of up to 50lbs., this conveyor is ideal for snack foods, confectionery, and packaged food products. The AquaGard LP conveyor is rated for low-pressure wash down with soap and water and features a tip-up tail design for easy 5-minute belt changes and cleaning.
Specs:
Loads up to 50 lbs.
Belt speeds up to 246 ft/min
Belt widths: 2.75″ to 18″
Conveyor lengths: 20" to 18′
Stainless steel bearings with FDA H2 food grade grease
Washdown-rated gearmotors and controls
AquaGard Positive Drive
Our AquaGard Positive Drive conveyor is designed with a positive drive belt and drive sprockets to maintain accuracy with no belt slipping, even in wet environments. This conveyor features a wear strip bed plate with abrasion-resistant materials to both support the belt and facilitate tool-less removal and easy cleaning. All belting materials and plastic components are FDA-approved, and the stainless-steel frame makes cleaning quick and easy.
Specs:
Loads up to 227 kg (500 lbs.) or 98 kg/sq m (20 lbs./sq ft) *
Speeds up to 71 m/min (233 ft/min)
Widths: 152 mm (6 in) to 914 mm (36 in)
Lengths: 915 mm (36 in) to 2500 mm (984 in)
USDA smooth top positive drive belt (available in blue or white) provides greater load capacity and less slip
Bolt-together 304 Stainless Steel Frame
Ideal for wipe-down and low-pressure washdown cleaning methods
Dorner's Sanitary loop Display
Along with the two standalone conveyor demos, our team will be displaying a complete sanitary loop to show the different space-saving options available for our sanitary conveyors. The sanitary loop includes two more of our sanitary stainless-steel conveyors:
AquaPruf VBT
The AquaPruf VBT is our vertical belt conveyor, designed to elevate bulk products such as raw ingredients, cereal, candies, and more. With our unique cleated sidewall design, this conveyor belt creates buckets to safely elevate product and reduce the risk of items falling off the conveyor and being damaged or contaminated.
This conveyor also includes an open frame and tool-less belt tensioning design for ease of cleaning and maintenance.
Specs:
Staggered Sidewall Belt provides 15% more pocket capacity than traditional sidewall belt
Speed: up to 30 mpm (100 fpm)
Lengths: 508 mm (20 in) to 1,828 mm (72in)
Widths: 304 mm (12 in) to 609 mm (24in)
Heights: 406 mm (16 in) to 6,096 mm (240 in)
AquaGard 7350
Like low-profile AquaGard LP, the AquaGard 7350 is built for dry, and low-pressure soap and water wipe-downs, making it ideal for baked goods, snack foods, pharmaceuticals, pet food, and more. This conveyor features the industry's most advanced modular curve chain, with no openings greater than 4mm. Even with curves, this chain reduces pinch points and possible hazards for operators.
With the capability to design multiple curves into the system, the AquaGard 7350 can easily move product around other machinery while still maintaining a small footprint throughout the production line.
Specs:
Loads up to 341 kg (750 lbs.)
Widths: 152 mm (6 in) to 914 mm (36 in)
Lengths: 914 mm (3 ft) to 25000 mm (82 ft)
FDA-approved belting and plastic components
304 Stainless Steel frame
Visit Us at IBIE
Our experienced team will be at IBIE to answer all of your questions and help you find a conveyance solution that meets the needs of your business. Register today, and be sure to visit us at booth 537 for a quick chat and to see our sanitary conveyors in action!