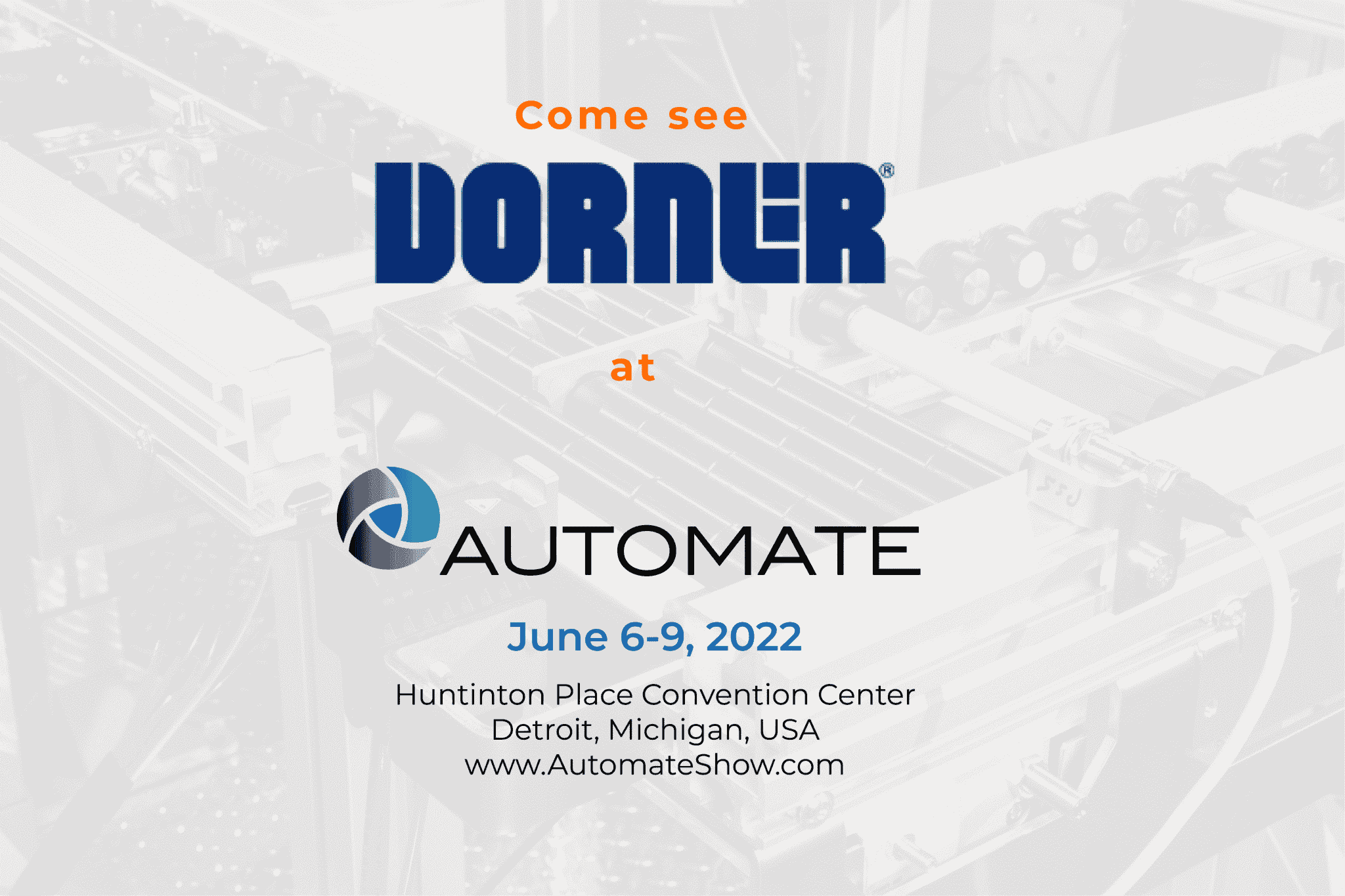 We're excited to display the latest in Dorner automation technology at Automate 2022! The largest showcase of automation technology and innovations will be held at the Huntington Place Convention Center in Detroit, MI.
Come see Dorner at Booth 4300 June 6-9 for an exclusive demonstration of our automation conveyance solutions. Click here to add us to your calendar, and if you haven't yet, you can register for free here.
While we're gearing up for the show, here's a sneak peek of the conveyors we'll be demonstrating.
ERT150
The ERT150 offers the latest in Edge Roller Technology. This compact system is designed to fit into tight spaces where precision movement is needed through various points of the manufacturing process.
This conveyor is also ISO Class 4 cleanroom verified*, and capable of zoning with no or low-back pressure accumulation. It is ideal for automation assembly applications within industries including:
Medical and medical devices

Electronics

Pharmaceuticals
ERT250
Our ERT250 is the larger predecessor to the ERT 150, and has been specially engineered for medium to heavy load assembly automation applications. The precise pallet handling system is low friction and can be integrated into virtually any automated manufacturing process.
Like the 150, it is verified for cleanroom applications* and capable of customizable zoning for smooth integration into your automation process.
Best For:
Medical Product Manufacturing

Packaging

Medical Device Manufacturing

Automotive Assembly

Electronic & Consumer Goods Assembly

Appliance Manufacturing
PM Pallet System
The popular Precision Move Pallet System will be on display with robot supplied by Universal Robots so you can see the seamless integration in action. This conveyor features pin tracking technology for smooth turning and can be run up to 114 ft/min for increased efficiency.
With quick and easy belt changeovers, simple maintenance, and a variety of compatible pallet kits, the 2200 Precision Move Pallet System reduces downtime and increases generation in automation applications.
Best For:
Medium to large-sized part movement

Product routing and control

Product inspection

Assembly automation
FlexMove Pallet System
Finally, the FlexMove Pallet System will be available for demonstrations of its innovative flexible belt and accurate pallet positioning and routing. This pallet system is ideal for assembly processes or inspection and can be applied to a wide range of industries.
Benefits of Pallet Systems:
Accurate positioning and routing

Ideal for assembly processes or inspection

Pin tracking system – simple and cost-effective method of tracking pallets through turns

Pallets can be purchased as completed assemblies or as kits
Don't forget to register for Automate 2022, and visit Dorner at booth 4300. We'll see you at the show!
*To verify clean room requirements, an unloaded base conveyor was tested and did not generate particulate that would be beyond the specified standards. However, the verification does not provide assurance that any or all applications will meet this requirement. Application testing is recommended to ensure clean room standards are being met. Dorner takes no responsibility in the clean room performance of the final conveyor or application.