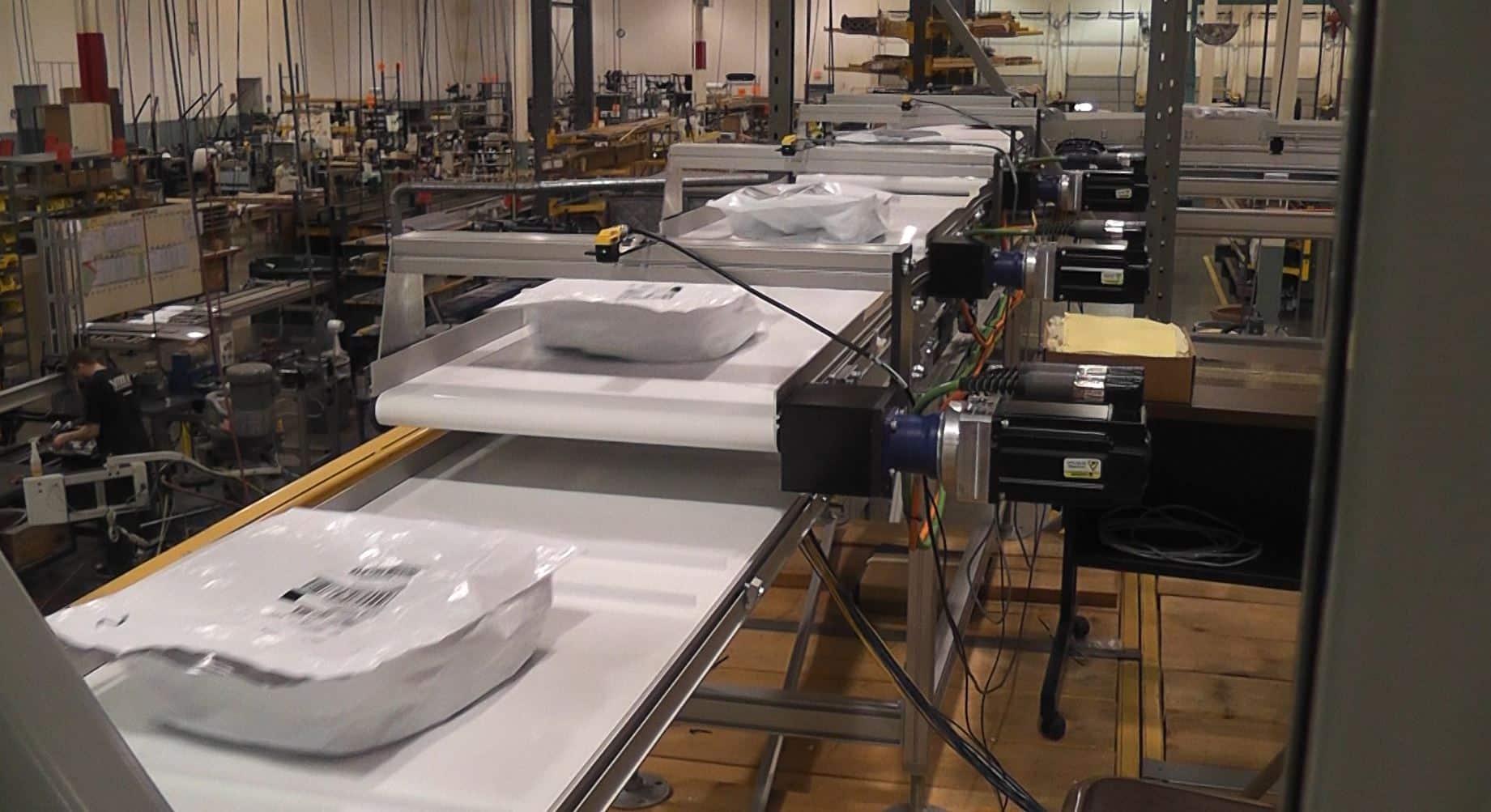 The e-commerce market is fast-paced and continuously growing in demand. At Dorner, we understand the importance of ensuring the safe, accurate, and on-time fulfillment of your parcels and packages.
We can find the right conveyor for your application. From simple point A to point B movement to fully automated systems that are custom engineered for your product, Dorner has a solution.
Take a look at the video below to learn more about Dorner's e-commerce conveyors.
Features of E-Commerce Conveyors
With the ever-growing popularity of online shopping, e-commerce facilities are under more demand than ever to fulfill orders of a wider range of products in a shorter time. To overcome these challenges, many companies are turning to automation for improved accuracy and speed. That in turn means that the conveyors used in e-commerce processes must offer the highest level of accuracy and precision to effectively interface with scanners, robotics, and human operators.
A quality e-commerce conveyor will be designed for accuracy, speed, and durability to minimize errors and downtime throughout the production line. Other beneficial features include:
Customizable configurations, including varying size, curves, incline, and decline capabilities
Quick and simple maintenance
Capable of handling a range of product sizes and weights
Easily movable mounting for accessories such as photo eyes and guiding
Integrated motor mounting options for reduced footprint
Energy efficiency
Dorner's E-Commerce Conveyors
DCMove Belted Conveyor
Dorner's newest conveyor system was designed with e-commerce and distribution centers in mind. Built on an economic painted steel frame, this system offers the durability, weight capacity, and accuracy needed for e-commerce applications. With available widths between 254 and 1,219 mm (10 in to 48 in) and lengths from 960 to 12.000 mm (38 in to 40 ft), the DCMove makes an ideal option for main line conveyors and heavier duty material handling, warehousing, and logistics operations.
Finally, the flush sides and internally mounted brushless DC motor keep this conveyor slim and streamlined, while still maximizing belt coverage. These features, along with Dorner's dedication to precise belt tracking with our v-guiding system mean product will always be in the exact place on the belt it needs to be for the next step in processing.
Learn More About the DCMove Belted Conveyor
2700 Medium Duty
The 2700 Medium Duty conveyor is a truly unique system designed to handle medium-weight loads while still maintaining a lightweight on our low-profile aluminum frame. This conveyor also features an internally mounted motor and precision belt tracking to eliminate belt sway even when the conveyor is wider than it is long. This sleek, lightweight platform makes the 2700 perfect for mounting on an AGV or AMR robot.
Learn More about Dorner's AGV Conveyors
3200 with ARB Technology
The 3200 heavy-duty conveyors and Activated Roller Belt (ARB) are a match made in material handling heaven. With the accuracy and durability of the 3200 conveyors, utilizing ARB technology for select sorting and packaging steps in the production line improves efficiency and accuracy for e-commerce facilities. This platform allows facilities to custom configure their conveyors for their unique packaging, labeling, and palletizing operations.
Explore the Features of the 3200 ARB Conveyor
FlexMove
Finally, as our most customizable conveyor platform, FlexMove conveyors offer innovative configuration options with a wide variety of modules and accessories to build a custom system for almost any production line. Capable of handling multiple curves on one drive, these flexible chain conveyors are perfect for sorting, accumulation, and packaging applications.
The FlexMove system is available in space-saving configurations including inclines and declines, helix, wedge, twists, and more.
Custom E-Commerce Conveyors from Dorner
When it comes to e-commerce conveyance, there is no one-size-fits-all solution. Let our team of conveyor experts help you find the perfect conveyor solution for your unique e-commerce facility.