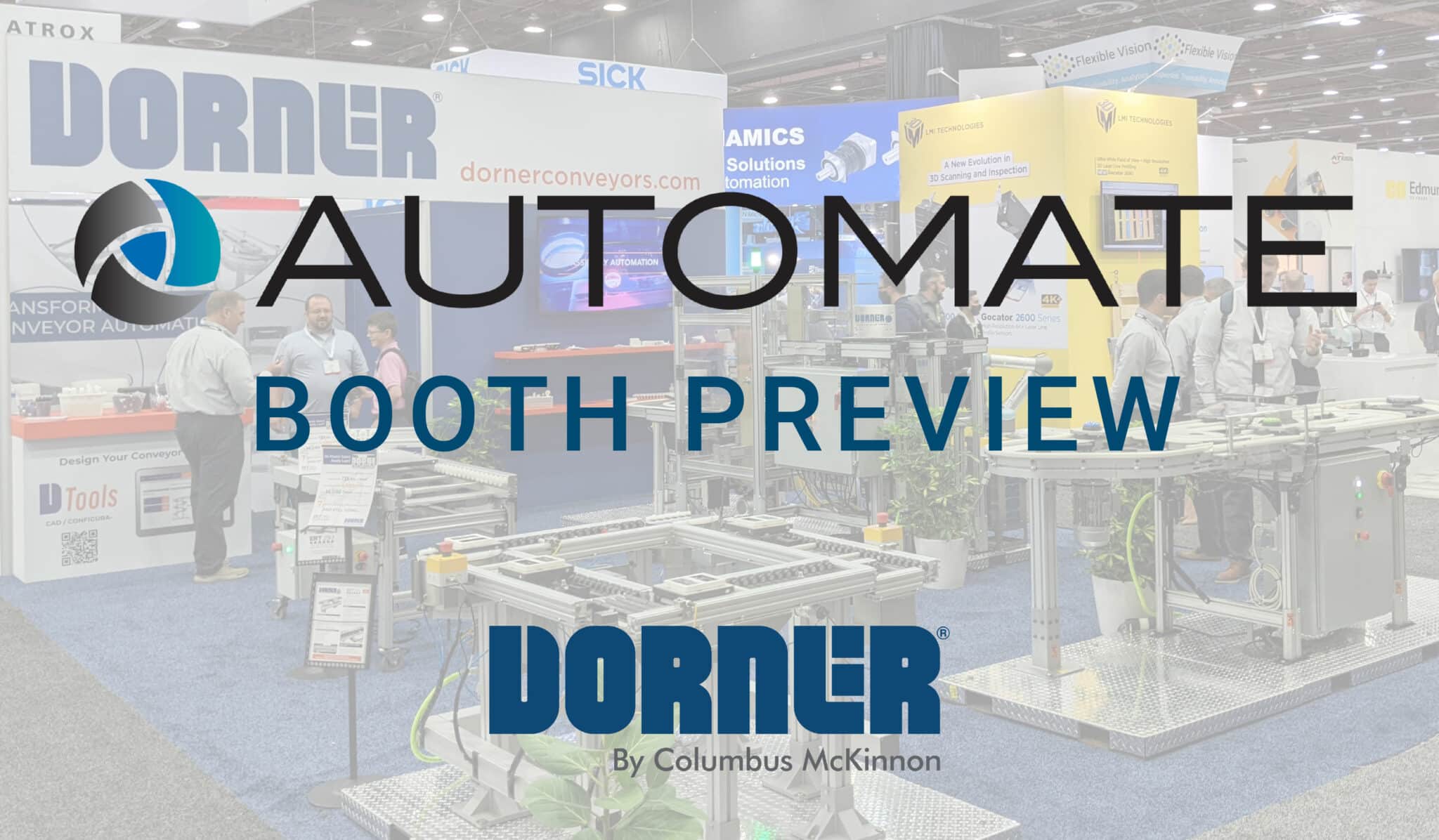 Dorner is displaying four of its major automated assembly conveyor platforms – the FlexMove Pallet System, Edge Roller Technology ERT®250 & ERT®150, and its Universal Robot Pallet Loop – in booth 2435 at Automate 2023, May 22-25, at the Huntington Place Convention Center in Detroit.
FlexMove Pallet System
Leading off the show is Dorner's FlexMove Pallet System, a versatile conveyor engineered for product routing, control, and inspection in small- to medium-size assembly automation applications.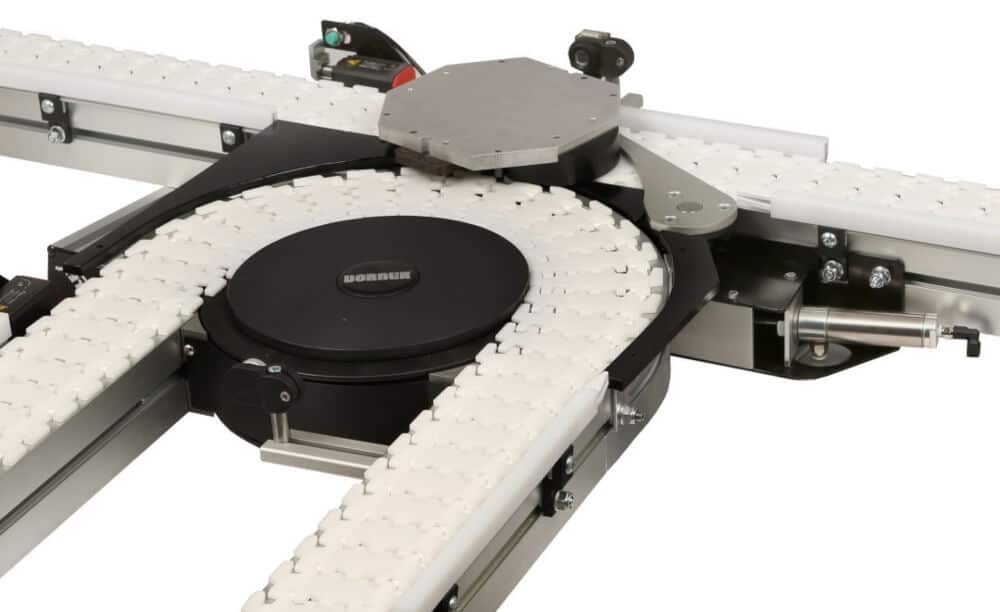 The FlexMove line is sold as completed assemblies or as kits and offers users layout flexibility and the ability to implement easy conveyor system design changes to adapt to their business's evolving needs. Modules include merge and divert modules, lift and locate stations, cushioned pallet stops and a unique pin tracking system to guide pallets through 90° turns – all of which attach directly to the conveyor frame without the need for modifications. The FlexMove Automate demo will be operating in a loop, displaying its diverting and merging modules that effectively implement traffic control.
Edge Roller Technology Pallet Systems
The Edge Roller Technology unique to the ERT®250 and ERT®150 utilizes durable rollers to move pallets smoothly with no friction or jamming (a byproduct often seen in belt-driven platforms). The ERT series is ideal for progressive assembly applications calling for pallet or tray handling; no- and low-back pressure accumulation; light, medium or heavy-load assembly automation; and cleanroom applications such as medical product or device manufacturing, assembly, packaging, and others.
ERT250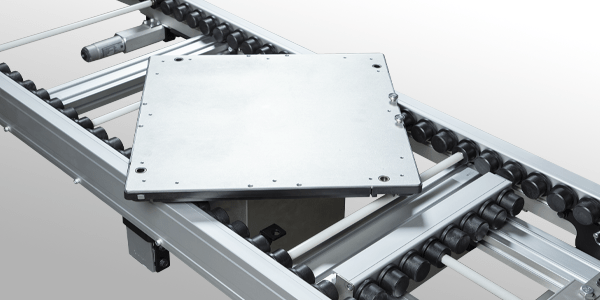 The ERT®250 features a new electric lift and transfer module using the same controllers that operate the conveyor for easy integration. Additionally, 24-volt DC controls with networking capabilities aid conveyor integration. The system displays pallet moving capability without the need for a Programmable Logic Controller, a great cost-saving feature. It also has zoning capability through direct I/O built into the control modules. Dorner's Automate display will be featuring the ERT®250's zoning and product routing capabilities for inspection and assembly applications.
ERT150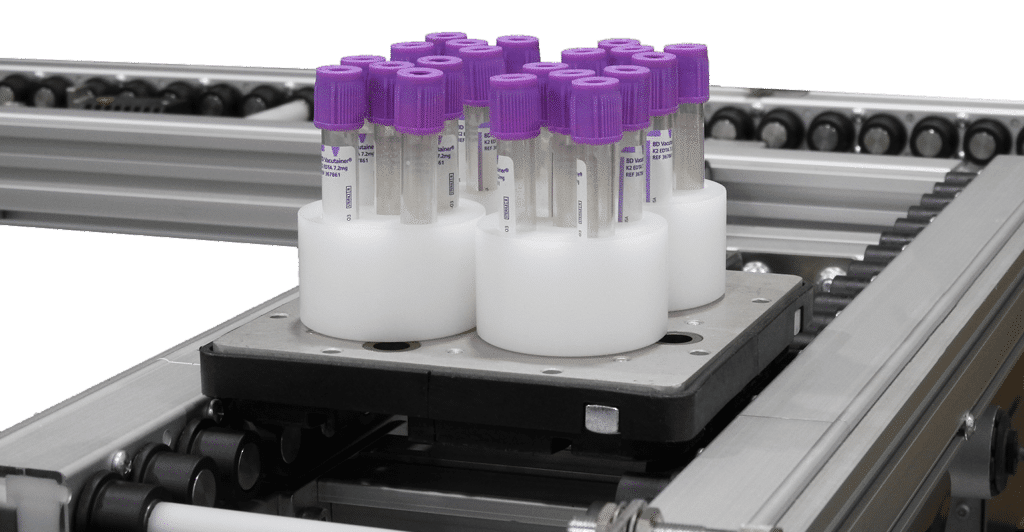 The ERT®150 is ideal for small and light-load assembly automation, as well as medical and medical-device assembly applications. The unique design of this pallet conveyor eliminates particle buildup caused by belt friction, making it an ideal solution for cleanroom applications. The ERT®150 can easily integrate with robotics in pharmaceutical production and medical device manufacturing. At the show, it will be demonstrating its capabilities of moving pharmaceutical vials with no-backpressure accumulation.
Precision Move Pallet System with Robot Integration
Finally, Automate 2023 attendees will see a Universal Robot integrated with a Precision Move Dual Strand Pallet System conveyor demonstrating accuracy of movement and placement of pallets. This cell will be set up in a loop with product moving up an elevator to show elevation changes with various lifting and rotating modules throughout the assembly process. As a certified Universal Robot solution provider, Dorner can offer customers simplified robotic and conveyor integration for a wide variety of automated applications.
Visit Dorner at Automate
To see how these conveyor platforms can help your next automation application, make plans to visit Dorner in booth 2435 at Automate 2023.