Dorner Holding Corp. leads companies that strive to provide innovative conveying solutions designed to increase efficiency and productivity. From individual components and products to complete solutions.
Our industry recognized family of companies deliver quality products with best in class support to customers in a variety of industries worldwide.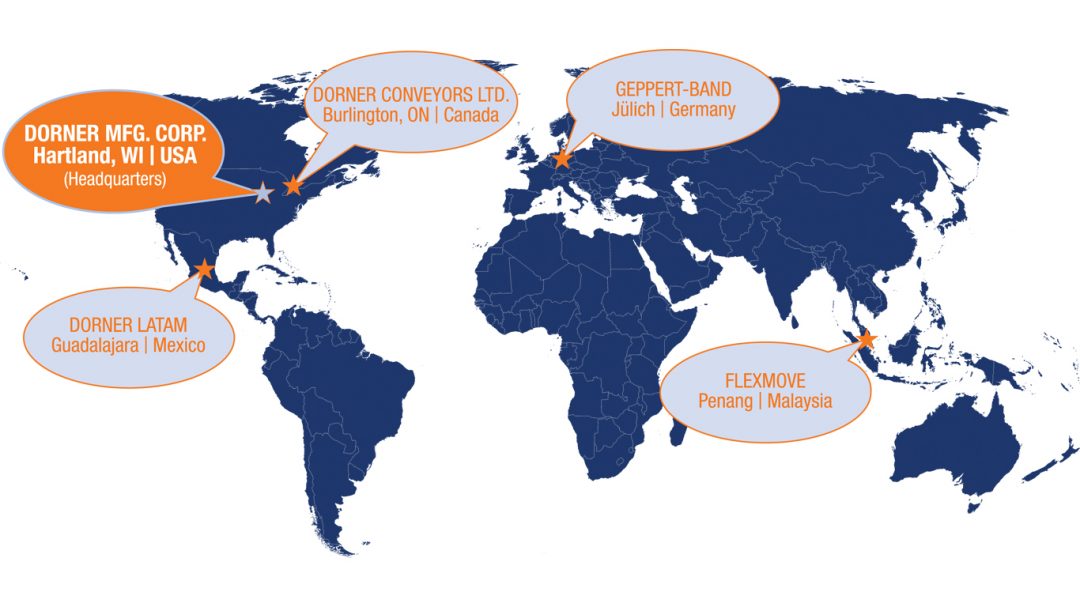 Dorner Mfg. Corp.
Move Fast. Move Smart.


At Dorner we make it our mission to provide systems that our customers can depend on to move their product from point A to point B with precision and speed. It's that commitment and history of proven excellence that has made the Dorner Brand a recognized leader in precision conveyors since 1966. We offer a wide range of conveyor solutions to a variety of industries including packaging, industrial automation, food processing, material handling, pharmaceutical, medical, and more, Designed to improve efficiency and productivity, our conveyors are flexible, easy to select, easy to integrate, and easy to acquire through a world class delivery & support network.
975 Cottonwood Ave.
Hartland, WI 53029 USA
800-397-8664 +1 262-367-7600
Fax: +1 262-367-5827
---
Dorner Conveyors Ltd.
Dorner Conveyors Ltd. is subsidiary of Dorner Mfg. Corp, aimed at providing solutions and support to customers in Canada. We share the same goals and passion for providing systems that our customers can depend on to move their product. From standard conveyors to complex applications, we have industrial and sanitary conveyor systems designed to meet your needs.
100-5515 North Service Road
Burlington, Ontario L7L 6G4 Canada
Tel: +1 289-208-7306
---
FlexMove
Connecting Possibilities
FlexMove is built upon 4 main virtues that are embodied in everything we do:
Quality with innovation solutions
Flexibility in fulfilling infinite potential
Efficiency for all businesses
Eco-friendly for a better future
With a mission to strive for exceptional superiority in intelligent integrated transportation systems, we aim to fulfill the ever-changing demands of the global market. This is why we are committed to delivering more possibilities that extend beyond your expectations. We make things happen for you, we connect possibilities to let you achieve the best for your business.
128 Jalan Permatang Damar Laut
Bayan Lepas 11960
Penang, Malaysia
Phone: (+60) 4 626 2948
Fax: (+60) 4.626.2520
Website: www.flexmove.com
---
Geppert-Band
Since 1967, Geppert-Band has been one of the leading manufacturers of belt conveyors up to 18 meters in length for indoor applications. We provide an extensive product range to cover the many and diverse customer requirements and industrial sectors:

Flat, inclined, angled and Z-shaped belt conveyors made of aluminum, steel and stainless steel with versatile equipment variants and a large range of accessories.
Great importance is also attached to individual problem solutions. The belt conveyors are designed in such a way that they can easily be integrated into existing production processes on request. Significant benefits for our customers have resulted in the past thanks to the constant development of our products stimulated by the intensive exchange of information with users.
Karl-Heinz-Beckurts-Straße 7
52428 Jülich Germany
Phone: +49 (0) 2461/93767-0
Fax: +49 (0) 2461/93767-30
Website: www.geppert-band.de