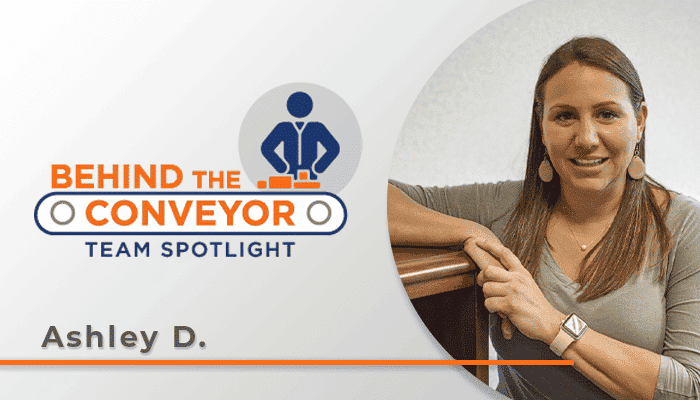 Behind the Conveyor – Team Spotlight
Dorner has become a global brand in conveyor automation – and that's all thanks to our team. In this blog series, we highlighted talented professionals whose dedication and passion are making a positive impact on your conveyor systems. These are the faces behind the brand who are helping to transform conveyor automation … and having fun doing it!
Meet Ashley D.
Ashley was content to stay in Illinois, where she had a great job and had just built a new house right across the street from her parents. Life was good. However, one visit to Dorner changed all that.
At the urging of a former colleague who had recently joined Dorner, Ashley drove up to hear him out regarding a position he thought was perfect for her. He was right.
"I met the team here in Hartland and I cried all the way home because I wanted it," Ashley said. "It was the excitement of me getting to choose my path and destiny. I had the career movement and opportunity I was looking for. They wanted to know what I thought; I added value and I got be a part of the team."
Dorner was an opportunity Ashley just could not pass up.
That was three years ago, and she has not looked back since. Today, Ashley is the finance director of corporate control.
Ashley finds it very rewarding to come to work every morning knowing that she is contributing to Dorner's overall success.
"It's been a great experience, and I'm glad to be a part of the growth," she said. "I contribute every day to the success here at Dorner. My boss is a huge supporter in leadership and guidance; it starts with the tone set from the top."
For Ashley, her future at Dorner is bright, all thanks to one visit.
It's professionals like Ashley that go above and beyond each and every day. Our global workforce takes pride in partnering with our customers to optimize efficiency and productivity in their applications. We accomplish this through the design, manufacture, support and distribution of high-quality conveyor systems that meet our demanding standards.
That's the Dorner Difference.