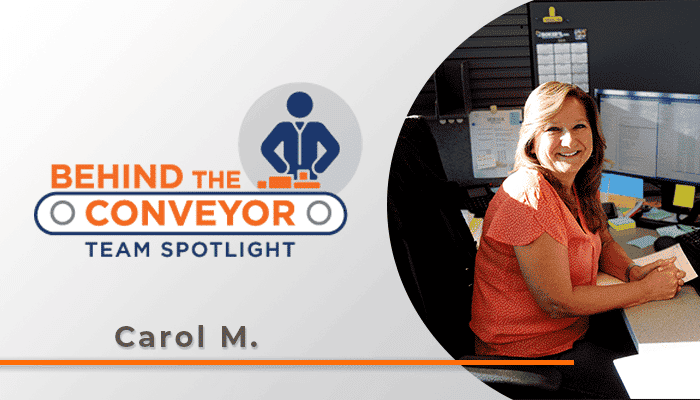 Behind the Conveyor – Team Spotlight
Dorner has become a global brand in conveyor automation – and that's all thanks to our team. In this blog series, we highlighted talented professionals whose dedication and passion are making a positive impact on your conveyor systems. These are the faces behind the brand who are helping to transform conveyor automation … and having fun doing it!
Meet Carol
Being with Dorner for more than 25 years, Carol M. has seen a fair number of changes.
She is remembering a time when the three original Dorner owners, brothers Horst, Werner and Wolfgang, would walk around and personally hand out paychecks to employees. While those days are gone, what remains strong to this day is the sense of pride and accomplishment found within the walls in the Hartland, Wisconsin facility.
"People have pride in the product we produce here, that was always high quality," Carol said. "That pride has never diminished."
Working in accounting, Carol has seen her fair share of changes within her department as well.
"My job is always challenging in trying to find new ways to improve my processes," she said. "I get excited about my process and the improvements made. I've come a long way from all paper to paperless. That is a big step."
Carol understands the importance of each person's job to the success of Dorner. To better understand that, she's often taken the opportunity to go out into the shop to learn different areas of manufacturing.
"I think to be successful, you should try to learn the product line as best you can," she said. "If someone asks for something, try to help them out as much as you can. But always ask; there's always people here with knowledge. Don't ever think whatever you have to ask is a stupid question, because it's not. Always ask because if you don't ask, you are never going to learn how the process works.
The Dorner Difference
It's professionals like Carol that go above and beyond each and every day. Our global workforce takes pride in partnering with our customers to optimize efficiency and productivity in their applications. We accomplish this through the design, manufacture, support and distribution of high-quality conveyor systems that meet our demanding standards.
That's the Dorner Difference.