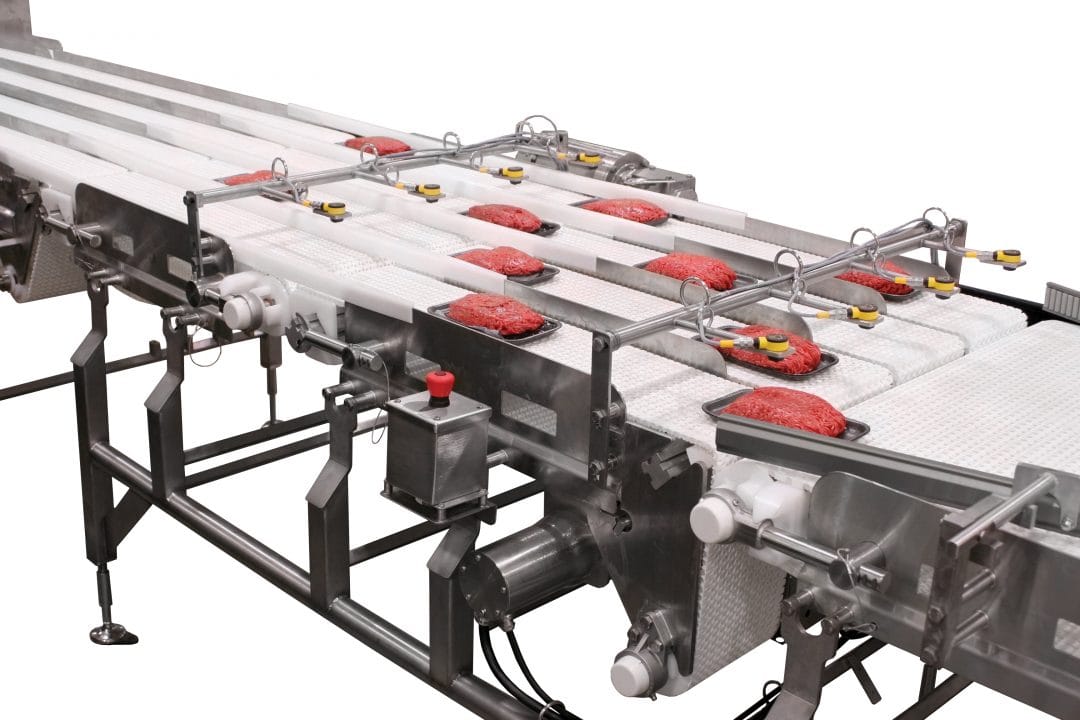 Food-based applications often call for multiple conveyors throughout food processing and packaging lines. Conveyors must frequently interface with other machinery and operators, and the key to effectively coordinating this complex operation is to properly integrate controls and automation technology early in the conveyor design process.
Conveyor systems designed to be the foundation of a new operating line as well as easily integrate into an existing line are vital to the efficiency and productivity of an entire facility. The key is carefully considering the different variables of your application, your goals for the operation, and how the conveyor will fit into that process.
Getting Started: What Factors to Consider
Building a new food processing line or overhaling an existing one can be a daunting task and involves many different variables.
What are your goals and objectives for your food processing/packaging line?
What are the products that need to be moved?
What is the weight, size, and packaging of the products?
What is the desired product throughput for the application?
What machinery and equipment do the conveyors need to integrate with? How will they integrate?
Are line transfers going to be needed to move product from one production line to another?
How will product flow through the production line (sorting, accumulation, curves, inclines, etc.)?
What type of environment will the system be operating in? Will it require high pressure or chemical cleaning? Will the facility be colder or hotter than average room temperature?
Will robotics be integrated with the conveyor system?
Answering these questions will help you take a critical look at your production line and determine how a conveyor will meet those requirements. Having a clear understanding of your applications needs will give you a solid starting point on the specifications and capabilities of a conveyor that is ideal for the operation.
What features make a good integration conveyor?
You have your list of requirements, now it's time to find a conveyor that meets them. However, not all systems are created equal. While a conveyor may offer food-safe materials for handling your product, has the weight and speed capacity you're looking for, and the power to handle the job, other design elements on this conveyor may create more of a hinderance than help. Here are some features to look for when selecting the ideal integrated food handling conveyor.
Controls & Automation Features
Programmable controls allow you to precisely control the movement and speed of your conveyor within the production line. Whether you need variable speeds, or controlled starting and stopping, the ability to add custom programing to the function the conveyor adds flexibility and versatility to the system. With the addition of photo eyes or other sensors to monitor the flow of product, inspect, or count products as they run down the line, controls allow for automated processes such as sorting, diverting, and rejecting unsaleable product.
Learn more about Dorner's control features.
Precision Movement
Controlling the movement of your conveyor with automated controls is great, but if the conveyor is not designed for accurate, precision movement, eventually you will get less and less accurate placement of product. Dorner's precision conveyors are designed with accurate v-guided belt tracking, secure pulley systems, and even the option for specialty positive drive belting.
These precision conveyance features maintain a high rate of accuracy in product placement on the belt, and easy traceability throughout the production process. Even in wet or humid environments, Dorner's conveyors are designed to reduce belt slippage and product shifting to ensure your product is in the exact place, in the right position, and at the right time it is needed.
Hygiene-First Design
Providing a safe and hygienic system to transport food products throughout a facility is the number one priority. Not only should each conveyor be built with a sanitary stainless-steel frame and FDA approved belting, but it should also be designed for easy cleaning. This includes:
Minimal flat surfaces for debris to accumulate
Continuous welded frame to minimize grooves and crevices
Quick belt release and belt lifters for easy washdowns
Toolless disassembly
Fully enclosed drives, gearboxes, and bearings
Finally, the key to a successfully integrated food handling conveyor is that it is easy to get back up and running once a line change over is complete. Systems designed for easy reassembly, repeatable and accurate belt tensioning, and quick start control systems make it easy for operators to restart a line once sanitation has been completed.
Supporting Food Processing Operations from Design to Installation and Beyond!
The ideal integrated conveyor system is quick and easy to maintain and should help reduce downtime. Dorner's team of conveyor experts will help you determine which conveyor is the best fit for your applications and can further customize it to meet your exact needs. From the initial drawing though installation and ongoing support, our priority is building quality food handling systems to add efficiency and quality to your production.
Learn more about Dorner's Sanitary Stainless-Steel Conveyors.