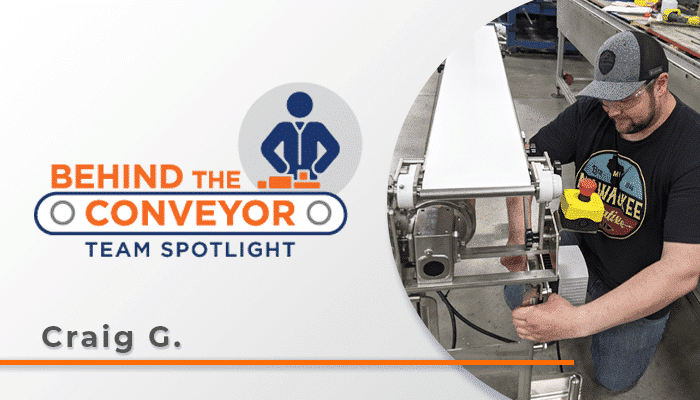 Behind the Conveyor – Team Spotlight
Dorner has become a global brand in conveyor automation – and that's all thanks to our team. In this blog series, we highlighted talented professionals whose dedication and passion are making a positive impact on your conveyor systems. These are the faces behind the brand who are helping to transform conveyor automation … and having fun doing it!
Meet Craig G.
There are several things that Craig G. loves about working at Dorner. One of the most important is the opportunity for career growth. Craig has been with Dorner for 15 years, starting out as an assembler and is now the assembly lead manager in our 7X line.
Opportunity for growth is just one aspect Craig enjoys about Dorner. Another is the family-like culture where he not only has coworkers, but also friends.
"It sounds cliché, but it's about the people here. It's always the people," he said. "It's a family culture, a lot of people are friends in and out of work. I just like the comfortableness of the culture. That's a big thing that keeps me around, I like coming into work each day."
But Craig also loves the challenges at work, finding that almost every day he's learning about and working with something new. He especially enjoys working on bigger projects and seeing the collective efforts of the team come together.
"I like the challenges, it's always something different – it's not the same, repetitive things day to day. Always something new, keeps your brain working, keeps you thinking. That's what I enjoy about it," he said.
It's professionals like Craig that go above and beyond each and every day. Our global workforce takes pride in partnering with our customers to optimize efficiency and productivity in their applications. We accomplish this through the design, manufacture, support and distribution of high-quality conveyor systems that meet our demanding standards.
That's the Dorner Difference.