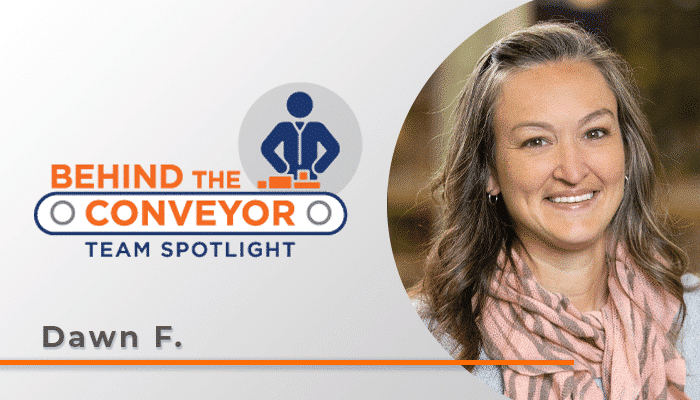 Behind the Conveyor – Team Spotlight
Dorner has become a global brand in conveyor automation – and that's all thanks to our team. In this blog series, we highlighted talented professionals whose dedication and passion are making a positive impact on your conveyor systems. These are the faces behind the brand who are helping to transform conveyor automation … and having fun doing it!
Meet Dawn F.
Dawn likes to get things done. In her position as applications and engineering manager for the client services team, Dawn loves tackling issues.
"I love being able to solve problems. I love being able to help the customers and watch my team grow," she said. "A lot of times it's really digging in, figuring out if we can do it, how can we do it, and if I can't do it exactly how the customer is asking then what solution we can provide? Being able to solve their problems and provide what's right for the customer is exciting for me."
Dawn's determination doesn't stop at work. In her free time, Dawn has worked to become a 2nd degree black belt and is currently working towards her 3rd degree. She's also training for her first sprint triathlon in August.
Professionally or personally, Dawn loves to challenge herself and finish what she starts. At Dorner, she can do that while supporting her team and getting their support in return.
"Great teamwork – I think we all work well together. One thing I've really enjoyed about Dorner for the nine years I've been here is how family-oriented it is. Everyone works well together; it's a very cohesive group."
It's professionals like Dawn F. that go above and beyond each and every day. Our global workforce takes pride in partnering with our customers to optimize efficiency and productivity in their applications. We accomplish this through the design, manufacture, support and distribution of high-quality conveyor systems that meet our demanding standards.
That's the Dorner Difference.