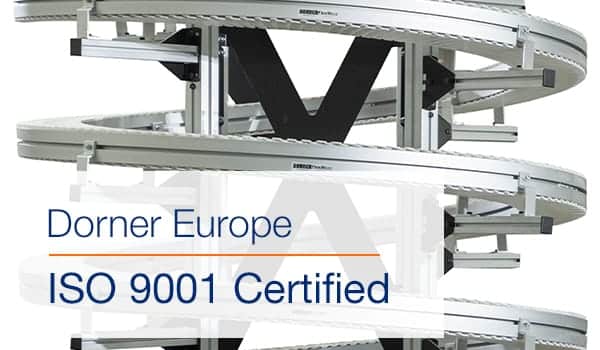 Dorner Europe has completed its ISO audit and is pleased to announce its German location has been recertified to extend the ISO 9001 certification. Dorner Europe was originally certified on September 12, 2018.
ISO 9001 is the latest quality management standard that helps businesses and organizations be more efficient and improve customer satisfaction. This standard is designed to meet the needs of today's business world by focusing on risk-based thinking to achieve a coherent foundation for growth and sustained success. Companies that are ISO 9001 certified place greater emphasis on leadership engagement and help address organizational risks and opportunities in a structured manner.
We are very pleased with Dorner Europe's commitment to effective quality management, optimization of processes and the satisfaction of our customers. Dorner Europe continues to strive for the highest standards and to continuously improve for our customers in Germany and worldwide.
Dorner boasts a global workforce and brings a diverse conveyor automation product line and extensive application knowledge to industries around the world. In addition to the German location, Dorner has manufacturing facilities in Wisconsin, Malaysia and Mexico, and a sales and engineering office in Canada.