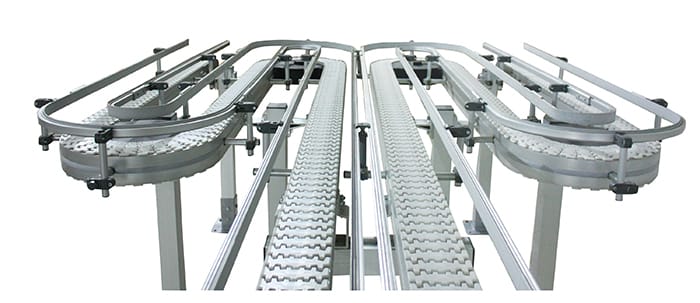 Many companies today are operating under tight parameters when it comes to available space in their plants. Machinery and equipment take up large amounts of valuable real estate, and traditional, bulky conveyor systems further compound the space issue by inadvertently cordoning off areas, reducing the amount of floor space even more.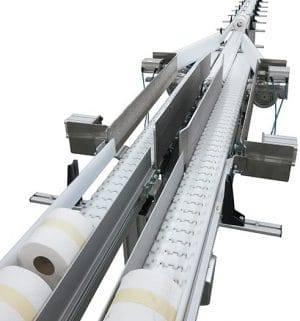 While companies are looking for more space to operate, they're also demanding greater flexibility in their machinery and equipment to meet the demands of a constantly changing market.
This is especially true for conveyors. Modern conveyor systems are at the forefront of moving product through all phases of production, as such, manufacturers require them to be agile and flexible, yet powerful enough to withstand 24/7 operation.
Merging those characteristics together in a single conveyor platform brings a higher level of functionality and automation to the way products are produced and moved.
That platform is Dorner's FlexMove conveyor. Here are five reasons why FlexMove conveyors are the ideal solution to help companies position themselves to meet the production and fulfillment challenges of today and tomorrow.
1. Layout flexibility
Some application designs dictate product to be moved in and around equipment and machinery. To accomplish that requirement, conveyors need to perform tight turns in limited spaces.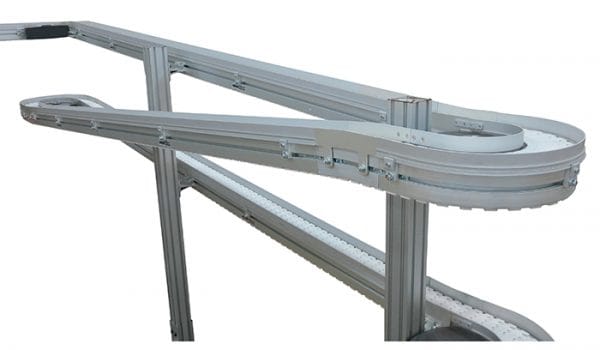 FlexMove conveyors provide the ultimate layout flexibility by snaking tightly through and around machinery to maximize available floor space while maintaining a high level of efficiency.
Tight turns aren't the only advantage they provide for applications. FlexMove conveyors allow customers to find new space by effectively utilizing vertical space. These conveyors move product up or down through corners, straights, and helical configurations, providing vertical incline capability with minimal space.
FlexMove is capable of 360° turns to move product vertically with an extremely small footprint. The platform features a patent-pending chain design that allows the conveyor to maintain speeds and loads through an angled curve, further enhancing its flexibility in and around machinery and equipment.
2. Increase Production Capabilities & Capacity
FlexMove conveyors are designed to move small- to medium-sized products efficiently and quickly. The platform is engineered to increase production capabilities and capacity in numerous ways, including small-part transfers.
Some platforms are built with a large, rounded tail, which is fine for transferring larger parts off the conveyor. However, a larger, rounded tail leaves a gap at the point of transfer from the conveyor belt to the next process (machine or equipment), which is not ideal for small parts as they could fall into that gap and become damaged or jam the system.
If the application involves transferring small parts, a small nosebar feature to eliminate the gap at the point of transfer is necessary. FlexMove comes with a 5/8" nose bar transfer to safely transfer parts as small as 3" diameter at speeds of up to 200 feet per minute for increased productivity.
3. Efficiency Through Automation
FlexMove conveyors are an integral component of your production process and the perfect solution to help grow your business. Much more than simply moving product from one point to the next, FlexMove conveyors enable you to grow by:
Improving production speed
Increasing accuracy
Freeing up employees
Integrating seamlessly with automated systems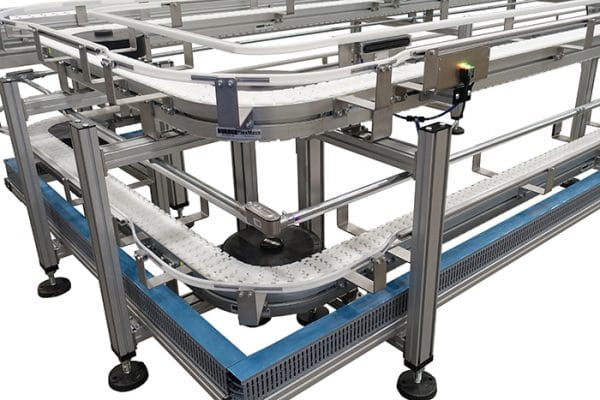 The FlexMove platform brings functionality and automation to your business, and that liberates your staff from having to focus on tedious jobs related to the production process. Their time and energy can now be better allocated to more complex, higher-priority tasks – which makes them more productive and valuable to your operation.
4. Ideal for Many Applications & Industries
Modern consumers' buying habits dictate that they want their products now, and companies need to respond in kind with fast, accurate, and reliable service. This is where the FlexMove platform excels.
The conveyors are engineered to help companies large and small achieve greater productivity by helping them stay ahead of an ever-changing competitive landscape. Markets already seeing the value of FlexMove conveyors include:
Food
Medical & pharmaceutical
Life sciences
Health and beauty
Industrial automation
Packaging & logistics
Retail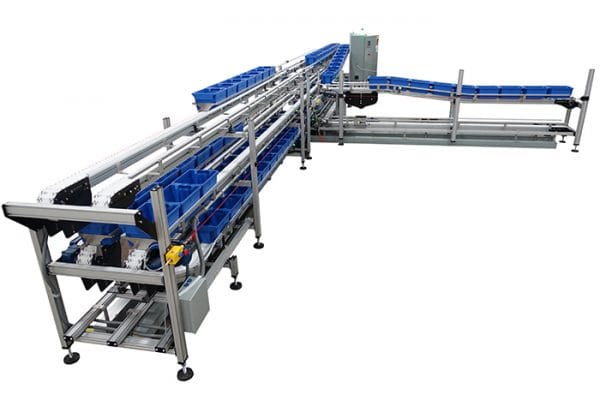 Applications include:
Part handling and orientation
Transfers
Tight spaces
Assembly automation
Machine conveyance
Elevation changes
Accumulation
Buffering
Complex configurations
Long lengths
Curves, jobs, incline, decline
With so many practical applications serving both B2B and B2C markets, the FlexMove platform is built ready to work.
5. Easy to Customize, Fast to Install
FlexMove conveyors are designed and shipped to keep things simple for you. Each conveyor is completely assembled and tested at Dorner. It is then partially disassembled into sub-assemblies for shipping. This means fast and easy installation, allowing you to experience the value of your FlexMove conveyor right away.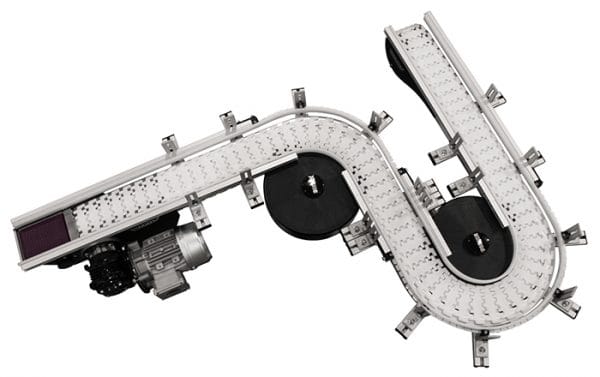 The single-piece aluminum frame construction with T-slot allows for easy-to-install add-ons and customized design changes to meet your exact application. Move loads up to 600 pounds at speeds up to 250 feet per minute – all with a high degree of accuracy and automation with Dorner's FlexMove conveyor platform.
For companies looking to get more from their conveyor system to better maximize their floor space while also meeting changing applications, Dorner's FlexMove conveyor platform is the answer.
Learn more about Dorner's FlexMove Solutions or contact us today!