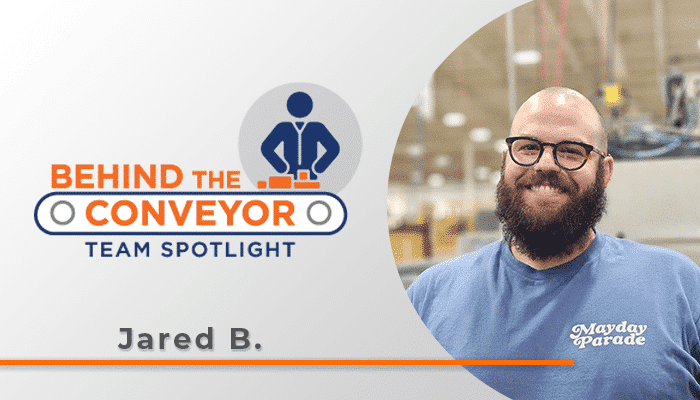 Behind the Conveyor – Team Spotlight
Dorner has become a global brand in conveyor automation – and that's all thanks to our team. This blog series highlights professionals whose dedication and passion positively impact your conveyor systems. These are the faces behind the brand who are helping to transform conveyor automation and having fun doing it!
Meet Jared
As an Associate Supplier Quality Engineer with Dorner, Jared B. has his fair share of problem-solving for the production line. Starting with Dorner two years ago, Jared has always enjoyed working with team leads and the production team to come up with creative solutions to everyday challenges.
Reflecting on experience as a quality professional, Jared pointed out, "Quality can often be considered the enemy at a company, but at Dorner, we get to be an ally." Providing the highest quality products to customers is an essential value for Dorner, allowing Jared to work with many different departments in monitoring product quality and creating solutions that benefit everyone. "It's nice to feel like you're helping your teammates every day."
One of Jared's biggest projects, a new management system for custom inspection plans, was recently launched. He worked closely with Dorner's IT department to build this program in the production management system to help generate customized inspection plans. This will help improve the inspection process throughout Dorner's production line, which is already producing improvements in the short time it has been running.
Exciting changes are also happening for Jared. He has recently begun the shift from quality to engineering and will soon be starting a new role as a Mechanical Drafter. He is excited about the growth this role will provide and the opportunity to face new challenges while providing customers with quality conveyance systems.
The Dorner Difference
It's professionals like Jared who go above and beyond every day. Our global workforce takes pride in partnering with our customers to optimize efficiency and productivity in their applications. We accomplish this by designing, manufacturing, supporting, and distributing high-quality conveyor systems that meet our demanding standards.
That's the Dorner Difference