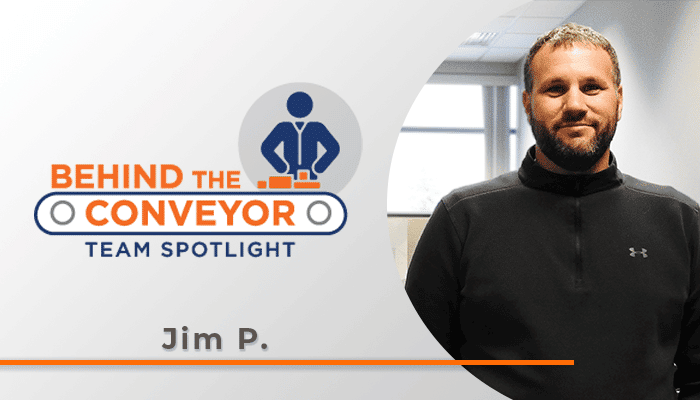 Behind the Conveyor – Team Spotlight
Dorner has become a global brand in conveyor automation – and that's all thanks to our team. In this blog series, we highlighted talented professionals whose dedication and passion are making a positive impact on your conveyor systems. These are the faces behind the brand who are helping to transform conveyor automation … and having fun doing it!
Meet Jim
Starting out as a supply chain specialist 6 years ago, Jim has worked his way up through Dorner and is now leading his own team as Purchasing manager.
Jim takes on new challenges every day and loves that no day is the same at Dorner. "You touch so many different areas of manufacturing," Jim says. He enjoys seeing the products Dorner makes and what those products go into, which can be anything from manufacturing golf balls to packaging toothpaste.
One of Jim's biggest challenges is the ongoing delays in the manufacturing supply chain. He has been an integral piece in Dorner's efforts to look for alternatives in supplying parts and raw materials, as well as in bringing more manufacturing in-house to help reduce lead times.
As the manufacturing industry continues to evolve, Jim will be there to help Dorner keep up with new demands. The industry is going to keep growing, and "companies are going to turn more towards automation than ever." Almost any industry's manufacturing or automated processes involve conveyors, so Dorner will be an important piece in the future of manufacturing growth.
The Dorner Difference
It's professionals like Jim that go above and beyond each and every day. Our global workforce takes pride in partnering with our customers to optimize efficiency and productivity in their applications. We accomplish this through the design, manufacture, support, and distribution of high-quality conveyor systems that meet our demanding standards.
That's the Dorner Difference