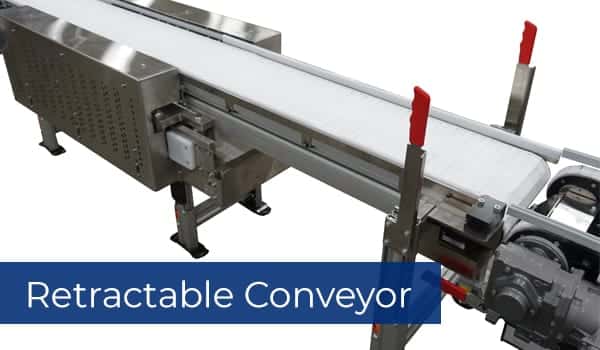 Space can be limited on the factory floor and equipment isn't always easy to access. Conveyors and other machinery can be difficult or unsafe to pass by while they are running. And having to shut down your operation to access a certain area can lead to costly downtime.
But conveyors don't have to be stationary. In fact, a conveyor can be both a means to move your product, and walk-through point in your production facility.
We've shown multiple examples of how this can be done with lift gate conveyors, but a retractable tail can also allow safe and easy access. The retractable option may be a better fit in certain applications, such as a facility where there there isn't the overhead space to accommodate a lift gate.
The video above shows a recent manual retractable conveyor we built for a customer who needed easy maintenance and operator access on their line. There was a safety concern with using an overhead lift gate option, so the retracting tail was the best choice for their situation.
Also, there is no need to shut down the whole operation for the customer to use the walkthrough access. The conveyor can continue to run while it is being retracted or extended and an air cylinder at the end of the conveyor tail will pop up and ensure that no product is able to fall off.
Additional features:
The opening created can be as wide as 6 feet
The casters on the floor will follow the contour of the floor and not affect the conveyor (this is key when the customer's floor is uneven)
It only takes about 20 lbs of force to open and close the conveyor
If the customer needed, the conveyor could be programmed to automatically stop when opened/retracted.
Learn more about other uses of Dorner's Retractable Conveyors.