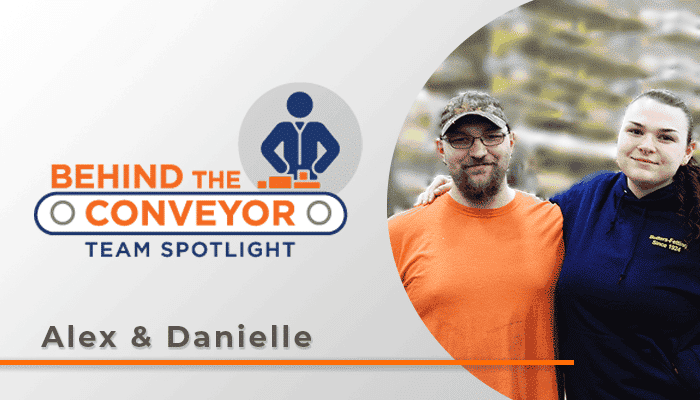 Behind the Conveyor – Team Spotlight
Dorner has become a global brand in conveyor automation – and that's all thanks to our team. In this blog series, we highlighted talented professionals whose dedication and passion are making a positive impact on your conveyor systems. These are the faces behind the brand who are helping to transform conveyor automation … and having fun doing it!
Meet Alex and Danielle
Dorner has always been known as a family-centric business, which started when brothers Horst, Werner and Wolfgang founded the business back in the 1960s. Although the brothers have long since retired, the family sentiment is still strong, as members from many different families work together building conveyors.
Alex and Danielle K. are two of them. The brother and sister duo have worked at Dorner for the past year, both as Built-to-Order (BTO) assembly technicians. Coincidentally, they worked together at a previous manufacturing firm prior to joining Dorner.
"What we have both found is that working at Dorner is much more relaxed. Leadership here trusts you to do your job, and we appreciate that," Alex said.
As BTO technicians, they get involved early in the manufacturing process. Alex operates a saw, cutting materials to size for assembly, whereas Danielle works in the belting area. Working in BTO encompasses different departments, a variety that appeals to Danielle.
"What I like about being here is that I can bounce around between the six different positions within BTO," she said. "We get trained on everything, which is really great."
Alex and Danielle both said more people should consider a career in manufacturing because it offers a challenging work environment and a competitive wage.
"You can make good money in this industry without a college degree," Danielle said. "It is the same thing with many of the trades. Some people frown upon that type of work, but often they will pay you to go to school to learn that skill. I see no downside."
Right now, the two siblings work the same schedule, but opposite sides of the shop.
"We have enough brother-sister time already, we don't need to work right next to each other," Danielle chuckled.
The Dorner Difference
It's professionals like Alex and Danielle that go above and beyond each and every day. Our global workforce takes pride in partnering with our customers to optimize efficiency and productivity in their applications. We accomplish this through the design, manufacture, support and distribution of high-quality conveyor systems that meet our demanding standards.
That's the Dorner Difference.