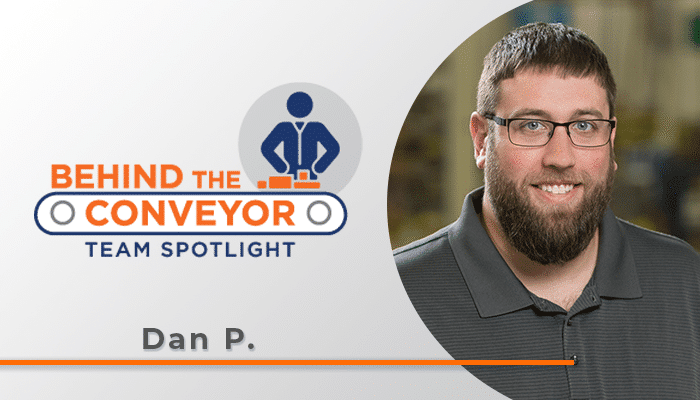 Behind the Conveyor – Team Spotlight
Dorner has become a global brand in conveyor automation – and that's all thanks to our team. This blog series highlights professionals whose dedication and passion positively impact your conveyor systems. These are the faces behind the brand who are helping to transform conveyor automation and having fun doing it!
Meet Dan
For Dan P., the best part about being a Mechanical Engineer is having the opportunity to use his creativity daily to develop unique designs that meet a client's needs. Starting as an intern in designing and drafting with Dorner 9 years ago, Dan is no stranger to the many challenges of designing custom conveyors for clients. From systems needed to carry live explosives for decommissioning to transporting large bags of sugar, every application has challenges to overcome.
However, like Dorner's other Mechanical Engineers, Dan does more than design the conveyors. He often finds himself in the shop working with technicians to see how the drawings he created are translated into working systems. It can be very hands-on work, but he said, "I've always loved tinkering and working with machinery." Seeing the conveyors he's helped design being built helps him further anticipate how the system will work for the client and how he can make it work better and be easier to maintain. "It's about coming up with the best solution to handle the product."
Conveyors will always be needed in manufacturing, and Dan is excited every day to see the new technology being developed to help conveyors and manufacturing lines run better, faster, and more efficiently. "Manufacturing is so broad and always growing and changing." As new technologies are developed, new conveyance solutions will need to be designed and built to meet the industry's ever-changing needs.
The Dorner Difference
It's professionals like Dan that go above and beyond every day. Our global workforce takes pride in partnering with our customers to optimize efficiency and productivity in their applications. We accomplish this by designing, manufacturing, supporting, and distributing high-quality conveyor systems that meet our demanding standards.
That's the Dorner Difference