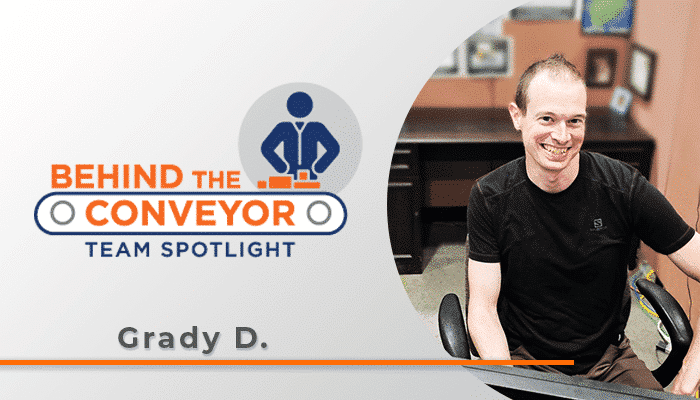 Behind the Conveyor – Team Spotlight
Dorner has become a global brand in conveyor automation – and that's all thanks to our team. This blog series highlights professionals whose dedication and passion positively impact your conveyor systems. These are the faces behind the brand who are helping to transform conveyor automation and having fun doing it!
Meet Grady
For Grady D., the most important criteria for what makes a company a good place to work is team you work with. As a manufacturing engineer, he has certainly worked with a wide variety of people throughout the company, and they are the ones who have made working at Dorner so enjoyable.
Throughout Grady's 12-year career at Dorner, he has played an important part in bridging new product development and manufacturing, creating cell layouts on the shop floor and developing fabrication processes to bring new conveyor systems into production. "Every project is both challenging and rewarding," and the wide breadth of products Dorner offers really adds an interesting challenge and variety to working here. It makes every day a little different and gives each employee the opportunity to learn many different skills.
Grady believes that what makes Dorner truly unique the commitment to work together as a team to better serve customers, and we agree! The team at Dorner works tirelessly to meet wider goals, both within their departments and throughout the company. The cross functional teams that Grady works with are ultimately what make the job enjoyable and keeps him motivated day after day.
While the industry will continue to develop new automation technology and processes, it's the people who work in manufacturing that will always make the difference and make it a great industry to be a part of.
The Dorner Difference
It's professionals like Grady that go above and beyond each and every day. Our global workforce takes pride in partnering with our customers to optimize efficiency and productivity in their applications. We accomplish this through designing, manufacturing, supporting, and distributing of high-quality conveyor systems that meet our demanding standards.
That's the Dorner Difference