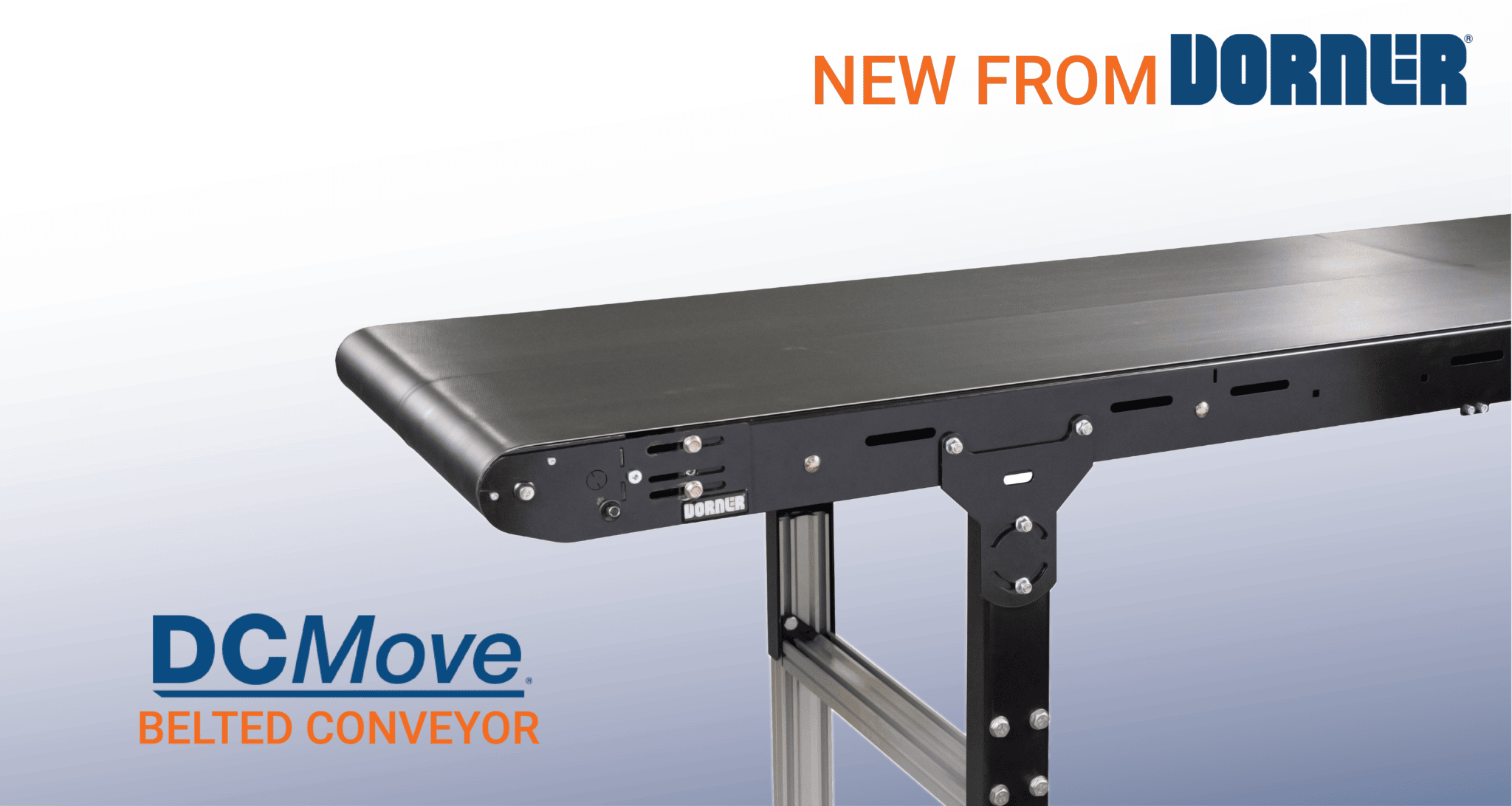 Dorner is debuting the new DCMove conveyor series with the DCMove Belted Conveyor! Featuring an economic painted steel frame, this new conveyor offers the durability and precision needed for the material handling, logistics, and e-commerce industries.
The new system is designed with all bearings and components inside the frame of the conveyor creating flush side frames and allowing the DCMove to fit into tight spaces while still maximizing belt coverage. It also includes an option for internal motor mounting within the tails of the conveyor, further reducing the conveyor's footprint and providing easy integration.
Additionally, the DCMove Belted conveyor offers a load capacity of up to 400 lbs, and a high friction PVC belt option for added durability in the most challenging material handling applications. In combination with Dorner's v-guided belt tracking and precise rack and pinion belt tensioning, these features make this conveyor an ideal solution for material handling, packaging, palletizing, and many more industrial applications.
Benefits and Specs of the DCMove Belted Conveyor:
Pa

inted steel frame adds durability for material handling applications

V-guide belt tracking and easy belt tensioning
Flush sides for maximum belt coverage
Sealed for life internal bearings
Available with flat or cleated belting
Loads up to 400lbs
Speeds up to 600ft/min
Lengths from 38 in – 40 ft
3in roller diameters with 1.25in nose bar option to handle smaller packages
Frequently Asked Questions:
Q: What is the benefit of a painted steel frame over aluminum?
A: The painted steel frame offers an economic option and is more resistant to surface wear and tear than aluminum.
Q: What motor configurations are available with the DCMove?
A: The DCMove includes options for end drive, center drive, and iDrive2 motor configurations.
Q: What applications is the DCMove ideal for?
A: This conveyor was designed with durability in mind, making it perfect for industrial applications including packaging, labeling, printing, material handling, and many other industrial applications.
Q: What does "DC" stand for?
A: The "DC" in DCMove stands for Distribution Center. The series was named DCMove, because its primary design was for large scale material handling in distribution centers and large warehousing facilities. However, this system is still a great choice for many applications outside of a distribution center environment.
Q: What belting options are available for the DCMove Belted conveyors?
A: The DCMove Belted is available in a variety of flat fabric belts, and cleated fabric belt options.
Visit the product page to learn more about the DCMove Belted Conveyor or configure your own system through our DTools Configurator.