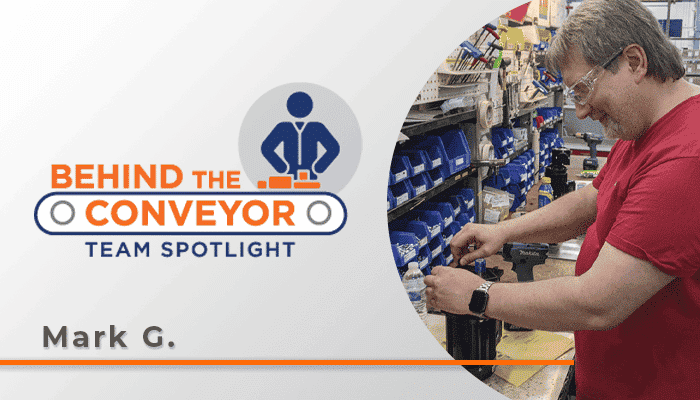 Behind the Conveyor – Team Spotlight
Dorner has become a global brand in conveyor automation – and that's all thanks to our team. In this blog series, we highlighted talented professionals whose dedication and passion are making a positive impact on your conveyor systems. These are the faces behind the brand who are helping to transform conveyor automation … and having fun doing it!
Meet Mark G.
Sometimes word of mouth can be the best recruiter. Just ask Mark G.
Working as a used car technician at a local dealership, Mark was considering making a career change. A colleague he knew from the dealership had previously made the jump to Dorner, and upon hearing him talk about the company, Mark was sold.
"He had been trying to get me to come to Dorner as well. He was telling me how great the place was, but I was hesitant because of the extra distance," Mark said. "I finally gave in and made the change. Dorner is a great place to work. The people, the benefits – there's no downside. Plus, I don't get my hands dirty anymore from working on cars. It's been a perfect career move for me."
Mark is a BTO Tech assembling Dorner's 2200 Series line of conveyors. What he enjoys most about his job is seeing projects completed from start to finish, knowing he had a hand in building them.
"The assembly part of my job is fun. It's neat when you get a special order and you're making something especially for a particular customer, seeing the process that conveyor order goes through," he said. "You're building something and putting your effort into it to make sure that it's a nice quality product that's going to be used every day. That's pretty satisfying to me."
He only wishes he had made the move to Dorner earlier. "It's a great place to work. Make the change and come work here. You won't regret it."
It's professionals like Mark that go above and beyond each and every day. Our global workforce takes pride in partnering with our customers to optimize efficiency and productivity in their applications. We accomplish this through the design, manufacture, support and distribution of high-quality conveyor systems that meet our demanding standards.
That's the Dorner Difference.