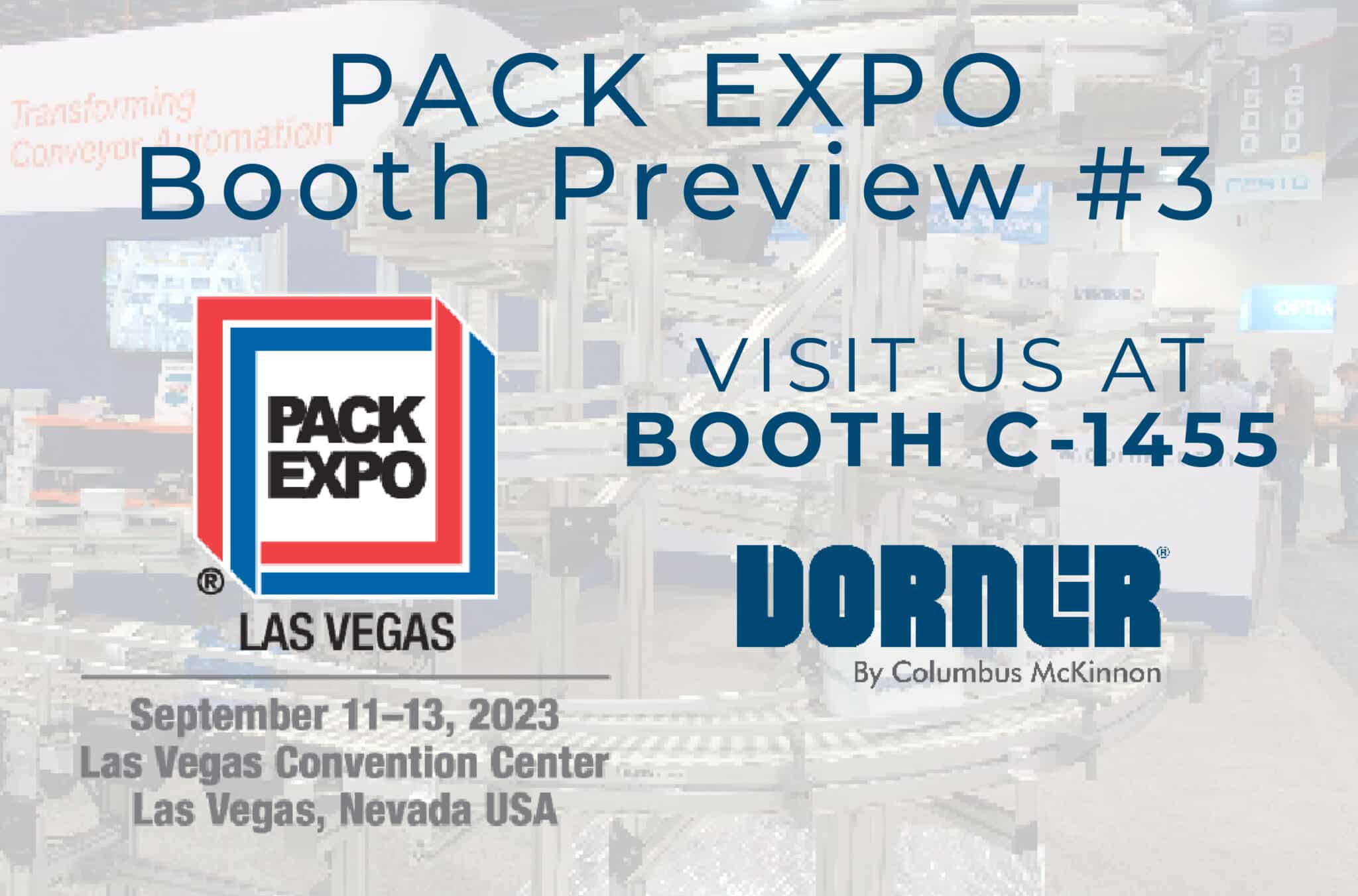 Pack Expo 2023 is just around the corner, it will be exciting to see all of the new packaging technology as well as the tried-and-true systems that have already benefited the industry. Among the innovative solutions to see, Dorner will be displaying the revolutionary Sanitary Loop featuring the stainless-steel AquaPruf VBT, AquaGard 7350, and LPZ conveyors. These conveyors transform how manufacturers approach sanitary conveying, ensuring efficiency, safety, and reliability like before.
AquaPruf VBT: Elevating Sanitary Conveying
At the heart of Dorner's Sanitary Loop lies the AquaPruf VBT conveyor, a masterpiece of engineering designed to take sanitary conveying to new heights. This conveyor boasts an array of benefits that set it apart from traditional systems:
Designed for bulk product handling
Features and open frame and tool-less designs for ease of cleaning
Proprietary Dorner Belt Technology

Staggered sidewall belt provides increased pocket capacity and reduction in product loss.
Self-releasing sidewall improves product release.
Clean-through side wall design improves cleaning ability, reduces cleaning time, and reduces water usage.
The staggered sidewall can be individually and easily repaired if damaged.
AquaGard 7350 & LPZ: Redefining Sanitary Conveying
This demo displays both a modular belt curve and belted LPZ configurations of the AquaGard 7350 conveyor.
Benefits of AquaGard 7350 Conveyor:
Rugged and durable design
304 stainless steel frame features an open design with minimal horizontal surfaces.
Designed for wipe down and low-pressure wash down with non-caustic chemicals.
V-guided belt tracking on belted models
Tip-up tails for access inside the conveyor for cleaning and maintenance.
Curved Modular Conveyor:
Innovative curve chain with center bearing to eliminate friction, allowing four curves on a single motor.
Safest curve chain in the industry with chain openings less than 4 mm, even in the curves
Compact curve footprint with infeed and outfeed sections as short as 457 mm (18 in).
LPZ Cleated Belt Conveyor:
Optional sidewall cleated belts for small parts
Configurations: Nose-over, Horizontal to incline, Z frame
Explore Dorner's Sanitary Stainless-Steel Conveyors at Pack Expo
As the countdown to PackExpo 2023 begins, anticipation mounts for all the innovative technology that will be on display. With the AquaPruf VBT, AquaGard 7350, and LPZ conveyors taking center stage in Dorner's Sanitary Loop display, food processing and manufacturing professionals alike won't want to miss booth C-1455 at Pack Expo this September.
Dorner's commitment to innovation, efficiency, and impeccable sanitary standards redefines the importance conveyors have in the modern food production facility. Stay tuned for more insider looks at Dorner's booth, and don't miss your chance to see these conveyors in action at Pack Expo Las Vegas.