Design World E-Newsletter
Dorner is Transforming Conveyor Automation by providing cutting edge solutions with best in class support.
---
NEW ERT150 Conveyor for Small and Light-Load Applications
Dorner's new ERT150, is ideal for small and light-load assembly automation, as well as medical and medical-device assembly applications. Additionally, the ERT platform is the only pallet conveyor of its kind available with an ISO Standard Class 4 rating for cleanroom applications.
---
Control Product Flow with Accumulation Conveyors
Your whole production line doesn't need to shut down just because downstream equipment stops. Dorner's accumulation conveyors can contain overflow and buffer items until your line is back up and running.
Our accumulation conveyors are custom built, ensuring they will maximize efficiencies based on your specific product
Learn more about accumulation conveyors
---
ERT250 Beltless Conveyor by Dorner
Dorner's ERT250 Conveyors utilize Edge Roller Technology to provide low back pressure accumulation, non-contact zoning, and conventional transport, all without a belt!
They feature a clean, open roller design and are ideal for assembly automation and cleanroom applications. Check out this must see in pallet and tray handling conveyance.
---
Sanitary Conveyors for Easy Cleaning, Less Downtime
Dorner's AquaGard 7350 Conveyors are designed and manufactured to food equipment standards with FDA approved materials and components.
Benefits of AquaGard 7350 Conveyors:
Rugged and Durable Design

304 Stainless Steel frame features open design with minimal horizontal surfaces

Designed for wipe down and low pressure wash-down with non-caustic chemicals

V-guided belt tracking on belted models

Tip-up tails for access inside the conveyor for cleaning and maintenance

Safest chain in the industry with chain openings less than 4 mm even on curves

Unique chain design virtually eliminates friction providing capacity for up to 4 curves on a single conveyor​
Learn more about the AquaGard 7350 
FlexMove Helix Conveyors
Compact spiral & helical curve, flexible chain conveyors for complete flexibility!
Benefits of FlexMove Helix Conveyors:
Unique, flexible design provides greater flexibility in layout

Infeed and outfeed may be positioned at any height or angle
Custom infeed and outfeed lengths allow the conveyor to extend beyond spiral, reducing the number of conveyors required

Small foot print maximizes valuable floor space
Patented side roller chain reduces corner friction allowing for faster speeds and smooth product handling
Applications include accumulation, buffering, cooling product between processes or machines, and more!
Learn more about the FlexMove Helix 
---
Solve Challenges with Engineered Solutions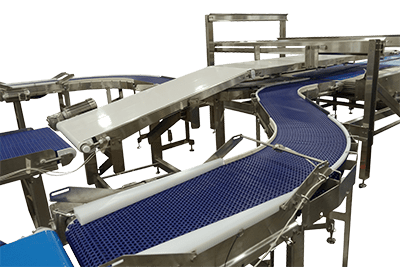 At Dorner, we can provide anything from a single conveyor to a full system. Recently, Dorner worked with a company making frozen pizzas to create a completely custom system with a total of 71 conveyors! The conveyors needed to take multiple sizes of pizzas through and between processes such as freezing, wrapping, inspection and more.
See part of the system in the application video and then read more details on the individual processes below.
---
Select the Right Conveyor with Dorner's Product Selector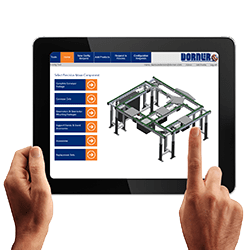 Need help selecting the best conveyor system for your application? Dorner's new Product Selector within its D-Tools program is just the answer. The new Product Selector is available on all of Dorner Tools (D-Tools) conveyor productivity applications, including its 2D and 3D CAD libraries, DConfig and Dpricer.
The Product Selector works by having people check off features and benefits that are important to them in their conveyor system relative to the application they're specifying for.