Merging Conveyors are used to consolidate the flow of product from multiple infeed lines. Typically, these systems will merge the product into a single stream on one conveyor for the next phase in the production process.
There are many ways to merge product, such as: diverters and gates, product pushers, lane guiding, ARB Conveyors and more.
These systems are created to ensure facilities are running efficiently and eliminating bottlenecks while avoiding product pile up or overflow.
Choosing the right type of merge system depends on the application and characteristics of the product that it is created for. Each product is different and Dorner's custom merge conveyors are engineered to your specific needs.
Here are some examples of solutions we've created in the past: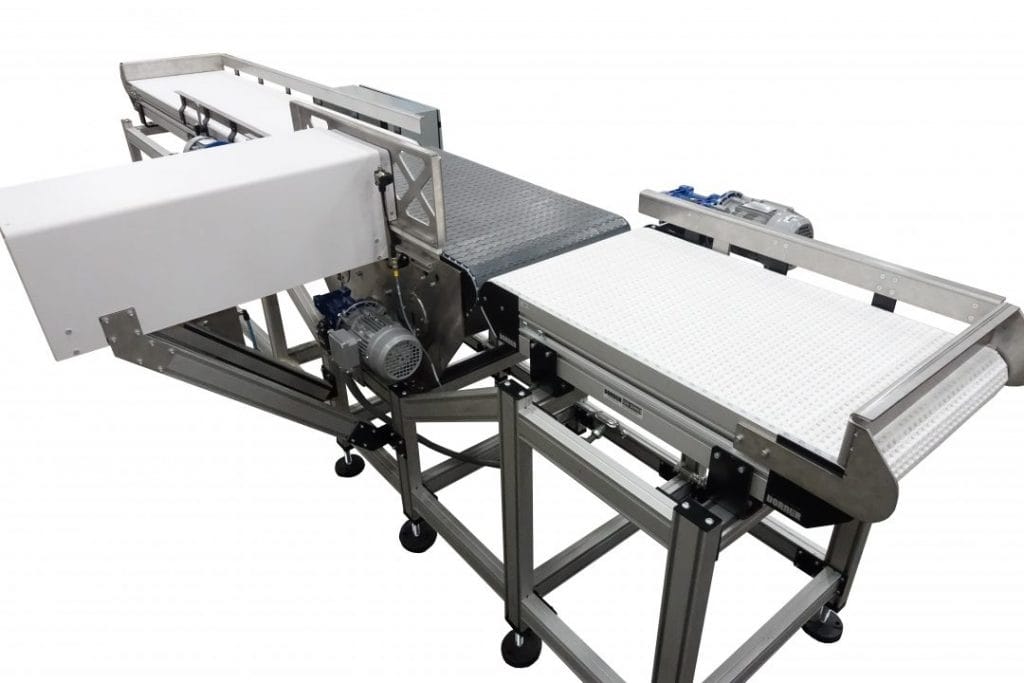 Heavy Duty Product Pusher
This system is merging two infeed lines using a product pusher. Baskets carrying product weighing up to 500 lbs are transferred onto the center conveyor in front of the pusher from either line.
Once the photo eyes confirm the basket is in the correct position, the pusher is activated and transfers the product onto the takeaway conveyor (not pictured).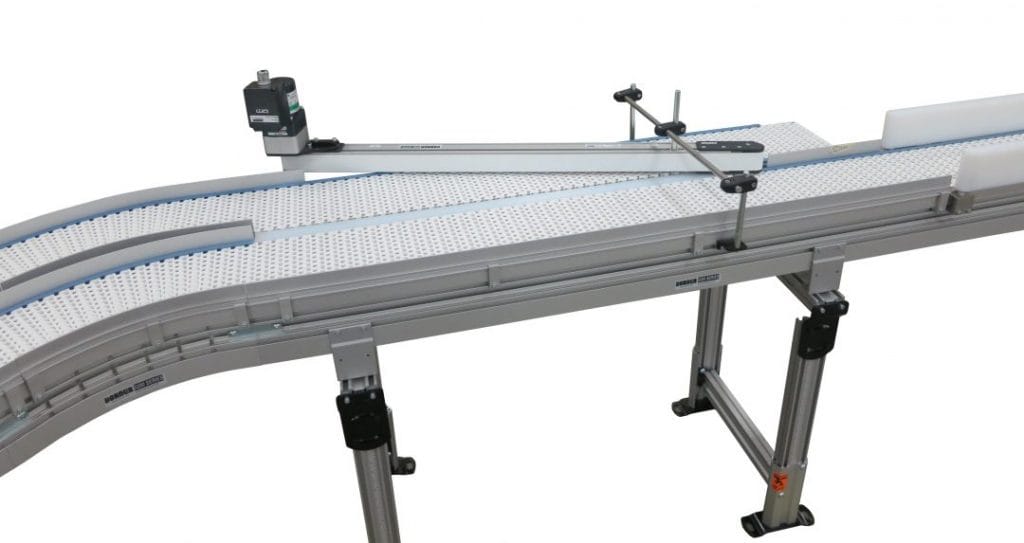 Powered Side Guide Merge
While standard UHMW guides can often be used for simple 2-to-1 merges, some applications can benefit from a powered side guide. These can be useful in situations such as: heavy product that needs assistance over the side transfer, delicate product that you don't want rubbing on the guide, and precision applications where you want better speed control through the merge.
The powered side guide can also be used to pull a gap between products.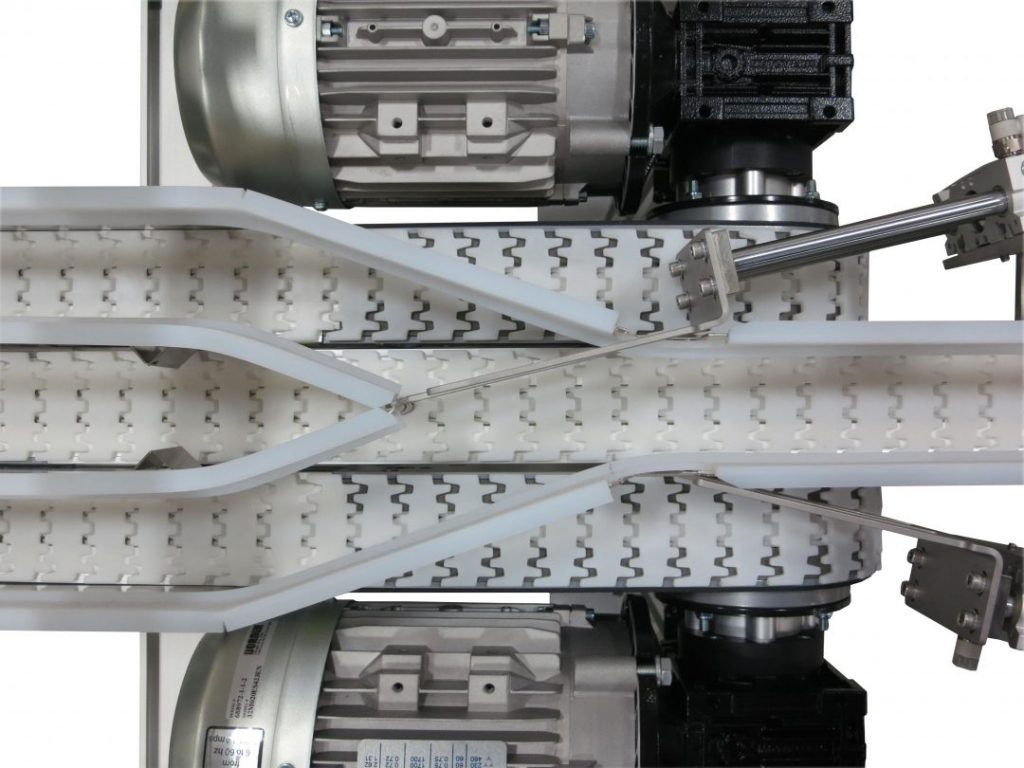 Pneumatic Gate Merge
For this application, empty bottles were traveling down two different infeed lines and needed to be merged onto a single line. Pneumatic gates at the point of the merge can open or close, allowing one line through while bottles are able to accumulate behind the closed gate.
See more of this application including video of the merge.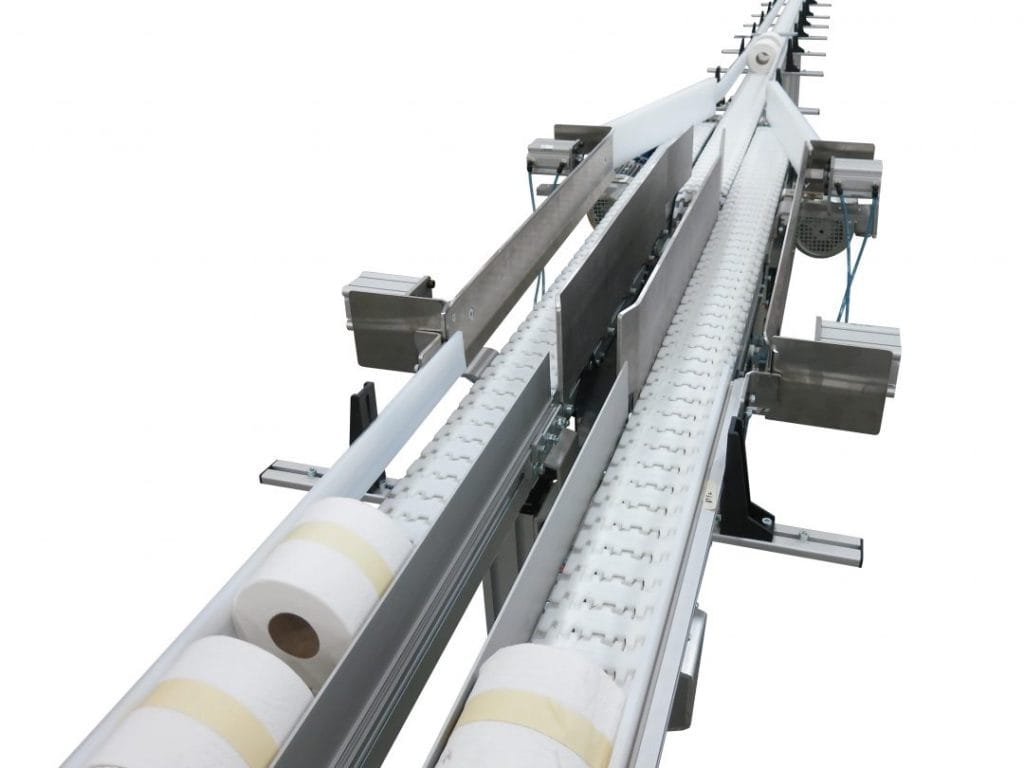 Pneumatic Product Squeezer
This application is very similar to the previous merge, but instead of gates, the system uses pneumatic squeezers.
When one of the infeed conveyor flows needs to be stopped, the squeezer activates and holds the rolls of paper in place. This allows rolls on that side to accumulate until released.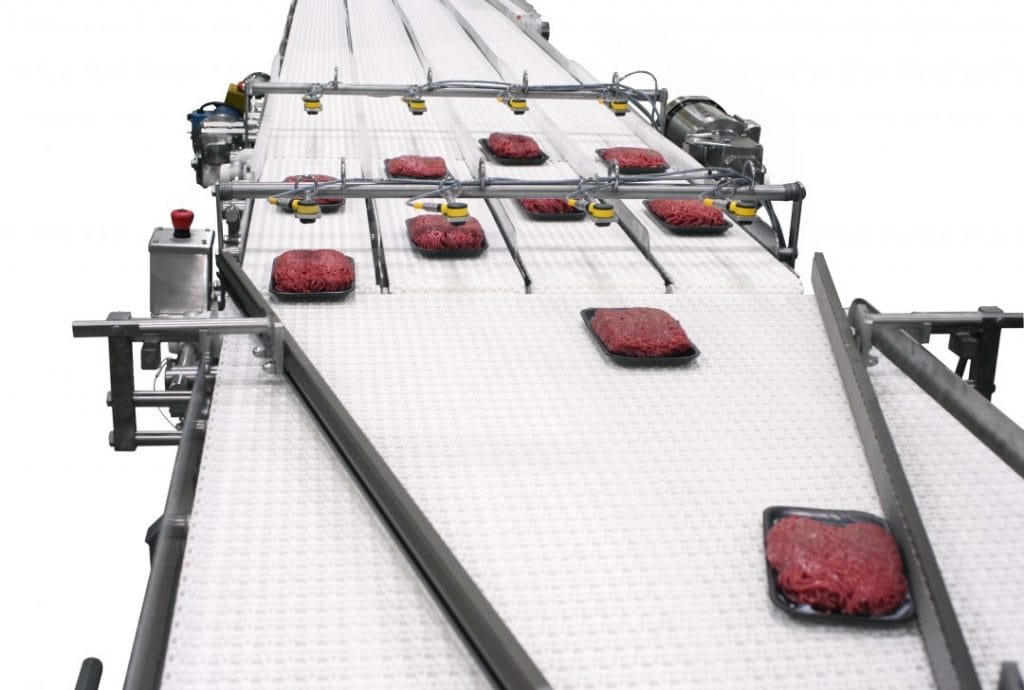 4-to-1 Merge
Using our sanitary AquaPruf conveyors, we designed this 4-to-1 packaging merge with servo motors and photo eyes to maintain fast and consistent product throughput. Since this system was made for a food application, the stainless steel conveyors are completely washdown for sanitation and food safety.
See this application in action below.
To learn more about our custom designed Engineered Solutions, visit our Solutions section or contact us today!