Miniature conveyors are conveyors built as small as they come. Despite their space-saving sizes, however, Dorner's miniature conveyors—also known as mini conveyors, mini conveyor belts, mini belt conveyors and other similar names—are designed to move small parts and lightweight product safely and efficiently. Our mini conveyor belt systems are perfect for transporting pharmaceutical drugs, surgical supplies, respiratory masks, syringes, stents, eyesight glasses and small bottles, for example, making them especially valuable to companies operating in the life sciences, medical and pharmaceutical industries. Let's explore key features of mini conveyors and then take a look at several types of miniature conveyors offered by Dorner.
Features of Mini Conveyors
Dorner's mini conveyors are designed with different sizes, speeds and other features in mind. The following information serves as a snapshot of some common features yet reveals a range of specifications to help give customers a vision for how mini conveyors might work in their businesses.
Belt widths: 1.75 inches (44 millimeters) to 24 inches (610 millimeters).
Conveyor lengths: 10.63 inches (270 millimeters) to 98 feet (30,000 millimeters).
Load capacities: up to 150 pounds (68 kilograms).
Belt speeds: 10 feet per minute (3 meters per minute) to 400 feet per minute (122 meters per minute).

Mini Conveyors Offered by Dorner
Dorner offers a range of miniature conveyors, from our 1100 Series Conveyor and select 2200 Series Conveyors to our FK 45 mm Aluminum Conveyor.
Let's examine key characteristics about each of these mini belt conveyors.
Dorner's 1100 Series Conveyor has earned a reputation for being the industry's smallest-profile conveyor. This mini belt conveyor is built for small and/or lightweight product movement and is favored for use in the life sciences, medical and pharmaceutical industries.
Our 1100 Series Conveyors are designed with a fabric belt and low-profile height. This minimal height is beneficial in facilities where space is limited by freeing up space ordinarily taken up by machines and/or employees. The 1100 Miniature Belt Conveyor's small roller diameter enables smooth transfers of small parts. These miniature conveyors are Class 100 Cleanroom-certified.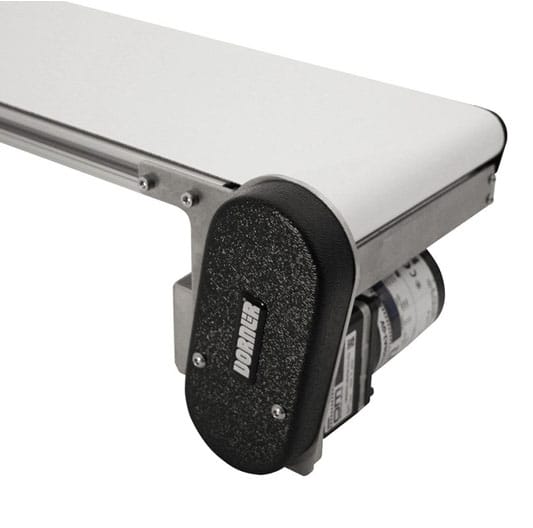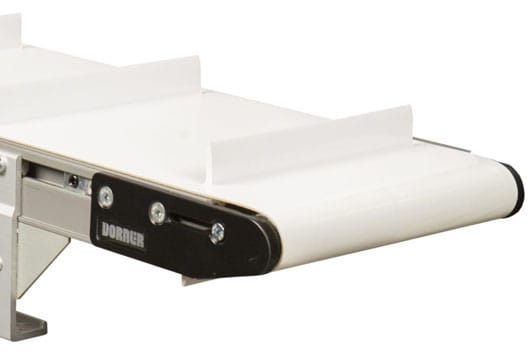 With a rigid and robust single-piece frame, Dorner's 2200 Series Belted Conveyors are suited for handling small to medium-size parts. These mini conveyors are generally used for:
Automated and manual assembly
Inclines and declines
Industrial applications
Packaging
Part accumulation, infeed and outfeed
Precision part movement
Small-part handling, positioning and transfers
Our 2200 Series Belted Conveyors come with the most-compact drive in the conveyor industry. This slim drive saves space and decreases integration time as well as raises the bar on efficiency and productivity. A Universal T-Slot can make attaching accessories and guiding a fast and simple process. Additionally, a nose bar, an optional feature, can help product transfer reach up to 200 feet per minute. These mini conveyor belts conveyors are Class 100 Cleanroom-certified.
2200 Modular Belt Conveyors
Another low-profile miniature conveyor, Dorner's 2200 Modular Belt Conveyors are designed for applications in the assembling, general manufacturing, metalworking and packaging industries. Common applications for this mini conveyor include part accumulation, small-part transfers and small- to medium-part handling. Featuring an open frame design along with a plastic chain, Dorner's 2200 Modular Belt Conveyors are suited for air cooling as well as water and chemical drainage.
These mini conveyor belt systems' compact profile enables it to be used in space-cramped facilities and placed underneath machinery. Our 2200 Modular Belt Conveyors can be operated at speeds as fast as 250 feet per minute. With Dorner's optional nose bar, your team will be able to convey product at up to 175 feet per minute. Just as with our 2200 Series Belted Conveyors, Dorner's 2200 Modular Belt Conveyors are Class 100 Cleanroom-certified.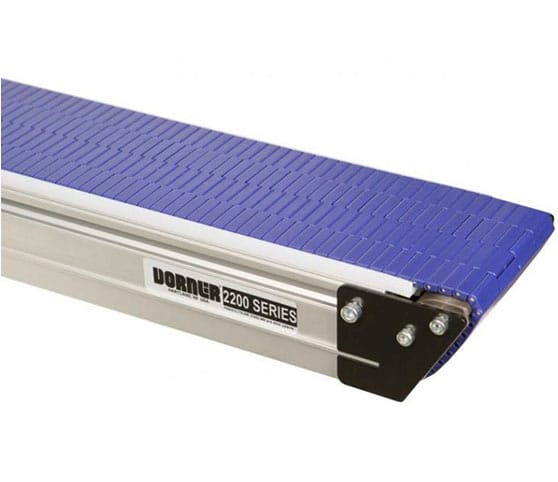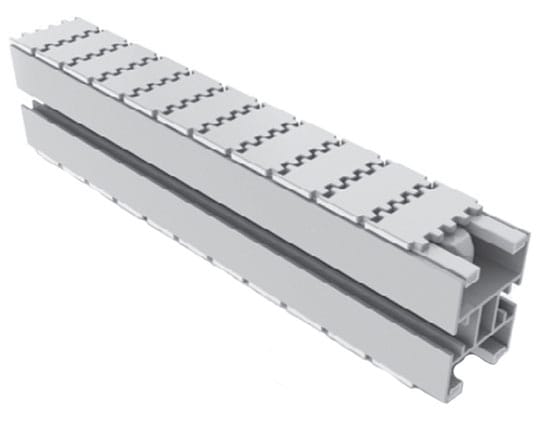 Dorner's FlexMove Conveyors include a miniature conveyor. Our FK 45 mm Aluminum Conveyor model features a compact and clean design and is built to move small items, from perfume bottles to pharmaceutical bottles, quickly. This mini conveyor belt utilizes a plastic chain that allows for horizontal and vertical change of direction. In addition to the standard types, several special purpose chains are available. The FK 45 mm Aluminum Conveyor is used in the life sciences, medical, packaging and processing industries.
Mini Conveyor Applications For Specific Industries
Mini conveyors might feature shorter belt widths and conveyor lengths compared with even small conveyors let alone standard-size conveyors, but they are relied on and valued just as much for their ability to handle lightweight product movement swiftly and efficiently.

Lightweight Product Movement
Businesses creating lightweight products such as perfume bottles, dental floss, eyesight glasses and more require ultra-compact mini belt conveyor systems manufactured and customized by Dorner.

In the life sciences industry, mini conveyor belts are ideal for moving surgical supplies, respiratory masks, specialty gloves and many other kinds of small and lightweight parts and products.

Medical companies producing small medical parts and products, from syringes to stents, need appropriately sized solutions to transport items. Dorner's mini belt conveyors fulfill their needs, offering a range of sizes and customization options to ensure their machine matches their expectations.

Pharmaceutical companies turn to Dorner's mini conveyors to transport pills, pill trays and bottles as well as assist with package labeling. Our 1100 Miniature Belt Conveyor is a favored choice for pharmaceutical businesses. Our 1100 Miniature Belt Conveyor are favored choices for pharmaceutical businesses.
Mini Conveyors Versus Small Conveyors
One person's small conveyor might be called a mini conveyor by someone else. Mini conveyors and small conveyors aren't classified by pure and clean specification differences but instead are relative, especially with regard to the size of a business' facility. Thus, the terms miniature conveyors and small conveyors are often used interchangeably. The following chart offers some key specification differences among these mini conveyors in a snapshot.
1100 Miniature Belt Conveyor
2200 Belted Conveyor
2200 Modular Belt Conveyor
FK 45 mm Aluminum Conveyor
Belt widths
1.75″ (44 mm),
3.75″ (95 mm),
6″ (152 mm),
8″ (203 mm),
& 10″ (254 mm)
1.75″ (44 mm) to 24″ (610 mm)
3″ (76 mm) – 24″ (610 mm
45 mm
Maximum conveyor lengths
10.63″ (270 mm) to 72″(1829 mm) in 1/8″ (3 mm) increments
1.5′ (457 mm) to 24′ (7,315 mm)
18″ (457 mm) – 30′ (9,144 mm)
30 m
Load capacity
Up to 15 lbs (6.8 kg)
Up to 120 lbs (54 kg)
Up to 150 lbs (68 kg)
Up to 10 kg
Maximum belt speeds
80 ft/min (21 m/min)
400 ft/min (122 m/min)
250 ft/min (76 m/min)
3 to 50 m/min
Common Questions About Mini Conveyors