Who knew that a few inches at work could make all the difference?
It may not seem like a lot, but for employees packaging cheese on a tray line at Alpine Slicing & Cheese Conversion, those few inches were noticeable from the repetitive motion of reaching out and grabbing packaged cheese trays. So when it came time to expand its contract packaging services by adding a second tray line, the company was looking for new ideas to improve upon this process…and they found the solution through an adjustable sanitary conveyor system from Dorner Mfg.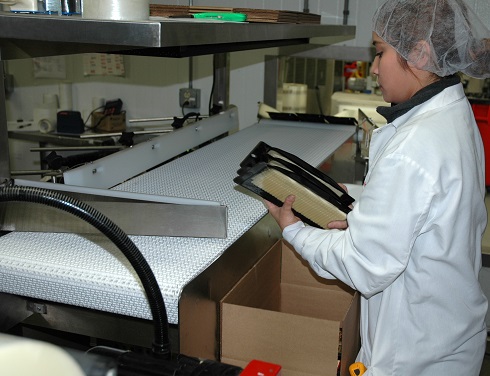 Providing consistent, reliable service, combined with this country's insatiable appetite for cheese helped grow Alpine Slicing & Cheese Conversion's business since its founding in 2006. Being located in the heart of America's Dairyland in Monroe, Wisconsin, the company's ownership team boasts more than a combined 100 years of experience in the cheese producing and packing industry. Today, its 100 employees create retail, foodservice and specialty packaging of up to 700 SKUs for more than 30 private-label brands.
Not Measuring Up
The original tray line is functional as it moves packaged cheese trays to the pack out station for shipping, but it could have been designed better.
"The height on the tray line isn't exactly where we want it to be," said Jim Natzke, manager, Alpine Slicing & Cheese Conversion. "For some of our employees, they were hunched over a bit. Just that little bit of extra reaching adds up, and people can get sore backs. Our goal with the new line was to eliminate that condition and make things more ergonomically correct for our employees."
As the need for a second tray line became clear to leadership, the task of heading up that project fell to Natzke.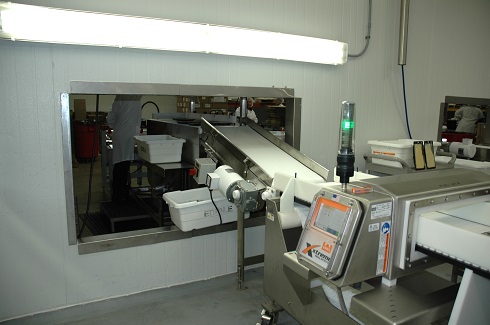 "Knowing the limitations of our original trayline, we thought for this new one let's just approach it differently and see if we can do it better," he said.
On the original tray line, cheese is sliced, packaged and placed onto a conveyor, which passes the product through a metal detection unit. Then, the conveyor deposits the cheese onto a large rotating lazy Susan-type roundtable, which is used to accumulate cheese as the two employees grab the packages and load them into packing boxes in preparation for shipment.
The main issue with this line is the height of the conveyor and position of the rotating table, both of which are a few inches lower than Natzke would like. This leads the employees packing cheese from the line to constantly be bending over to grab the cheese from either the conveyor or reaching out to get cheese trays from the rotating table. The process was causing the employees to perform a lot of extra motion to package cheese, and that was one thing Natzke wanted to be eliminated with the new line.
Collaborating on a New Idea
Having an idea of how the new tray line could be designed, Natzke contacted Dorner and posed the application challenge to Marie Wiese.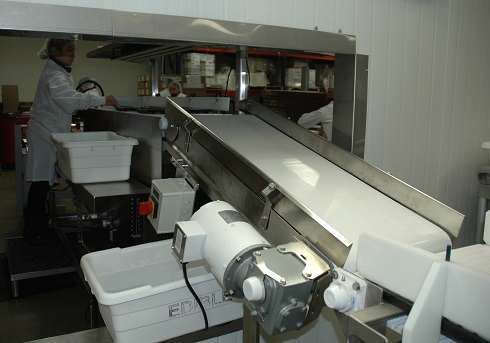 "The packaging of cheese once it comes out of the sealer is a very manual process at Alpine Slicing, and it wasn't very ergonomically sound," said Wiese, sales manager for Dorner's Engineered Solutions Group. "We recently had a similar challenge with another cheese manufacturer, and I thought a comparable solution might work. Jim and I bounced ideas past each other, and we found a solution that satisfied his needs."
And that solution involved two Dorner AquaPruf conveyors, along with a packaging table – all of which are adjustable in height to accommodate Alpine Slice's employees. After cheese trays are packaged from the sealer machine and pass through a metal detector, they transfer onto the first AquaPruf conveyor that's positioned at 25° incline angle. This four-foot long conveyor brings packaged cheese up to proper height for handling and also uses a higher friction belt to prevent the trays from slipping.
Then, the trays are transferred to the final seven-foot long AquaPruf conveyor, where an employee can easily access them for packaging. A stop at the end of the conveyor, fitted with a low-friction belt, allows trays to slide in place if the line begins to back up. For improved lighting and visual inspection, a shelf equipped with lights is positioned over this last conveyor, and also a table is attached to the conveyor for packing boxes, allowing the employee in one motion to handle multiple cheese trays and pack them into cartons.
This new design, which was installed in fall 2015, offers several advantages over the original tray line. First, the conveyor system, along with that attached packout table, can be raised or lowered to best complement different employees for better ergonomics. Second, trays arrive at the pack station properly oriented, making it easier and quicker for employees to handle and pack, as opposed to handling twisted and turned trays from the rotating table.
Third, the efficiencies gained in packaging means the process can be done with one less person as opposed to two employees typically staffed on the original tray line. Fourth, adjustable conveyor guiding means the line can be adjusted to accommodate different size trays. Finally, the conveyor system has a reversing center drive, enabling it to be repurposed to a different area and fed from the opposite direction if needed.
Designed for Sanitary
Dorner's AquaPruf sanitary conveyor platform is designed for the food and medical industries and met various BISSC, NSF, USDA and FDA regulations for safe and effective operation. The platform provides the highest level of sanitation and fast cleaning times as the conveyor can be completely disassembled by one person, without tools, in less than 90 seconds. Natzke said production shuts down between 1 and 5 a.m. every day for cleaning of equipment by a sanitation crew, so time is of the essence.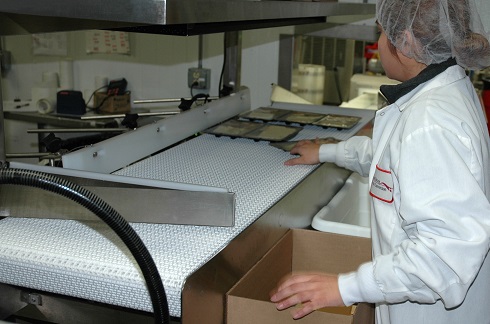 "We have a very robust environmental testing program, and we only have about four hours to clean and sanitize everything," he said. "So being able to take the conveyors apart quickly is a great asset to our sanitation teams."
Natzke said the line is performing well and is planning on replacing the original tray line with a duplicate design from Dorner.
"Working with Marie was really helpful because she's an engineer, and was able to provide good insight as to what can be engineered into a conveyor," he said. "I have been struggling for years to find a good conveyor company. Out on our plant floor, we have conveyors by several different manufacturers. Our goal is to work with a partner that we can grow with, so far so good with Dorner."
Jim Natzke
Manager – Alpine Slicing & Cheese Conversion
N890 Twin Grove Road
Monroe, Wisconsin, 53566
608-325-8210
jimn@wischeese.com
www.alpineconversion.com