It's a good problem to have.
SMAC Corporation, the largest manufacturer in the world of moving coil actuators, has enjoyed a steady growth in business of about 30 percent annually for the past several years. But to accommodate that growth, leadership had been exploring options of either expanding its Carlsbad, California facility, or streamlining production within its existing walls. The more cost effective route was to become leaner with its manufacturing practices…and that included the addition of a 2200 Series belt conveyor from Dorner Mfg. in late 2014.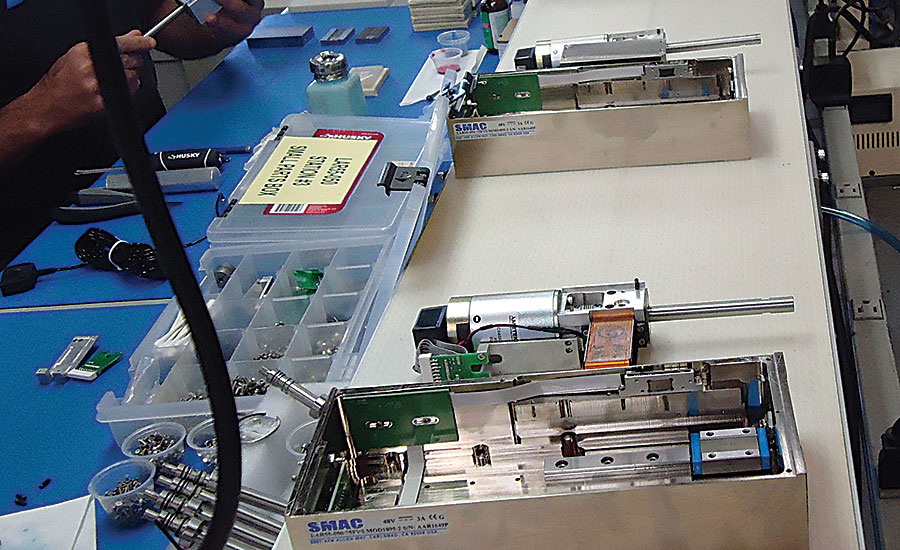 The conveyor plays a key role in the new assembly process of its moving coil actuators. SMAC uses the conveyor as an assembly-line of sorts, moving actuators in a line to five miniature work station cells where employees add parts in sequence until the final assembly is produced.
"The Dorner conveyor gives us is the ability to set the assembly pace, and you can adjust that from one product line to another," said Ed Neff, owner, SMAC Corporation. "If the process is a more complicated one we slow it down, whereas if it's a more simplified process, we can speed it up. Being able to set the pace of the assembly process is important to us."
SMAC Corporation (https://www.smac-mca.com/) made its first actuator back in 1995 and, since that time, has emerged as a leader in linear motor technology. The company manufactures a wide range of precision programmable electric actuators based on its patented moving coil technology. These proprietary moving coil linear motor based designs are technologically far ahead of old generation pneumatic and other electric actuators. In addition to California, SMAC Corporation produces units in Europe and Asia.
Depending on the part being made, the 20-foot long, 15-inch wide conveyor moves anywhere from about three feet a minute to three feet every 10 minutes. The addition of the conveyor outfitted with miniature work cells has allowed the company to increase production from $2.5 million to $10 million in products with the same team of four to five people, Neff said. His goal in the near future is to add additional tooling cells and further refine their processes on the conveyor to increase production upwards toward $20 million.
Neff worked with Nor-Cal Controls (www.norcal4air.com), a San Jose, California-based distributor, to evaluate the project and devise a solution with the 2200 Series conveyor. Founded in 1983 by Robert G. Keller, Nor-Cal Controls offers automation solutions for industrial and medical technologies by distributing electronic, pneumatic, vacuum and robotic components for customers in the Western United States. Rob LeVangie, the San Diego area manager for Nor-Cal Controls, said SMAC Corporation wanted to get the project implemented quickly, so the recommendation of the 2200 Series, which has a fast three-day lead time, was a good solution.
The 2200 Series belt conveyor is ideal for lightweight industrial applications like the one with SMAC Corporation because it features a low profile design and can move with precision at very low speeds.
The conveyor comes with V-guided belting that eliminates tracking issues, and T-slots for easy bolt-on of accessories. All conveyors are made to order to exact specifications.
Neff said the success of the initial assembly line will likely lead to additional ones in the coming months. And when they're ready to move forward, LeVangie plans to recommend Dorner again.
"I just think Dorner is the best conveyor on the market," LeVangie said. "We specify a lot of Dorner conveyors throughout the year. They're a good, responsive company for my customers."