It's a question that probably has been asked in nearly every manufacturing facility at one time or another – whether or not to use in-house fabricated equipment.
In the case of Nashville-based Standard Candy, the question had been answered for some time as it regularly used conveyors manufactured by its maintenance staff in its operations. For the most part, its conveyors have worked out fine. But when Standard Candy needed 18 conveyors to complete an expansion project in a short amount of time, it was time to look elsewhere.
The project involved adding an additional wrapping machine to increase throughput on one of Standard Candy's production lines. When completed, the line would have three wrapping machines to handle the company's assortment of wrapped candy bars and functional health bars.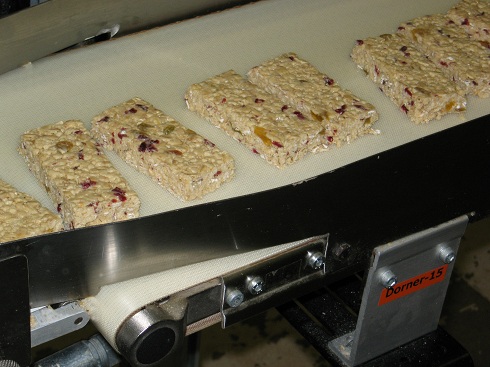 But since the facility's existing layout didn't allow for the third wrapping machine, much of the line's packaging end had to be reconfigured.
"All the packing equipment had to be relocated, and in the process of doing that, none of the existing conveyors that were transporting product would work with the new set-up," said David Reavis, project engineer at Standard Candy. "We had to redo all the conveyors leading to the wrapping machines and then the wrapping machines to all the packaging equipment — all of that had to be redone."
Reavis normally builds his conveyors from scratch and intended to outfit the expansion project with his own handiwork. Reavis said he typically budgets about $5,000 to build a conveyor, with much of that expense earmarked for the drive motor, gearbox, and other prime components. But as the project neared completion, Reavis found himself short on time. Needing conveyors quickly, he contacted Dorner Mfg. Corp.
"I had intended on building them internally," he said. "But I got in a pinch, got behind schedule on my project and I had to have someone bail me out. Fortunately, Dorner was able to do that.
"Their pricing was probably the biggest reason why I choose Dorner because they were around the $5,000 budget mark I normally use. Another reason is the quick lead times. You can actually place an order and get stuff delivered to your dock on time."
Working through Production Resources Inc., a local Dorner distributor in Franklin, Tenn. a mix of Dorner's 2200 and 6200 Series conveyors were the ones that arrived on Standard Candy's dock. The 18 conveyors Reavis order ranged in a variety of distinct lengths, such as 5 feet, 3.96 inches; 14 feet, 9 inches; and 16 feet, 2.76 inches, with the conveyors' belt widths between 8 and 18 inches.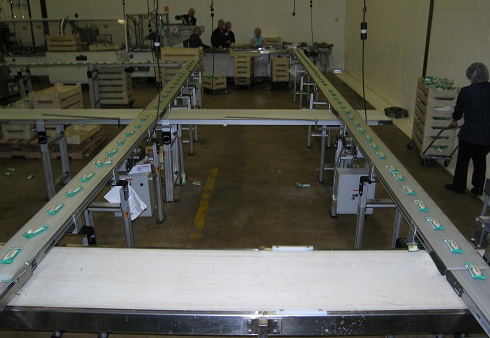 Fulfilling Reavis' order in a matter of days is standard practice at Dorner since it switched to cellular manufacturing four years ago. Each conveyor is built to exact customer specifications when an order arrives. Building conveyors with dimensions of virtually any width or length to meet each customer's precise needs and delivering those conveyors in days instead of weeks —2200 and 6200 Series in four days from initial order — is commonplace for Dorner.
The 18 conveyors operate about 14 hours a day, six days a week. After two years of service Reavis says the conveyors have been working great for Standard Candy. Since installation Dorner has engineered design upgrades on the tail ends for the 2200 and 6200 series platforms. These upgrades, made to Reavis' 18 conveyors, have given them strength and durability for enhanced performance to the tail sections.
"So far, Dorner's been represented pretty well," Reavis said. "The conveyors are modular and you can make changes without a whole lot of trouble. They look like they've got their act together and are doing a good job."