Farason Corporation Chooses Dorner Conveyors to Integrate with its Robotic Machine to Successfully Assemble Coin Proof Sets
Pennsylvania-based Farason Corporation specializes in the design and build of custom machinery and systems for assembly, manufacturing and packaging processes.
When their engineers were faced with finding an effective way to place several thousand coins into coin presentation cases they stepped up to the challenge.The job involved picking and orientating coins for placement into coin presentation case inserts and then assembling the inserts with the remaining presentation case top and bottom lens.
Their Solution: An integration of vision-guided robots, along with precision conveyors supplied by Wisconsin based, conveyor manufacturer Dorner Manufacturing Corp.
The entire machine system uses 13 vision-guided robots and 22 Dorner conveyors.
During the initial in-feeding process, coins are housed in trays as they enter the machine to be indexed for picking.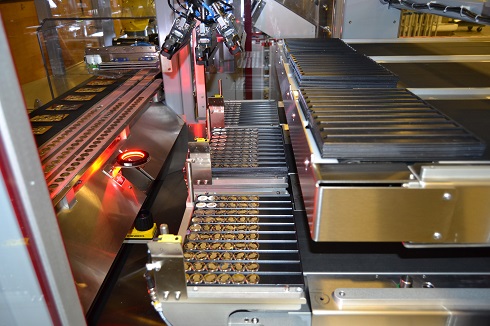 Six Dorner 2200 Series conveyors are used to feed stacks of trays containing six different coins, to the tray unloading robots.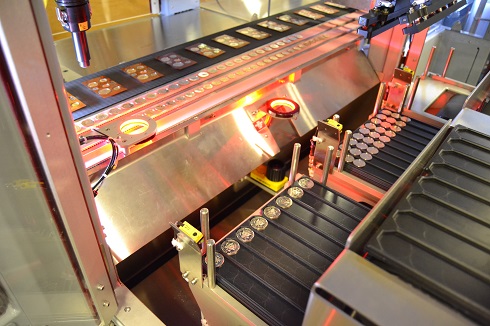 Tray unloading robots remove rows of coins from their respective trays and then place them onto one of six, two-inch wide, servo-driven Dorner timing belt conveyors.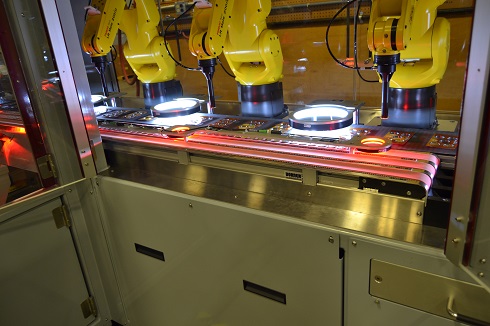 Each conveyor is responsible for indexing its respective coins to a downstream location where a camera takes a picture of the coin to determine its rotational orientation.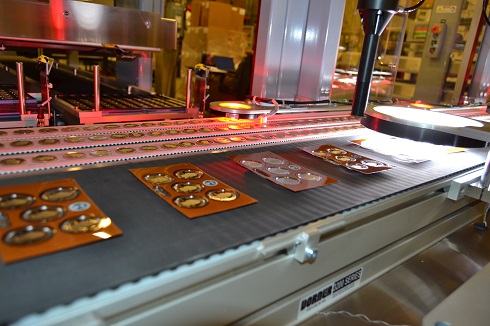 Each conveyor is paired with a coin placing robot, which picks, orientates, and places it into a coin insert well. After the tray unloading robots have fully depleted a tray of coins, they pick the empty trays and place them onto one of six Dorner 2200 Series conveyors for transfer out of the machine.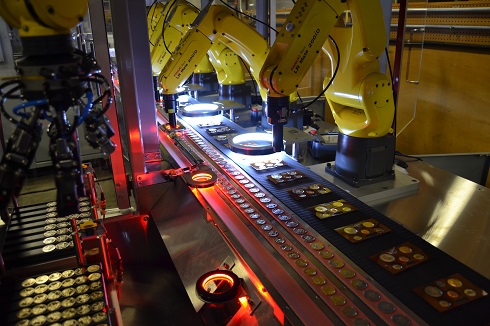 Upstream, a robot picks the coin inserts from a stack, presents them to a camera for inspection, and places them onto a 10-inch wide Dorner 3200 Series.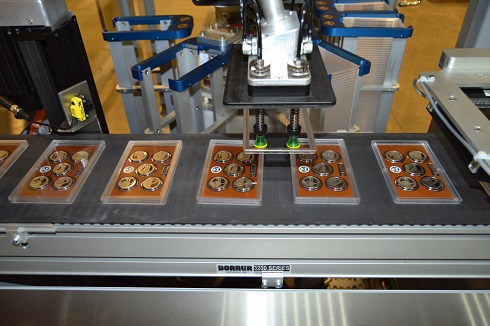 Completed coin inserts are picked by a flipper robot, inspected, and placed into a device that flips the insert 180 degrees.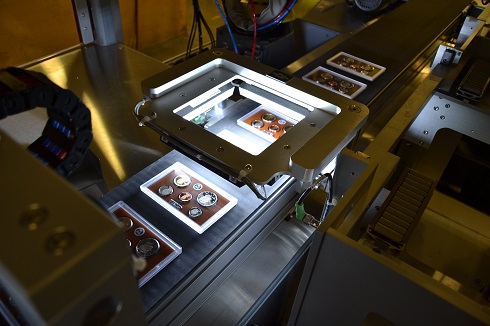 If the coin insert is deemed good, the presentation case top-lens robot will pick a top lens from a stack, inspect, and then place it down onto the downstream Dorner 3200 Series conveyor.
The bottom-lens is then picked up and this assembly is pressed together prior to transferring to the finished assembly, trolley loading robot.
The 2200 and 3200 Series belt conveyor are ideal for lightweight to heavyweight industrial applications. They feature a low profile design, industry-leading product transfers, and a universal T-Slot frame design to easily integrate accessories.
The conveyors also work well with robotics and indexing applications as they are easily programmable to work a variety of drive and control options to fully integrate into a larger system.
All Dorner conveyors are made to order to exact customer specifications.
Learn more about Dorner's Engineered Solutions.