Engineered Solutions
Cleated Belt Conveyor Solutions
What Is A Cleated Conveyor?
Cleated conveyors operate as all other conveyors do, moving items from one place to another. With evenly-spaced or strategically-placed cleats, these conveyors can space products along a conveyor or improve grip and facilitate movement up and down inclines while preventing large and/or loose products from falling out of place.
Enhance your operations with cutting edge cleated belt solutions from Dorner.
Features of a Cleated Conveyor Belt
At Dorner, we can modify a number of our conveyor belts to feature cleats, allowing you to make better use of floor space and increase the security and mobility of the products you manufacture.
Cleats are available in a variety of different sizes, heights, and materials depending on the products you need to maneuver and your specific conveying needs. You may opt for custom cleats on a Dorner conveyor in a range of available heights depending on the model – from a fraction of an inch to nearly half a foot – to help manage products of varying sizes.
Additionally, cleats are commonly available in materials such as:
Urethane
Rubber
Engineered plastic
The conveyor you decide to purchase may influence the type of cleating available, so discuss your needs, limitations, and expectations with our team to get the best recommendations for cleated conveyors.
When you purchase a cleated conveyor from Dorner, we handle the cleating in-house, a unique feature we offer to ensure quality and customer satisfaction. You can trust that we will provide you with cleated conveyors that address your needs and meet our quality standards because we do our cleating in-house.
In-house cleating is provided by a proprietary process of radio-frequency welding the urethane cleats to the base conveyor belt. By providing this service in house generates the utmost in flexibility. We make your cleated belt to order, generating virtually any cleat height, cleat spacing, or even cleat pattern your application may need.
A second point to consider is food safety. Many of our cleated conveyors are made to move food products. It is required that cleats that come in contact with food must not have any cracks or poor bonds, as these elements can lead to food contamination.
The Dorner superior radio frequency welding process generates a seamless bond between the cleat and the base belt, almost undetectable, ensuring the utmost food safety. 
Cleated Conveyor Options from Dorner
At Dorner, we recognize the growing need for optimized use of space and improved efficiency. With cleated conveyors, you can enhance your operations by using more vertical space, securing products during movement, and reducing the risk of damage or loss.
Aluminum Cleated Belt Conveyors
Our aluminum cleated belt conveyors, including the 3200 Series conveyors, are perfect for a number of applications, including:
Parts Handling
Transfers
Accumulation
Precision Parts Movement
Positioning
We've created the 3200 Series to be especially low maintenance, reducing downtime and helping you save time to meet complex needs. When equipped with cleating available in heights from 0.24″ (6 mm) to 5.9″ (150 mm) high, these conveyors can achieve high-speed, high-precision conveying, even on inclines and declines.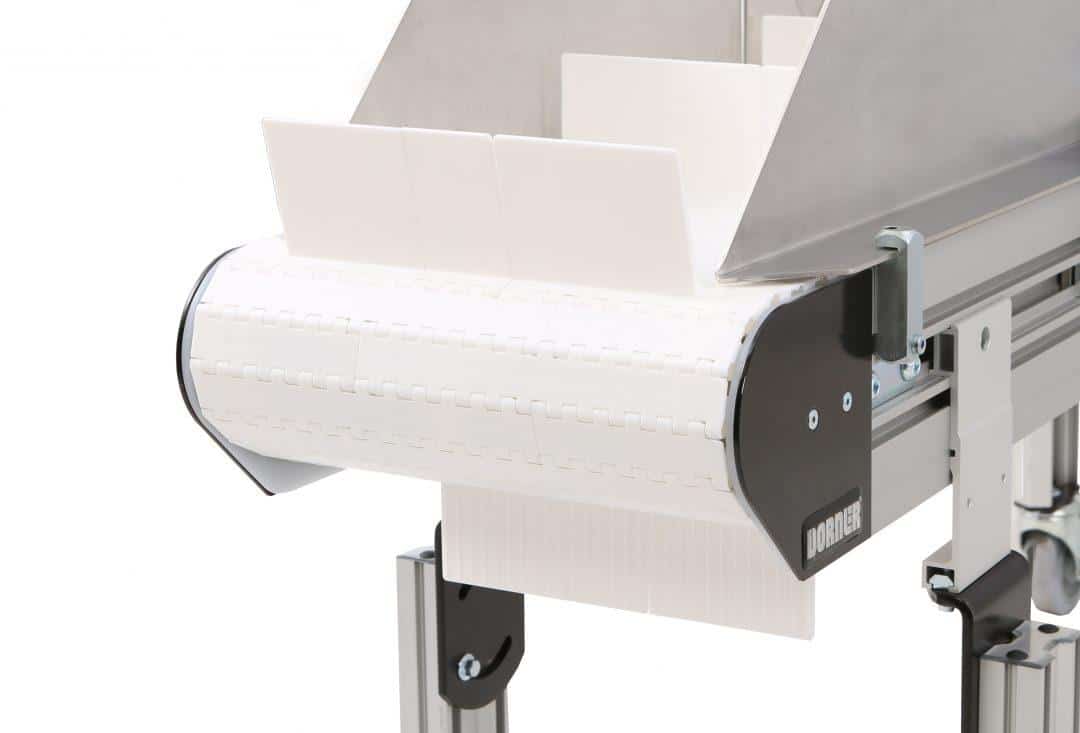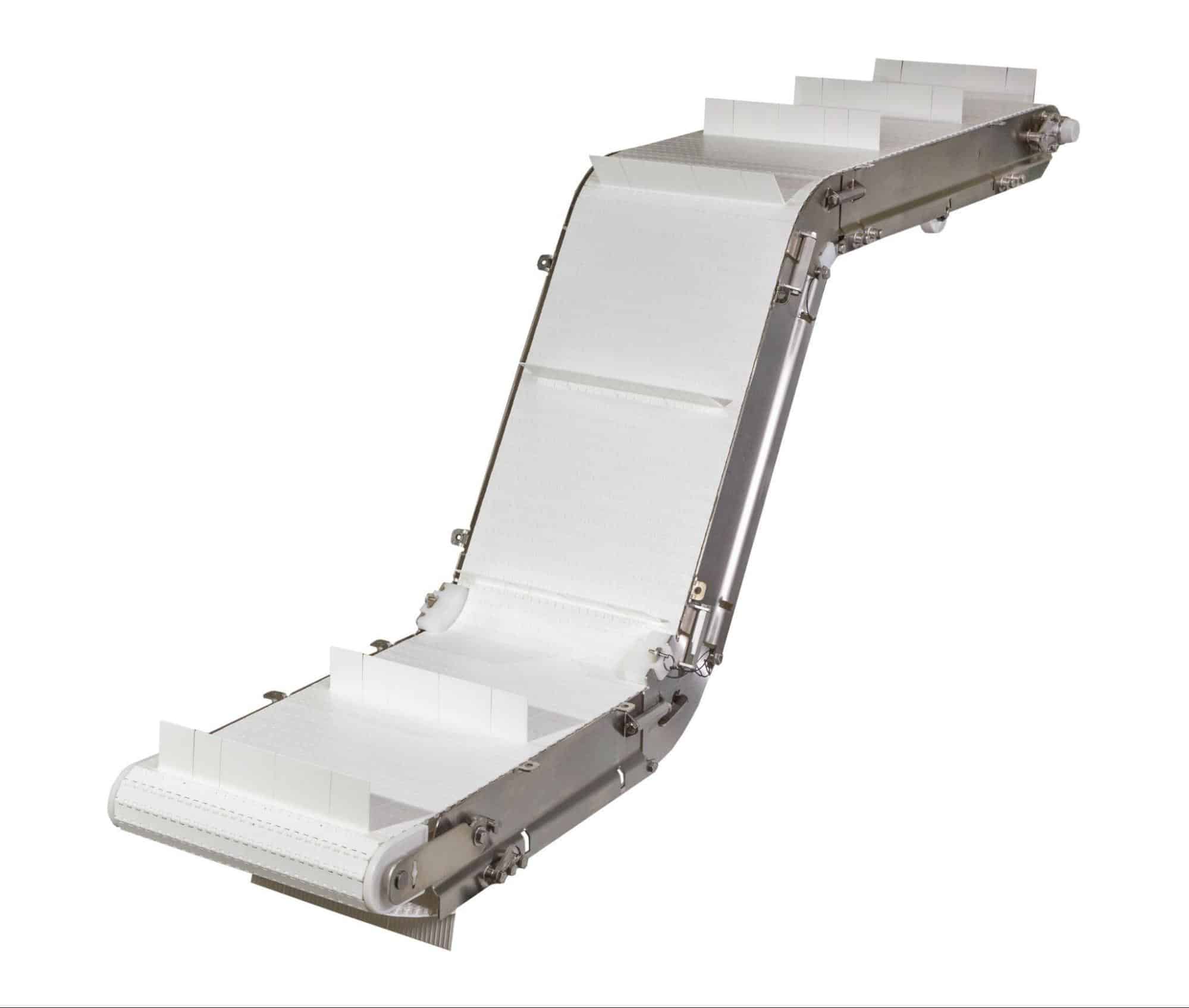 LPZ Cleated Belt Conveyors
The LPZ Z-Frame conveyor offers elevation to your operations, helping you take advantage of floor space and improve efficiency. These conveyors have a wide range of potential applications, including raw food processing, and the addition of cleats can improve the stability of products as they travel down the line.
You will also have the following options for cleating:
Sealed edge
Encased
Sidewall cleating
Additionally, we offer this conveyor with a modular cleated belt.
Sanitary Cleated Belt Conveyors
Our sanitary conveyors are built for durability, safety, and accessibility. The 7400 AquaPruf cleated belt and AquaGard 7350 cleated belt conveyors can keep food products separate and sanitary, preventing spillage, contamination, and damage. 
The AquaGard LP (low profile) is the latest reiteration in the AquaGard sanitary conveyor line.
Designed to fit in small spaces, the AquaGard LP is the ideal space-saving sanitary solution for dry and wipedown applications alike in a range of industries, including pharmaceutical, baking, and packaged food.
This stainless steel conveyor meets the Baking Industry Sanitation Standards Committee (BISSC) Certification standards, making it suitable for food processing as well as quick and easy cleaning.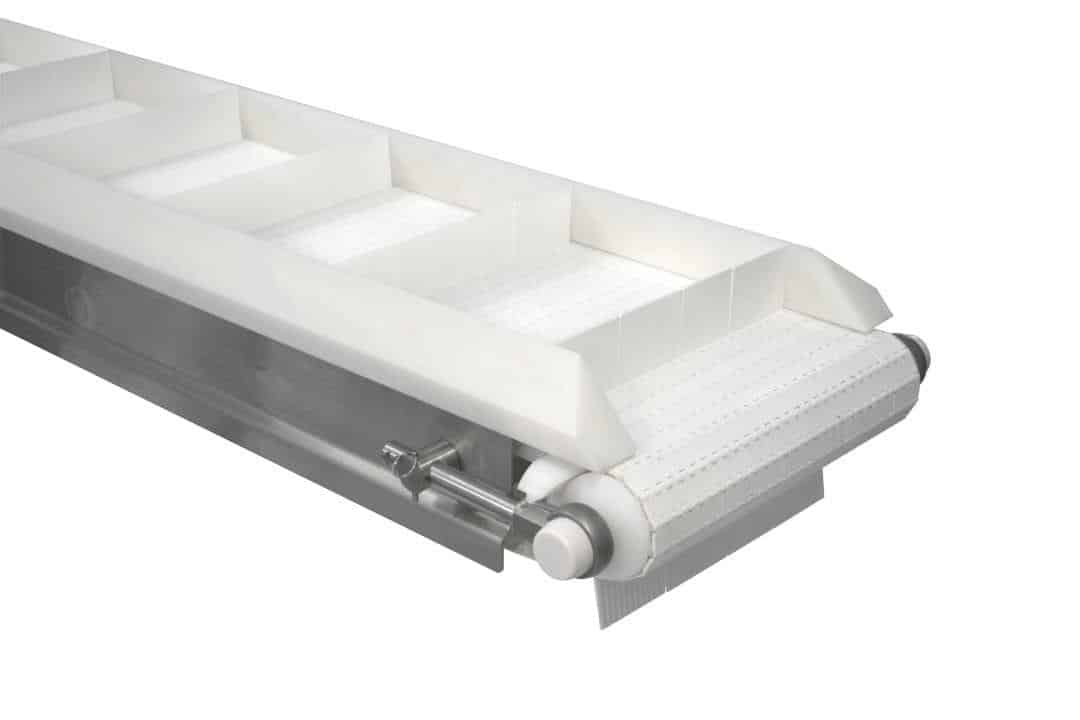 Applications of Cleated Conveyors
Integrating a cleated conveyor into your facility can be immensely beneficial for a number of applications. Cleated conveyors generally offer enhanced stability and precision in your operations, reducing the margin of error and promoting higher rates of efficiency, especially in the following applications.
With a cleated incline conveyor, you can safely capitalize on your available space and optimize your operations without compromising the safety and security of the products you are moving.
A cleated belt allows you to incline and decline at angles up to 60 degrees. With a traditional flat belt, this is often limited to angles less than 20 degrees. This higher incline angle saves valuable floor space. Cleated conveyors keep products in position during transportation, preventing damage and loss without sacrificing speed or precision.
Adding elevation to your production or manufacturing line can help you save space, cut costs, and encourage a safer environment for products and workers alike. 
Precise product placement on conveyors can make a critical difference in efficiency and accuracy, especially during assembly and packaging processes. Cleated belts can be used to space products, provide locations for operators to place products, even hold products tightly for interface with robotics or other automation devices.
With a cleated conveyor, you can achieve high-precision conveying in a cost-effective manner, keeping separate products in the right position and optimizing your operations.
Industries That Benefit from
Cleated Conveyor Belting
The varied applications of cleated belt conveyors make them suitable for a number of industries. However, some of the most common industries that utilize cleated conveyor belts are as follows.
As mentioned previously, cleated conveyors can be perfect for food handling applications, such as processes involving baked goods and confectioneries. With sanitary conveying options available, you can safely separate and protect prepared food items during product handling, accumulation, merging, and more.
The cleated conveyors that meet USDA sanitary standards can be used for raw meat and poultry handling, as well. Whether you need innovative vertical solutions to maximize your use of floor space or efficient solutions to ensure product security during movement, Dorner can provide your facility with the custom cleated conveyors you need.
Precision conveying with cleated belts can help you improve efficiency, accuracy, and overall productivity for pharmaceutical applications. With a cleated conveyor from Dorner, you can utilize automation to optimize efficiencies in processes like:
Pill Compression
Bottle Filling
Blister Packaging
Off-line Inspections
Sorting and Grouping
Frequently Asked Questions
About Cleated Conveyors
A cleated belt conveyor operates much like other types of conveying systems, but these models feature cleats that help separate products and/or prevent them from shifting out of place during motion.
Cleated belt conveyors have many applications, including processes in the following industries:
Baking and confectionary

Food handling

Meat and poultry handling

Pharmaceuticals

Packaging
This type of conveyor is especially useful for processes such as:
Assembly

Packaging

Accumulation

Elevation

Depositing

Rejection

Inspection
Modular belts feature interlocking segments that can be singularly replaced or repaired in the event of damage, unlike a flat belt conveyor. Often made with plastic, modular conveyor belts are a popular choice for sanitary applications because they are easy to clean.
At Dorner, we offer a variety of conveyor belts, including modular conveyors, which can be equipped in-house with cleats for a number of specific applications and functions.
Transform Your Facility
With A Cleated Belt Conveyor from Dorner
If you want to make the most of your available space, keep your products secure, and improve the efficiency of your operations, a cleated belt conveyor from Dorner may be the solution you need. Our team is dedicated to working with you to find a solution that meets your specific workflow needs.