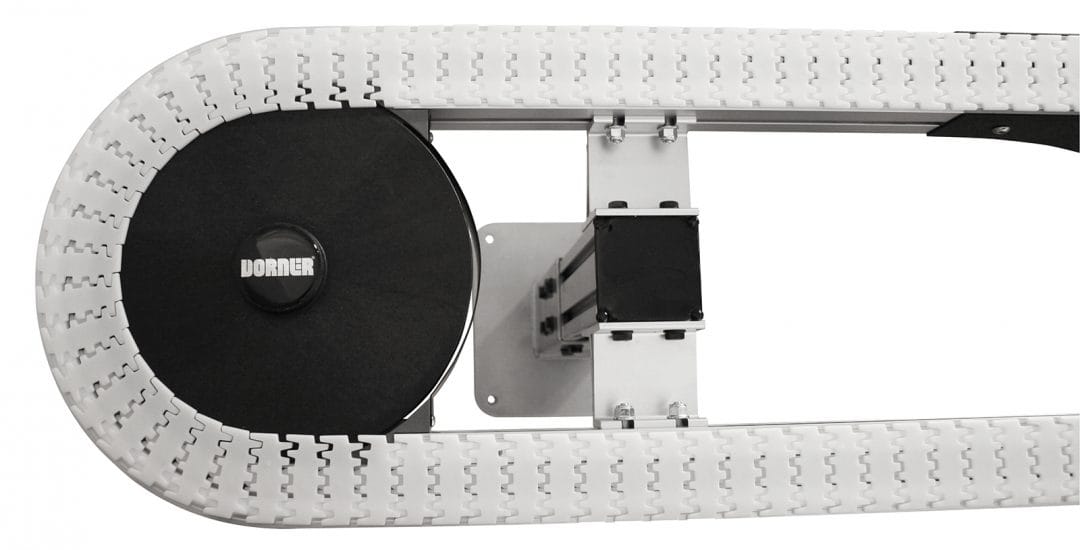 According to PMMI's State of the Packaging Industry 2019 the value of US packaging shipments is forecasted to grow to $10.9 billion in 2024. Packaging and processing manufacturers are looking to capitalize on this growth by optimizing their OEE. PMMI also includes in Trends and Advances in Food Packaging and Processing that 32% of food packaging and processors are seeking to introduce OEE as a future operational improvement. Overall Equipment Effectiveness (OEE) is a standard for measuring equipment productivity in the manufacturing industry through availability, performance, and quality. OEE can be expressed through the formula Availability x Performance x Quality = OEE
While the formula is basic, OEE is constantly used by companies to identify and eliminate overall losses and waste of a single machine, station, or even an entire factory.
In the equation, Availability analyzes planned run time versus actual time. Performance looks at product completion rates or throughput. Quality conveys how many of the finished products meet the company's standard. Ultimately, these factors are used to measure the percentage of defective products while recognizing defective products and setting production goals.
If you're looking to improve the OEE of your packaging processes flexible automation is a great place to start. Dorner's line of flexible chain, FlexMove conveyors are the best way to decrease your footprint, maximize space, and increase efficiency. The aluminum-frame conveyors are ideal when floor space is limited as they are designed to make tight 360 degree turns in and around machinery and equipment. Also, as a way to increase availability, FlexMove conveyors are quick and easy to assemble or disassemble complex configurations; straightforward and compact design maximizes space while minimizing noise and maintenance. Here are four flexible chain conveyors that can transform OEE.
FlexMove Wedge– Wedge conveyors are designed to take the product from the production floor to a higher level or vice versa. The specialty chain is designed to securely convey a product by gripping the sides. They are easy to construct, lightweight and have compact footprints. Its rapid transfer rate makes it ideal for use in continuous, high capacity operations such as packaging lines. Available in aluminum or stainless steel it meets the stringent hygiene standard required for medical and cosmetic packaging. For those who require their equipment to be modular, the Wedge can be equipped with a width adjustment actuator for quick product size changeover. This flexible solution is perfect for those looking to make an elevation change with containers, plastic bottles, paper rolls, boxes, or other similar products.
FlexMove Twist– Rotating a product easily and efficiently has never been so easy. Using two independently driven conveyors you can positively control the product during rotation. Twists are capable of handling multiple package sizes at the same time, reducing changeover downtime and simplifying the manufacturing process. Using the Twist you can gain access to multiple sides of packages for labeling, date-coding, inspection, and more. Ideal for in-line transfers Twist conveyors do not require product guiding and products do not need to be gapped or spaced.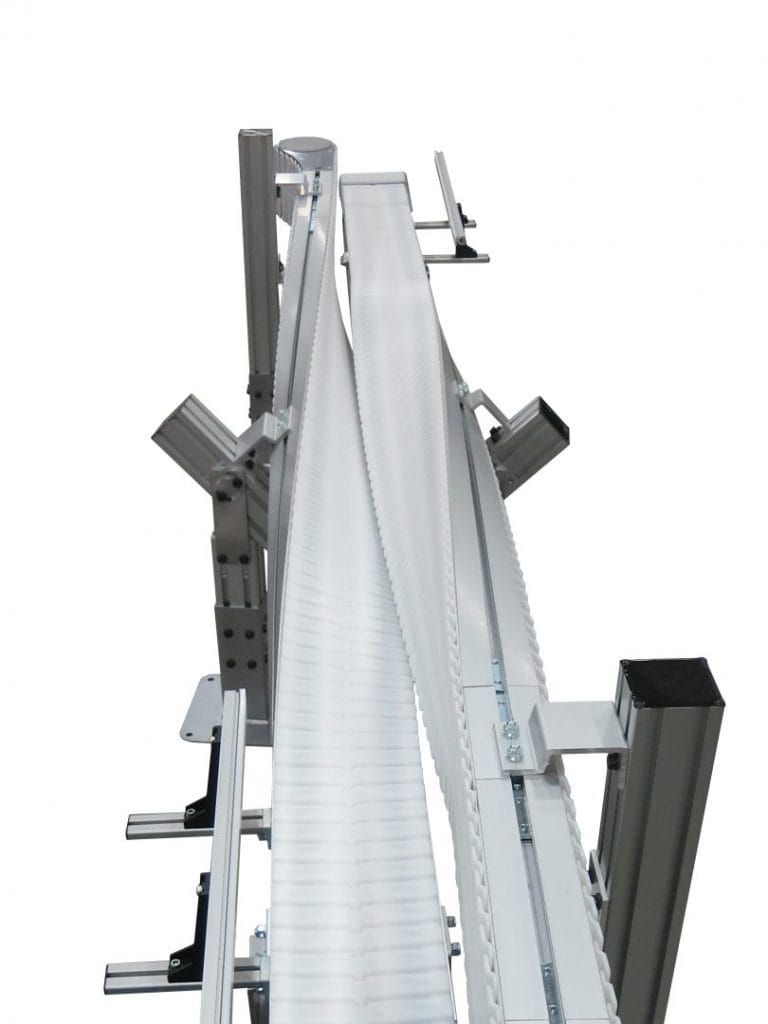 FlexMove Helix– The tight turns and small footprint of the Helix provide facilities with greater flexibility in layout for applications such as accumulation, buffering, cooling product and more. Customizable infeed and outfeed lengths allow the conveyor to extend beyond the spiral, which reduces the number of conveyors required. Patented side roller chain reduces corner friction allowing for faster speeds and smooth product handling. The patented chain also allows for multiple turns while maintaining loads and speeds. Helix conveyors can accommodate loads up to 300 lbs. and speeds up to 171 ft/min.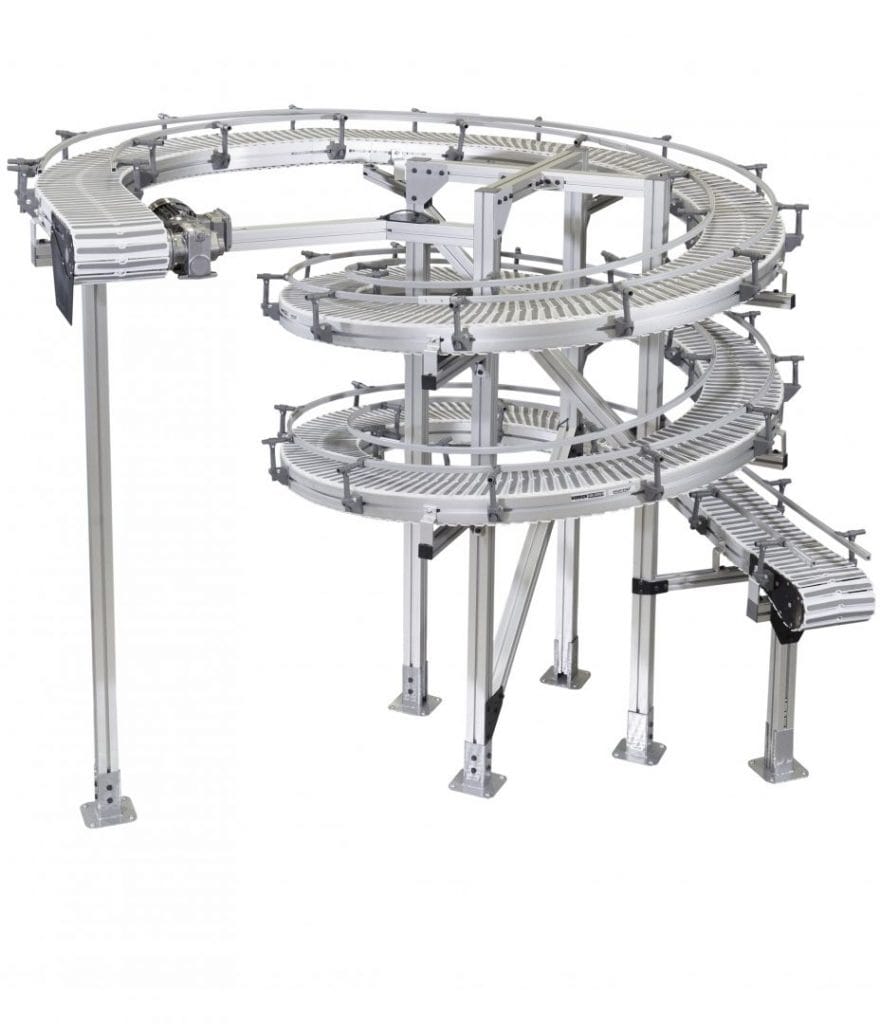 FlexMove Pallet Systems– Dorner's highly advanced FlexMove Pallet Systems are flexible conveyors with pallets for product routing and control. Components and pallets are sold as kits for easy design changes and layout flexibility. FlexMove Pallet Systems offer extensive capabilities such as merge & diverts, lift & locate stations, and pallet stops. When the utmost precision is required in a tight space pallet systems are there to cultivate the same level of excellence you desire for all your products.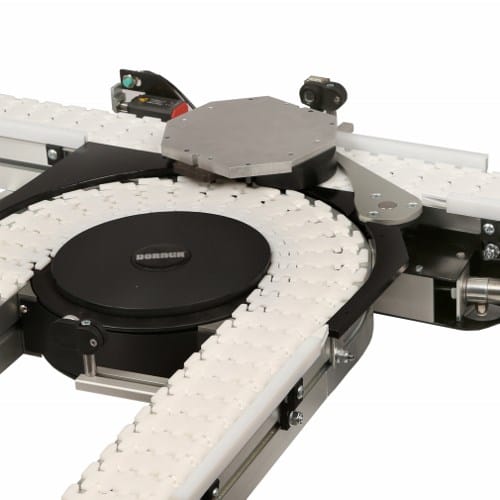 For those looking to improve OEE, a FlexMove conveyor is a solution packed full of capabilities. Combined with Dorner's weighted take-up module, industry-best product transfers, and extensive chain offering they can be configured to meet the needs of almost any application. FlexMove conveyors take customization a step further by offering three purchasing options to fit your exact needs and are available to ship in as little as five working days. Thinking a FlexMove conveyor would be right for you? Tell us about your application and our conveyor specialists will work to find the perfect solution.