Flat belt conveyors are used across the manufacturing industry and play an integral role in productivity and efficiency. Flat belt conveyors are generally friction-driven; the friction between the flexible flat belt and the drive wheel keeps it moving.
Flat belt conveyors are generally best used for light and medium loads, but there are some options available for heavy-duty loads as well, depending on needs and requirements. Simple in design and construction, flat belt conveyors can accomplish a lot and are seamlessly integrated across operations, making them an excellent option in manufacturing.
Dorner offers the industry's widest range of flat belt conveyors. With so many options available, you're sure to find the perfect conveyor for your industry and needs.
Features of Flat Belt Conveyors
Flat belt conveyors have various features that make them ideal for light and medium loads, and there are options available for heavy-duty needs. Some of the core features that make this kind of conveyor system popular include:
Sleek and simple design
Variety of belt options for different applications
Easy to integrate into other systems
Smooth transfer options

Dorner's Flat Belt Conveyor Options
Many kinds of flat belt conveyors are available depending on manufacturing needs and operations that offer many features making them suitable in different applications. Options include smooth, friction, color-contrasting, anti-static, chemical resistant, food-safe, and more. Dorner experts can help you select the right belt for your application.
Dorner's 1100 Series miniature conveyor has the lowest profile in North America. The 1100 Series is an excellent option for small or light weight product movement.
It has been used across medical, pharmaceutical, and life sciences applications most commonly but can be used for other industries. The 1100 features a pinch-drive design, low profile height, small roller diameter, and is Cleanroom certified.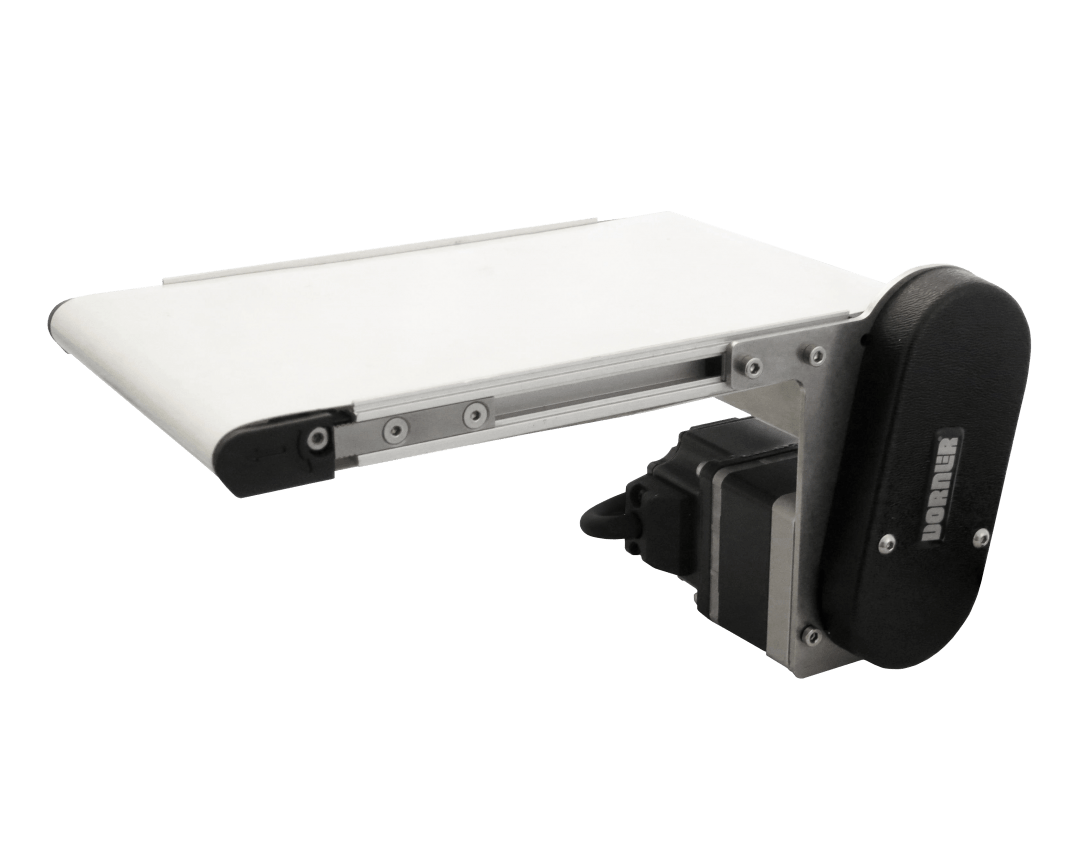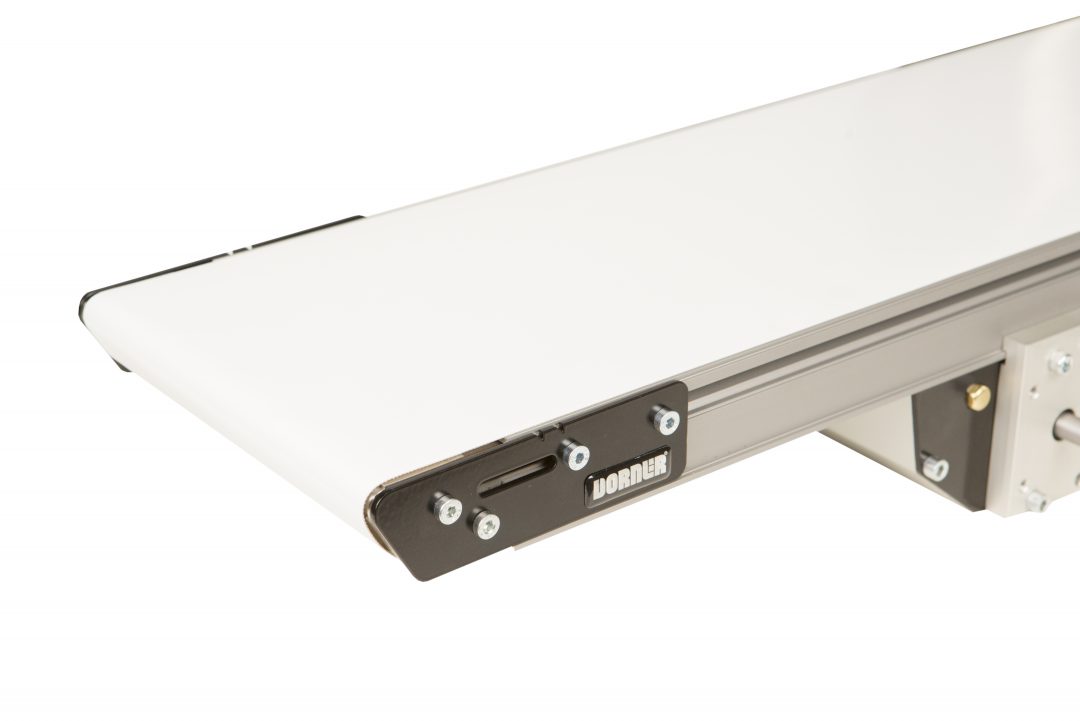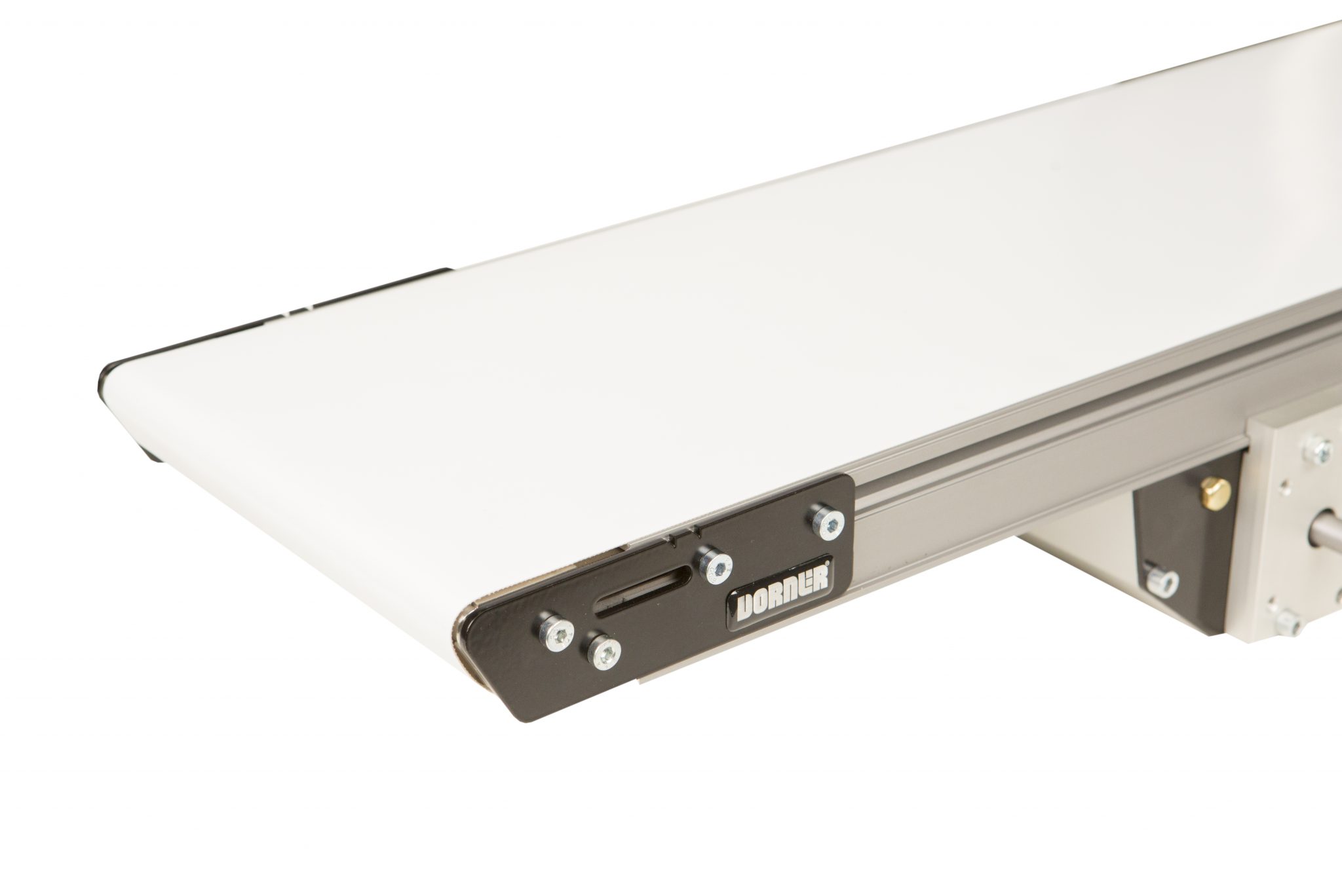 The 2200 Series conveyor systems are best for small to medium part handling, transfers, accumulation, precision parts movement, positioning, and automated and manual assembly.
The 2200 Series is beneficial due to its low-maintenance needs, as Dorner's Industry Best V-Guiding provides positive belt tracking even in demanding side load applications. It is also a high-performance flat belt conveyor and is specifically designed to improve efficiency, reduce downtime, and increase accuracy and can be custom-built for any application.
The 3200 Series solutions are excellent for increasing production capabilities, offering part handling, assembly automation, packaging, and handling complex configuration, long lengths and curves, jogs, incline, and decline in manufacturing operations.
The 3200 Belted Conveyors are flexible and easy to adapt to different applications, with a straightforward and compact design that maximizes space without causing noise or maintenance issues. It is designed to accommodate both vertical and horizontal conveying.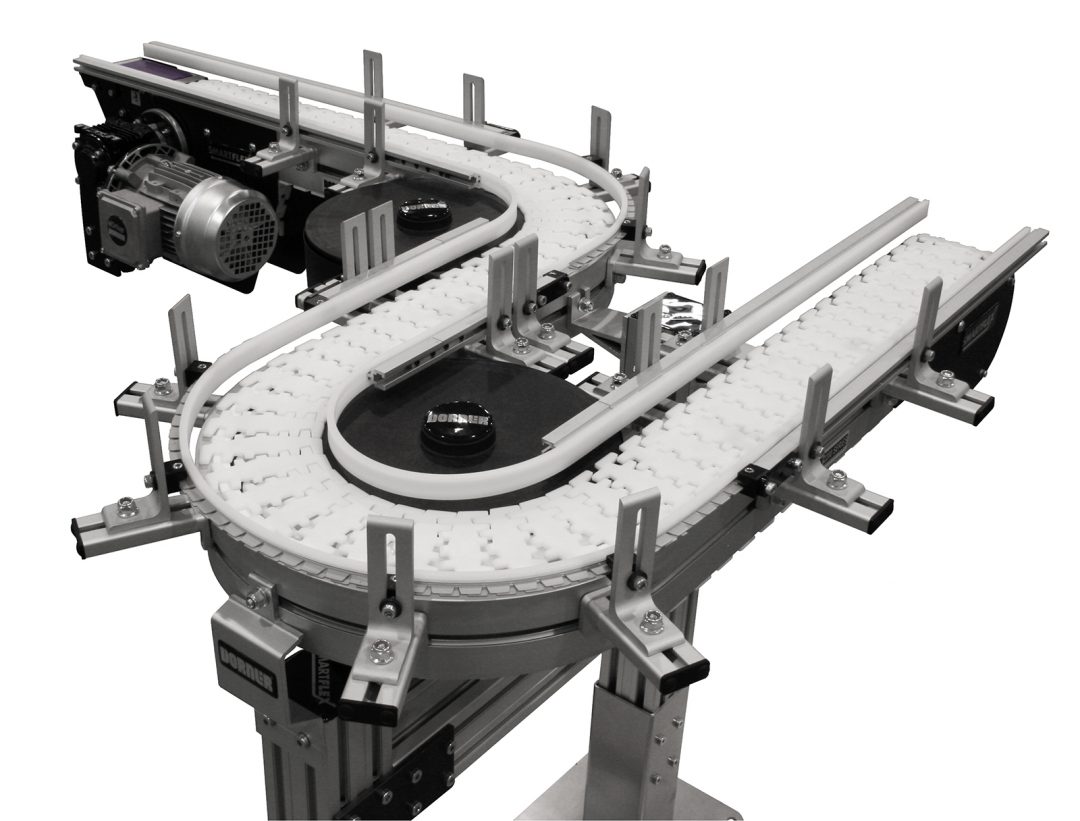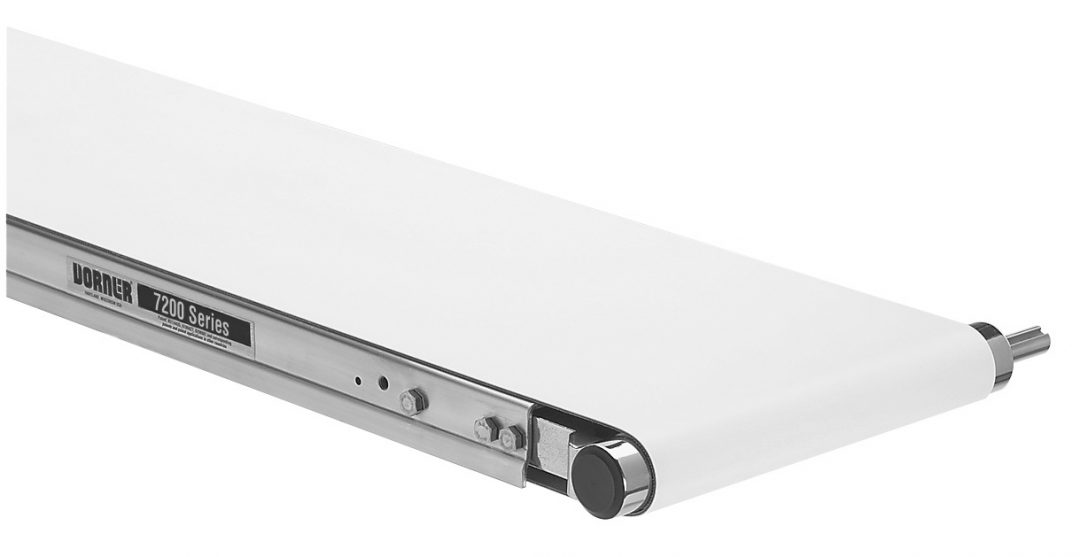 The AquaGard 7200 is a flat belt conveyor solution and are sanctuary conveyors
rated for low pressure wash down with soap and water cleaners. It features self-aligning stainless-steel sealed bearings with FDA-approved solid lubricant and washdown-rated gearmotors and controls.
The AquaGard 7200 Series has a streamlined design that fits where other conveyors do not, a low-profile, single piece frame for quick, easy cleaning, and a Wedge-Lok system for impact protection.
The AquaGard 7300 Series is another great flat belt conveyor and part of the AquaGard Series. These sanitary conveyors are great for industries such as medical that have strict sanitation standards. These conveyors are rated for high pressure wash down with chlorinated cleaners..
The streamlined design of the AquaGard 7300 Series is stainless steel and has a low profile, making it easy to fit wherever you need it in your space.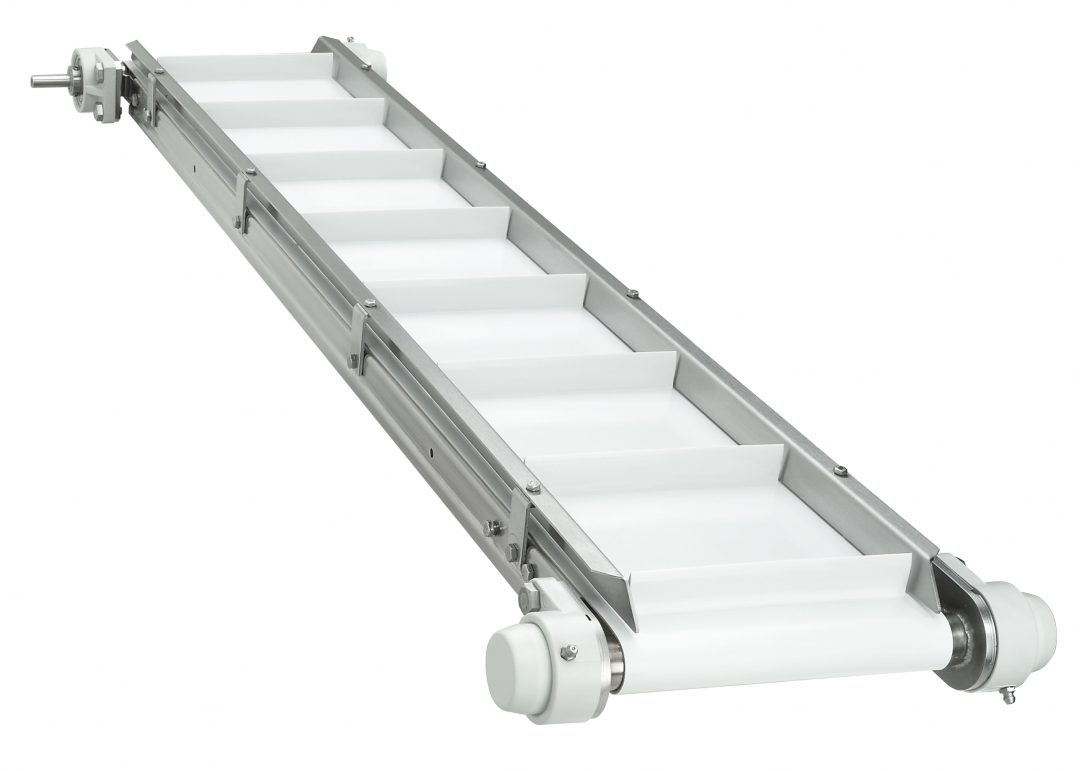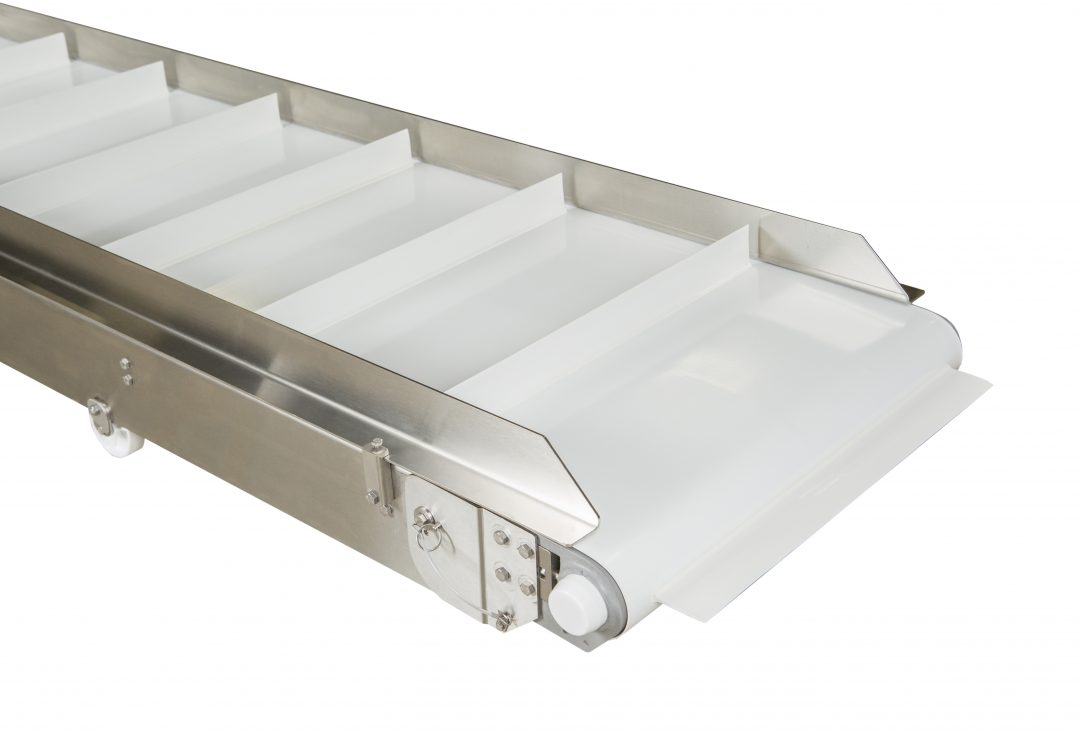 The AquaGard 7350 Series conveyors feature a 304 stainless steel frame and an open design with minimal horizontal surfaces. Known for their sanitation, they are rated for wipe down and low pressure wash down with cleaners such as soap and water. These conveyors use all FDA approved belting and plastic components.
The AquaGard 7350 Series has V-guided belt tracking on belted models and features tip-up tails for ample access to the inside of the conveyor for effective, fast cleanings, and easy maintenance. The conveyor solution features a rugged and durable improved frame design and can handle loads up to 341 kg (750 lbs).
The AquaPruf 7600 Series conveyors, designed to withstand high-pressure spray and chlorinated solutions, are known for their sanitation. The frame is designed for optimum cleaning with no horizontal surfaces, and the bearings are mounted in a stainless steel housing for maximum performance in washdown environments.
The AquaPruf 7600 Series' tool-less tip up pulley allows easy access to the inside of the conveyor for cleaning. The belt tensioning mechanism uses threads for easy cleaning and is externally mounted to the frame, complete with adequate clearances to allow for cleaning.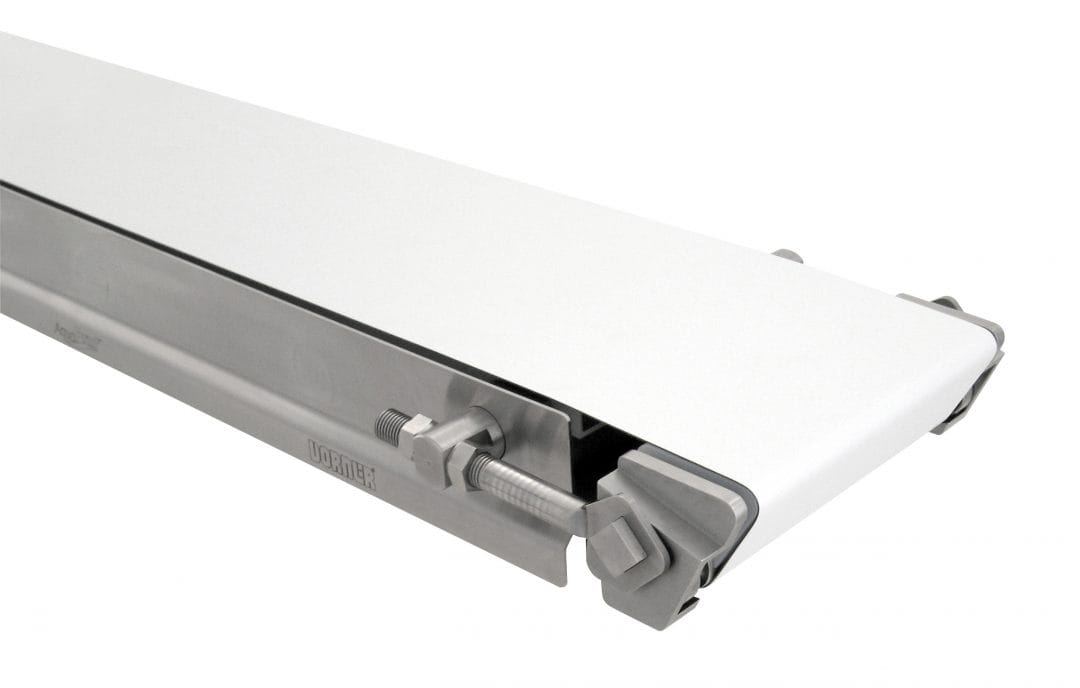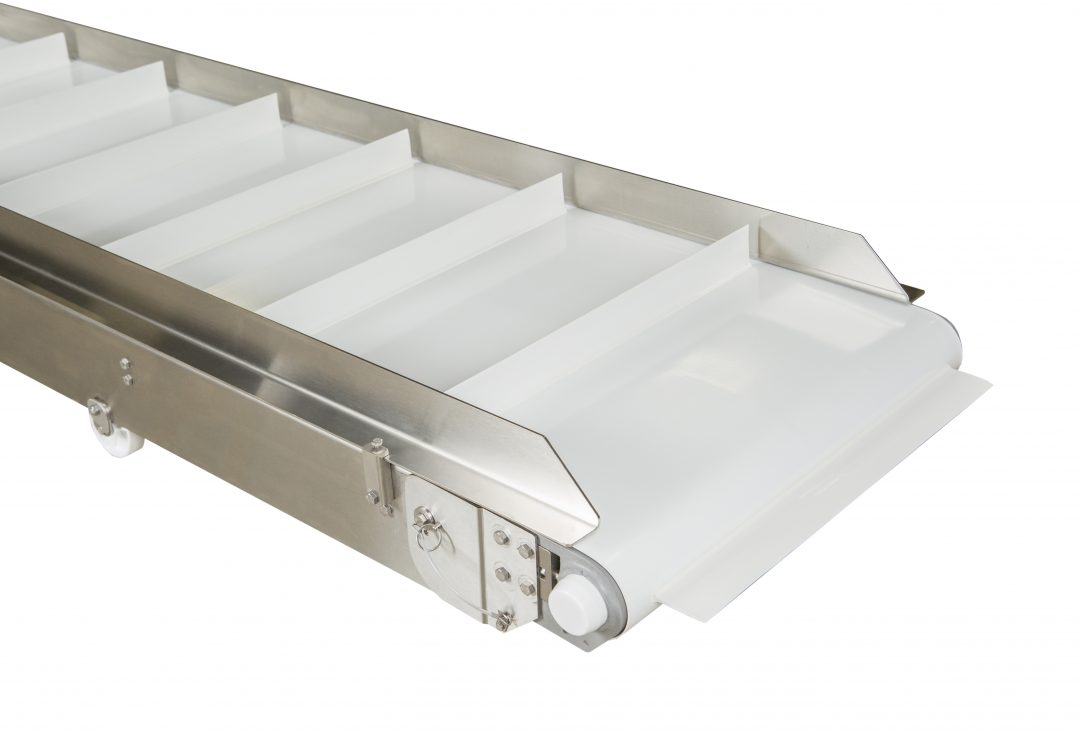 AquaPruf 7600 Ultimate Series
The AquaPruf 7600 Ultimate Series is a flat belt conveyor with a frame designed with no horizontal surfaces for optimum cleaning. The Ultimate Series has been specifically engineered for fast and effective sanitation in the most demanding environments such as RTE foods, raw protein, dairy, and other environments that require stringent sanitation requirements.
The AquaPruf 7600 Ultimate Series features solid UHMW wear strips that are easily lifted out of the frame without tools to minimize cleaning time. The tool-less tip-up pulley allows the conveyor end to be lifted easily for quick access to the inside of the conveyor for easy cleaning.
Flat Belt Conveyor Applications For Specific Industries
Flat Belt Conveyors are used in many industries and sectors, particularly in applications for medical, pharmaceutical, and life sciences and food processing and packaging. Flat belt conveyors are also used for general product handling, robotics and automation, and many other industries as well.

2200 Series
3200 Series
AquaGard 7350 Series

AquaGard 7200 Series
AquaGard 7300 Series
AquaGard 7350
Series
AquaPruf 7600 Series
AquaPruf 7600 Ultimate Series

2200 Series
3200 Series
AquaGard 7200
AquaGard 7300 Series
AquaGard 7350 Series
Common Questions About Flat Belt Conveyors