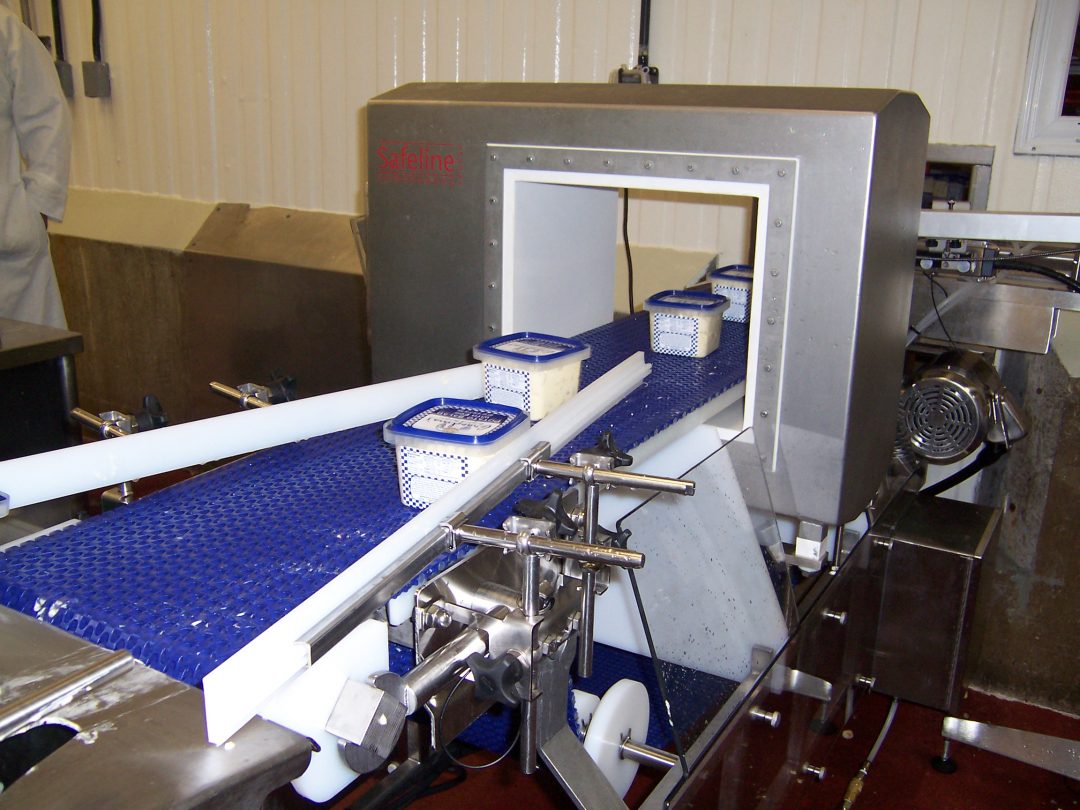 When an Ohio-based fresh foods manufacturer decided to add a new packaging line earlier this year, part of its planning process included whether or not to reuse an existing metal detection unit.
With a focus on producing reliable, handmade quality products, the new processing line was a move in response to growing business at Sandridge Food Corp. of Medina, Ohio, while continuing to enhance their customers' reputations. For more than 40 years, Sandridge Foods has made a name for itself as a premier manufacturer of fresh refrigerated foods such as salads, soups, potato salad and pasta salads for a variety of private label brands. The company also produces products under its own brands including Sandridge Gourmet Salads, Sandridge Soups and home-style salads by Grandma's Original Recipes.
The new line, which packages potato salad under the Grandma's Original Recipes brand, is actually part of a new, larger retail packaging area at its Ohio facility. Previously the company would mix together its potato salad and other products, then move them to another area inside the facility for packaging.
To improve flow and streamline processing, the new packaging line brings product directly from the mixers. The company purchased a new machine that packages product into side-by-side plastic containers weighing one, three or five pounds each. Once packaged and capped, containers had to form into a single line, and are staggered to flow through the metal detection unit for checking.
"With the two different shapes, we're seeing up to five different size containers that we have to merge to get them through the metal detection," said Jim Meadows, director of process improvement for Sandridge Foods. "There's a lot of engineering around how do we get them to come together, and then spread them apart."
The dilemma on whether to reuse an existing metal detection unit or purchase a new unit centered on the conveyor system. If Meadows chose to reuse the existing metal detection unit, a new conveyor system would need to be built to accommodate not only the packaging line but also fit through the aperture. The other option would be more costly — purchase a new metal detection unit and conveyor system.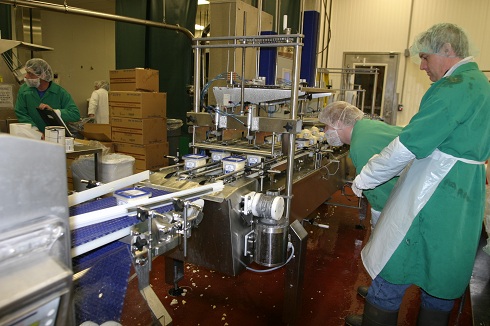 Since the line had to be up and operating sooner rather than later, Meadows didn't have time to wait for a new metal detection/conveyor unit to arrive. Meadows did consider modifying the existing conveyor on the metal detection unit to fit the application but didn't readily have the manpower available to allocate toward researching and rebuilding the conveyor. So he worked with Sharp Engineering, a local distributor, to select the right conveyor for the application — a Dorner 7400 Series plastic chain sanitary conveyor system.
Designed solely for food, pharmaceutical and other industries that require conveyor systems with a high level of sanitation, the conveyor can be disassembled and cleaned in a matter of minutes.
Another feature that made the 7400 Series an attractive choice is that Dorner can custom build its AquaPruf conveyor systems to fit into existing metal detection units. As applications and production demands change over time, customers often find themselves with obsolete conveyors that don't fit their needs. Instead of purchasing a new metal detection/conveyor system, Dorner can design its plastic chain or belt AquaPruf conveyor platforms with metal free zones to fit existing metal detection units — an option that can be a real cost saving to customers.
The 12-inch wide, 6-foot long 7400 Series conveyor at Sandridge Foods Corp. operates about 18 hours per day during the company's busy spring and summer seasons. The conveyor is outfitted with guiding to merge the two lanes of product into a single line to pass through the metal detection unit. An automated pusher, located immediately past the aperture, rejects any containers failing to meet standards. Additionally, an ink-jet printing system is connected to the conveyor that prints the date and other information on the lids of passing containers.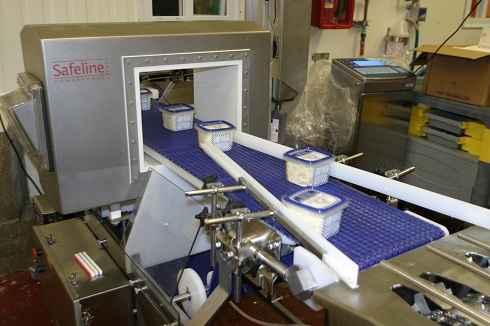 Meadows said employees clean the conveyor about four to five times a day during product changeover. "As far as cleaning, the AquaPruf is designed so we do a better job," Meadows said. "Accessibility — getting to the underside of the belt and frame, for us, that's what it's all about. From a bacteria point of view, we don't have any bearings and any grease fittings. I don't have any of those mechanisms that usually are a maintenance issue or bacteria issue. Dorner has brought that to the table for us."
The company also uses another AquaPruf 7600 Series conveyor system, with a 180-degree turn, on its packaged soup line.
Since the 7400 Series has been installed on the metal detection unit, Dorner engineers have visited Meadows in Ohio to check up on the conveyor and see how it's operating.
"They care after the fact," he said. "It's just not about the sale, they care really about what's going on down stream. I feel like I've got good quality conveyors here with Dorner."