Returns must have prior written factory authorization or they will not be accepted. Items that are returned to Dorner without authorization will not be credited nor returned to the
original sender. When calling for authorization, please have the following information ready for the Dorner factory representative or your local distributor:
1. Name and address of customer.
2. Dorner part number(s) of item(s) being returned.
3. Reason for return.
4. Customer's original order number used when ordering the item(s).
5. Dorner or distributor invoice number. Include part serial number if available.
A representative will discuss action to be taken on the returned items and provide a Returned Materials Authorization (RMA) number for reference. RMA will automatically close 30 days after being issued. To get credit, items must be new and undamaged. There will be a return charge on all items returned for credit, where Dorner was not at fault. It is the customer's responsibility to prevent damage during return shipping. Damaged or modified items will not be accepted. The customer is responsible for return freight.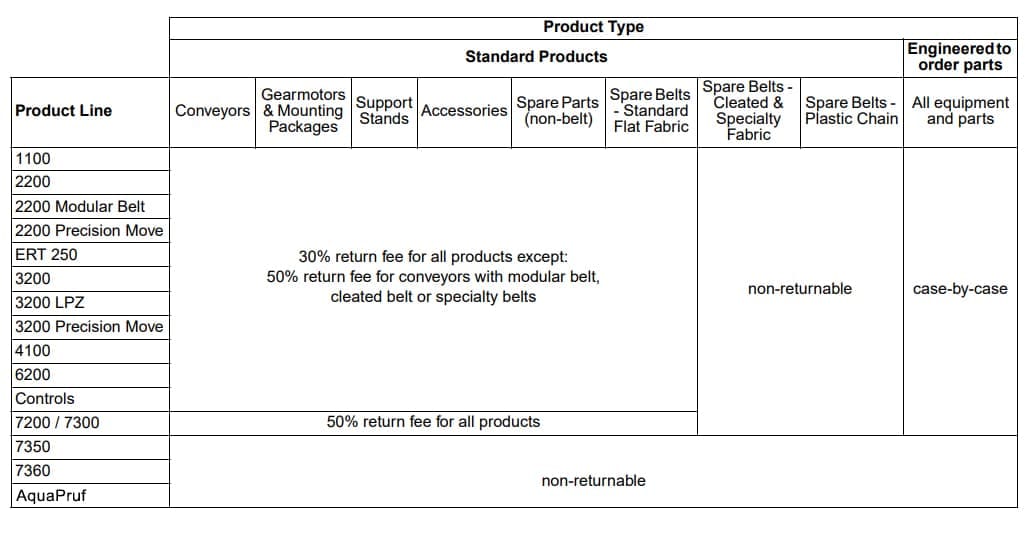 Returns will not be accepted after 60 days from original invoice date. The return charge covers inspection, cleaning, disassembly, disposal and reissuing of components to inventory. If a replacement is needed prior to evaluation of returned item, a purchase order must be issued. Credit (if any) is issued only after return and evaluation is complete.
Dorner has representatives throughout the world. Contact Dorner for the name of your local representative. Our Customer Service Team will gladly help with your questions on Dorner products.
For a copy of Dorner's Warranty, contact Dorner, an authorized sales channel or visit our website: www.dorner.com.
For replacement parts, contact an authorized Dorner Service Center or the factory.
Disclaimer: Dorner Mfg. Corp. reserves the right to exercise its discretion to waive, decrease or increase any return fee or to deny any return of any product or components not listed in the Dorner Return Policy.